Editor's note: Find the latest COVID-19 news and guidance in Medscape's Coronavirus Resource Center.
In recent years, Barbie has become an astrophysicist, a judge, and even participated in the Tokyo Olympics. Now the 62-year-old toy is doing her part to battle a global pandemic.
Mattel announced the launch of six new Barbie dolls as part of their #ThankYouHeroes project. Each Barbie was made in the likeness of a healthcare worker who contributed significantly to the fight against COVID-19, including Professor Sarah Gilbert of the United Kingdom who led the development of the University of Oxford vaccine and Dr Kirby White of Australia, who developed a reusable PPE gown.
Two Barbies were modeled after US healthcare workers: Internist Audrey Sue Cruz, MD, and ER nurse Amy O'Sullivan, RN. Cruz, a Filipina woman, not only served on the front lines but also spearheaded a movement to bring awareness to hate crimes happening against Asian Americans during the pandemic. A video she created with fellow Asian American physicians using #IAMNOTAVIRUS garnered thousands of views and went viral online.
"Our goal was to denounce the hatred and violence against our community. We needed to bring awareness to this issue and remind everyone that Asian Americans are working on the front lines just like everyone else," Cruz, of Las Vegas, Nevada, told Medscape.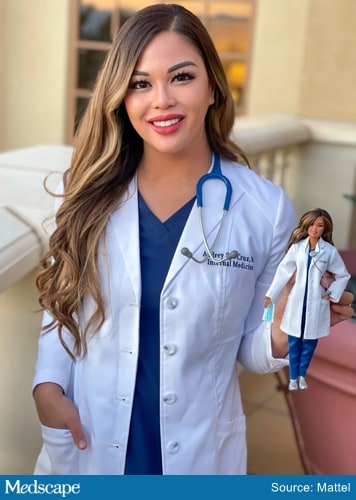 When Mattel reached out with the opportunity, Cruz says she was completely shocked and surprised. "I remember when I was a kid and I saw a doctor Barbie for the first time. It's a dream come true ⁠— a dream I didn't even know I had — to have a Barbie in my likeness."
O'Sullivan, on the other hand, never had much time for Barbies as a child. "I always liked Ken," she says. "He had all the cool stuff."
O'Sullivan treated New York City's first COVID-19 patient before contracting the deadly virus herself. After being intubated for 4 days, she recovered at home for just 2 weeks before returning to the hospital to work. In 2020, she was featured on Time magazine's 100 Most Influential People list, as well as the cover.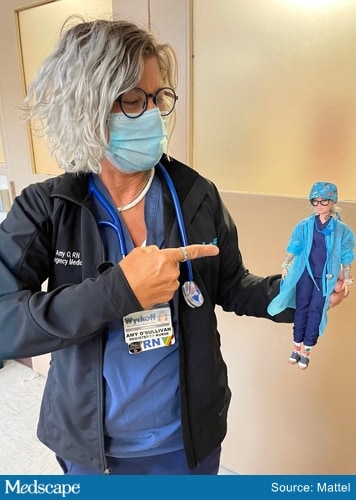 "My 6-year-old, Summer, and I were swimming in the pool one afternoon when someone from Mattel reached out to me on Instagram asking to give them a call. So I did, not knowing what it was for. I remember asking, 'Yo, are you legit?' When I realized I was on the phone with Barbie, I thought it was a joke." Summer described the experience as a total "brain shock."
Each Barbie is one-of-a-kind and captures the healthcare workers' signature features. For Cruz, it's her highlighted hair and big eyelashes. "As an Asian American, being recognized in this way is such an honor. I'm happy that I'm able to remind people that it doesn't matter what your skin color is or what your background is like," Cruz says. "You can speak your mind and accomplish your dreams. Anything is possible."
For O'Sullivan, it's her sleeve of tattoos, flamingo scarf, and funky socks. The tattoos, she says, were hand-painted onto her Barbie.
"I always looked different. I dressed differently. I wanted different things," O'Sullivan says. "I always felt like an outsider and suddenly I have nurses and nursing students from all over saying I'm this huge inspiration to them. I don't look at myself like that. I just want everyone to know it's okay to be different, to be true to yourself."
Though the healthcare worker Barbies in their image won't be reproduced, Mattel will be donating $5 to the First Responders Children's Foundation from every doctor, nurse, and paramedic Barbie sold during the month of August.
For more news, follow Medscape on Facebook, Twitter, Instagram, and YouTube.
Medscape Medical News © 2021

Cite this: Sylvie M. Baggett. New Barbie Dolls Honor COVID-19 Healthcare Heroes - Medscape - Aug 13, 2021.