Editor's note: Find the latest COVID-19 news and guidance in Medscape's Coronavirus Resource Center.
The current COVID-19 surge has brought new cases in children to their highest level since February, according to a new report.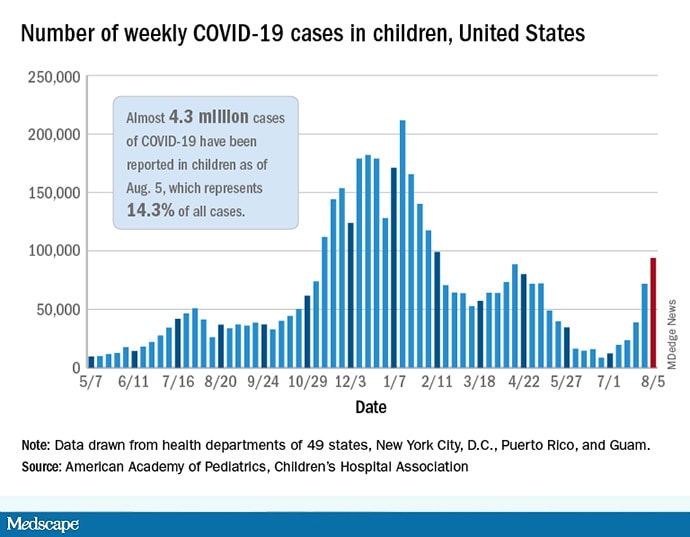 New pediatric cases rose for the 6th straight week, with almost 94,000 reported for the week ending Aug. 5.
That weekly total was up by 31% over the previous week and by over 1,000% since late June, when the new-case figure was at its lowest point (8,447) since early in the pandemic, the American Academy of Pediatrics and the Children's Hospital Association said. COVID-related deaths — 13 for the week — were also higher than at any time since March 2021.
Almost 4.3 million children have been infected with SARS-CoV-2, which is 14.3% of all cases reported in 49 states (excluding New York), the District of Columbia, New York City, Puerto Rico, and Guam. Children represented 15.0% of the new cases reported in those jurisdictions during the week ending Aug. 5, the AAP and CHA said in their weekly report.
Another measure that has been trending upward recently is vaccine initiation among 12- to 15-year-olds, although the latest weekly total is still well below the high of 1.4 million seen in May. First-time vaccinations reached almost 411,000 for the week of Aug. 3-9, marking the fourth consecutive increase in that age group, the Centers for Disease Control and Prevention said on its COVID Data Tracker. Vaccinations also increased, although more modestly, for 16- and 17-year-olds in the most recent week.
Cumulative figures for children aged 12-17 show that almost 10.4 million have received at least one dose and that 7.7 million are fully vaccinated as of Aug. 9. By age group, 42.2% of those aged 12-15 have received at least one dose, and 30.4% have completed the vaccine regimen. Among those aged 16-17 years, 52.2% have gotten their first dose, and 41.4% are fully vaccinated, according to the COVID Data Tracker.
Looking at vaccination rates on the state level shows that only 20% of children aged 12-17 in Wyoming and 21% in Mississippi have gotten at least one dose as of Aug. 4, while Massachusetts is up to 68% and Vermont reports 70%. Rates for full vaccination range from 11% in Mississippi and Alabama to 61% in Vermont, based on an AAP analysis of CDC data, which is not available for Idaho.
This article originally appeared on MDedge.com, part of the Medscape Professional Network.
Medscape Medical News © 2021 WebMD, LLC

Cite this: Surge of Child COVID Cases Continues for 6th Consecutive Week - Medscape - Aug 11, 2021.