Editor's note: Find the latest COVID-19 news and guidance in Medscape's Coronavirus Resource Center.
The COVID-19 pandemic has fueled a growing demand for nurse practitioners (NPs), while demand for primary care physicians has cooled, according to Merritt Hawkins' annual review of physician and advanced practitioner recruiting trends.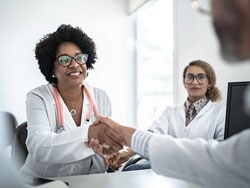 This marks the first time in the review's 28-year history that NPs have topped the list of the most recruited practitioners, according to the medical search firm. In the 27 prior years, physicians held the top spot. For the previous 14 years, the number one position was held by family physicians.
"COVID-19 and other market forces are changing the dynamics of physician and advanced practitioner recruiting. NPs are coming into their own in a market that puts a premium on easy access to care and cost containment," Tom Florence, president of Merritt Hawkins, said in a statement.
Primary Care "Recruiting Frenzy" Over
Florence said primary care physicians remain a "vital part of team-based care and will be increasingly responsible for coordinating the care of older patients with multiple chronic conditions. But the recruiting frenzy in primary care is over."
Merritt Hawkins says that overall, COVID-19 has had a "severely inhibiting" effect on demand for physicians. The number of searches the company conducted dropped 25% compared to last year, and many hospitals and medical groups shut down or lost money during the pandemic.
But the dropoff in demand for physicians is likely to be temporary because the underlying dynamics driving physician supply and demand remain in place, according to the report. These include a growing and aging population, a limited supply of newly trained physicians, and an aging physician workforce.
COVID-19 will not permanently change these market conditions, and demand for physicians already is rebounding, the company says.
The 2021 review of physician and advanced practitioner recruiting is based on a representative sample of 2458 permanent search engagements that Merritt Hawkins/AMN Healthcare's physician staffing companies conducted or were in the process of conducting during the 12-month period from April 1, 2020, to March 31, 2021.
Among the key findings:
18% of Merritt Hawkins' recruiting searches were for advanced practitioners, including NPs, physician assistants (PAs), and certified registered nurse anesthetists, up from 13% in the 2020 review. This represents the highest percentage in the 28 years the review has been conducted.

About two thirds (64%) of Merritt Hawkins' search engagements were for physician specialists, including radiologists, psychiatrists, gastroenterologists, and others, "highlighting the robust demand for specialty physicians," the company says.

In 2021, 18% of Merritt Hawkins' search engagements were for primary care physicians, down from 20% in 2020 and 22% in 2019, "signaling a relative decline in demand for primary care doctors," the company says.

Psychiatrists placed fourth on the list of most requested search engagements, a sign of continued strong demand for mental health professionals that is likely to accelerate because of COVID-19, the company says.
Starting Salaries Take a Pandemic Hit
Owing to the reduced demand for practitioners, starting salaries decreased for many types of healthcare professions, with the exception of NPs and PAs.
Average starting salaries for NPs showed strong growth, increasing 12% year over year, from $125,000 to $140,000. The average starting salaries for PAs also showed strong growth, increasing by 14% year over year, from $112,000 to $128,000.
Among physicians, interventional cardiologists were offered the highest average starting salaries, at $611,000, followed by orthopedic surgeons, at $546,000. Pediatricians were offered the lowest average starting salaries, at $236,000.
Merritt Hawkins says only 3% of their search engagements were for solo practice or partnership settings, "underscoring the decline of physician private practice."
Roughly two thirds (67%) of Merritt Hawkins' search engagements were in communities of 100,000 people or more, indicating that demand for physicians and advanced practitioners is not limited to small or rural communities.
For more news, follow Medscape on Facebook, Twitter, Instagram, and YouTube.
Medscape Medical News © 2021

Send news tips to news@medscape.net.
Cite this: Pandemic Demand for NPs Soars, Softens for Primary Care: Report - Medscape - Aug 11, 2021.