Dear big-tech AI company,
Perhaps artificial intelligence is "the most profound technology that humanity will ever develop and work on," as Google CEO Sundar Pichai recently said. If that's true, can you please find a way to help us physicians?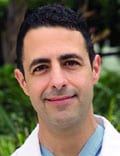 I do understand, the benefits of artificial intelligence today are already profound and protean. Thanks to AI, I can translate Italian to English in real time in the same voice as an Italian speaker. I can be driven home autonomously by our Tesla. AI helps keep me safe by predicting crimes, on time by predicting traffic, and healthy by designing plant proteins that taste just like beef. I can even use AI to build a sprinkler to keep people off my new lawn.
In medicine, the AI news is so good that a frisson of excitement spreads vertically and horizontally across all healthcare. AI can detect pulmonary nodules, identify melanomas, develop new drugs — speed vaccine discovery! — and detect malignant cells on a biopsy slide. It can help predict who is going to crash in the ICU and recognize when someone is about to fall out of bed in the surgical unit. Even just this sampling of benefits proves how significant and impactful AI is in improving quality of life for patients and populations.
However, much of what I do every day in medicine cannot be solved with a neat quantitative analysis. The vast majority of my patients do not have a melanoma to be diagnosed or diabetic retinopathy to be scanned. What they want and need is time spent with me, their doctor. Although the schedule says I have 15 minutes (insufficient to begin with), patients are running late and are double booked, and I've loads of notes to type, medications to review, and messages to answer. Most days, I have only a fraction of 15 minutes to spend face-to-face with each patient.
Can AI please help us? How about reviewing the reams of data from my patient's chart and presenting it to me succinctly? Rather than my tediously clicking through pathology reports, just summarize what skin cancers my patient has had and when. Rather than learning that my patient already failed Protopic a year ago, let me know that before I sign the order and promise: "Now, this ointment will work." Even better, suggest alternative treatments that I might not be thinking of and which might do just the trick. Oh, and given my EMR has all the data required to determine billing codes, can you just drop that in for me when I'm done? Lastly, if the patient's insurance is going to reject this claim or that medication, can AI please complete the authorization/paperwork/signed notary document/letter from US senator that will be needed for it to be accepted?
I know this is possible. If we can blast a 70-year-old businessman into space on a private jet, surely you can invent an AI that gives us more time to spend with patients. Proposals postmarked by December 31, 2021, please.
I'm sincerely yours,
Jeff Benabio, MD, MBA
Benabio is director of Healthcare Transformation and chief of dermatology at Kaiser Permanente San Diego. The opinions expressed in this column are his own and do not represent those of Kaiser Permanente. Benabio is @Dermdoc on Twitter. Write to him at dermnews@mdedge.com.
This article originally appeared on MDedge.com, part of the Medscape Professional Network.
Medscape Medical News © 2021 WebMD, LLC

Cite this: Artificial Intelligence Wish List - Medscape - Aug 10, 2021.