These are the UK coronavirus stories you need to know about today.
Consultants' Industrial Action Survey
The BMA is asking consultants in England whether they want to consider industrial action over their 3% pay rise. The Fairness for the Frontline campaign had called for at least 5%.
BMA Consultants Committee Chair, Vishal Sharma, said: "Consultants have given their all in leading the fight against COVID-19. Some at the expense of their own health. Others with their lives. And this pressure will only intensify as we begin to tackle the backlog of delayed treatment caused by the pandemic."
A survey is being sent out today and will stay open until 16 August.
A similar consultation for junior doctors is expected in the coming days.
Javid's 'Cowering' Apology
England's Health Secretary Sajid Javid apologised for saying people should not "cower" from coronavirus.
He tweeted: "I've deleted a tweet which used the word "cower". I was expressing gratitude that the vaccines help us fight back as a society, but it was a poor choice of word and I sincerely apologise.
"Like many, I have lost loved ones to this awful virus and would never minimise its impact."
Mr Javid said he'd made a "full recovery" from COVID-19 and that he only experienced mild symptoms due to "amazing vaccines".
As of Sunday, 88% of UK adults had received a first vaccine dose, and 70.3% are fully vaccinated.
Prime Minister Boris Johnson and Chancellor Rishi Sunak are due to leave isolation today after being in contact with Mr Javid.
Cases Falling
Some experts say school holidays in parts of the UK could be having an impact on falling daily COVID-19 cases.
Spi-M advisory group member Dr Mike Tildesley told the BBC: "I'm cautiously optimistic about that, but I think we're going to have to wait another couple of weeks before we see, firstly, the effect of the 19 of July relaxation and, second, whether hospital admissions will start to go down."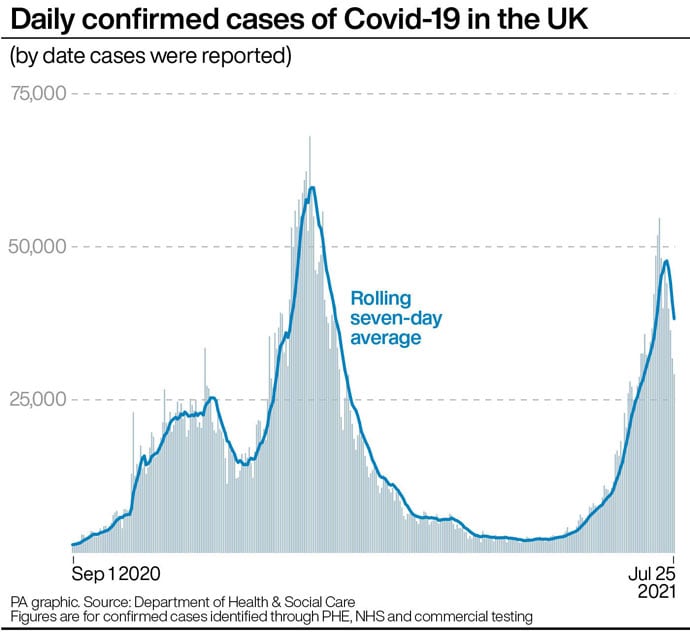 Northern Ireland
Ministers in Northern Ireland are meeting this afternoon to decide on further lifting of lockdown restrictions.
Chief Nursing Officer, Charlotte McArdle, told the BBC extra ICU beds are being opened by Belfast's health trust to cope with "significantly" increased COVID-19 admissions. However, a decision has not yet been made on reopening the Nightingale facility at Belfast City Hospital.
Anti-vax 'Nazi' Speech
Police are assessing video footage of an anti-vaccine speech in London by former nurse Kate Shemirani in which she said: "At the Nuremberg trials, the doctors and nurses stood trial and they hung."
The Royal College of Nursing called the remarks "reprehensible".
Ms Shemirani was struck off in June for expressing conspiracy theories against COVID-19 vaccines.
'Pindemic' Isolation Exemptions Criticised
The BMA criticised staff isolation exemptions for some sectors after workers are 'pinged' by England's COVID-19 app. Business and public sector employers, including local government and police forces reported staff shortages due to the number of people being asked to isolate after contact with positive cases.
"The Government needs to wake up," said BMA Council Chair, Dr Chaand Nagpaul.
"This is not a problem about excessive pinging of the NHS app, but is a direct result of lack of effective measures by Government that is allowing the virus to let rip throughout the nation."
PPE Stockpile 'Not Fit for Purpose'?
The Commons Public Accounts Committee (PAC) said it "remains concerned that despite spending over £10 billion on supplies, the PPE stockpile is not fit for purpose".
The Committee has been scrutinising the UK Government's pandemic response, and its cost.
It found that of 32 billion items of PPE ordered as of May 2021, 11 billion have been distributed, 12.6 billion are stored in the UK as central stock, and 8.4 billion on order from other parts of the world have still not arrived.
Committee Chair, Dame Meg Hillier, said: "As well as monitoring procurement and its effectiveness through the next few years, the PAC will be watching this spending and risk for decades to come. If coronavirus is with us for a long time, the financial hangover could leave future generations with a big headache."
Northern Ireland Abortion Services
The Westminster Government has instructed Northern Ireland to commission abortion services by the end of March next year.
Parliament voted for the change in 2019 when the Northern Ireland government wasn't sitting.
Dr Edward Morris, president of the Royal College of Obstetricians and Gynaecologists, said: "Throughout the pandemic, doctors in Northern Ireland, along with other healthcare professionals, have provided interim services without any support from the Northern Ireland Department of Health or the health minister. In a number of cases, women have tried to take their own lives because they have not been able to access care. These are the ramifications when governments refuse to provide access to abortion care, and this cannot continue. We cannot rely on the goodwill and dedication of staff to provide the stable services that women expect and need.
"Support for interim services is now essential, there can be no more delay, and no more excuses. This is a clear direction from the Secretary of State for Northern Ireland and the Executive is now obliged to act in accordance with this direction."

Flooding
Pandemic pressures were made worse in London by flooding at Whipps Cross Hospital and Newham Hospital.
A spokesperson for Barts Health NHS Trust said this morning: "We are continuing to experience operational issues at Whipps Cross Hospital due to the heavy rainfall yesterday. We cancelled all planned surgery and outpatient appointments for today, and are diverting ambulances while we work hard to clean up affected areas of the hospital.
"Meanwhile we cleaned all areas affected by the flooding at Newham Hospital yesterday and its emergency department is now open to people needing emergency care."

Losing Lockdown Pounds
Public Health England (PHE) launched a new campaign to help people lose weight gained under lockdown.
A survey of more than 5000 adults suggested 41% had put on weight since the first lockdown, with an average gain of 4.1kg.
PHE Chief Nutritionist, Dr Alison Tedstone, said: "The past 16 months have caused many to change their habits so it is not a surprise to see so many people reporting weight gain."
Graphics credit: PA Media
See more global coronavirus updates in Medscape's Coronavirus Resource Centre.
© 2021 WebMD, LLC

Send comments and news tips to uknewsdesk@medscape.net.
Cite this: Tim Locke. UK COVID-19 Update: Consultants' Industrial Action Survey, Javid's 'Cowering' Apology, Anti-vax 'Nazi' Speech - Medscape - Jul 26, 2021.