When Tom McCormick got an unexpected call from his doctor, the first thing his doctor said was, "I'm not calling you about anything about your health."
He was phoning to invite McCormick to participate in a research study on aspirin in heart disease. But McCormick was not asked to be a test subject. He was recruited to help plan and execute the study.
The study, called ADAPTABLE, was developed under the Patient Centered Outcomes Research Institute and the recruited patient advisory board named themselves the "Adaptors".
Before becoming an Adaptor, Linda Brown completed a community outreach program at Vanderbilt University, where she answered questions from doctors and researchers about her heart condition. She was not convinced that "regular" people could participate in research but changed her mind "a full 180."
McCormick was also skeptical and assumed that their suggestions would be ignored. Instead, he was pleasantly surprised to find "our input was welcomed" and "actually made a difference in how the study went."
Real Patient Involvement Is Not a Box Check
Brown and McCormick's initial skepticism is not unfounded. Madelaine Faulkner, who was the patient facilitator on the trial, has heard from numerous patients who were involved in research and had really bad experiences.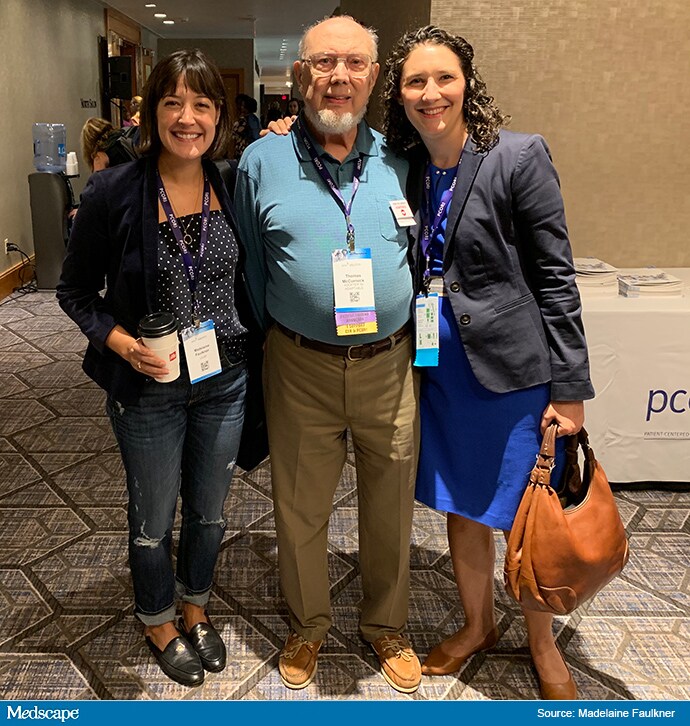 Madelaine Faulkner (L) with Tom McCormick and his daughter.
"I did this focus group and nobody told me what came of it," is a typical complaint, she says.
Before agreeing to participate in research, patients must sign forms that grant them the right to hear the results of the study. But patients rarely follow up to request a final results paper, Faulkner says.
When Adaptor Greg Merritt had a heart attack at 46, he dismissed it as heartburn and discouraged his wife from calling 911― a delay that almost killed him. After his recovery, he set up Patient Is Partner to develop "authentic patient partnerships with healthcare teams." Merritt assumed that what he was doing was not particularly novel, but found that "there's just not enough patient connection either to practice or research."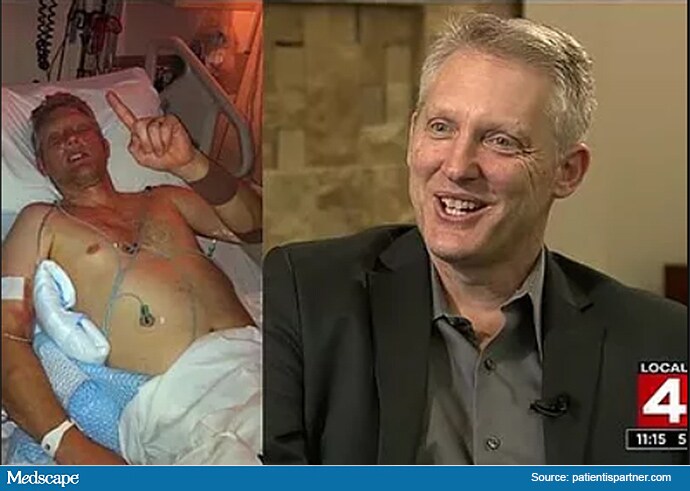 Greg Merritt in hospital after his cardiac arrest (L) and on his local TV network (R).
His early efforts met resistance even among researchers who thought it was a good idea. "The challenge becomes inertia and the fact that they've done things the way they've done it for so long," he says.
He had a different experience as an Adaptor because "we had clinician facilitators like Madelaine, clinicians like Schuyler Jones, (the lead researcher) who believe in this…this is not a box check."
Faulkner has seen the 'box check' approach, where patients are invited to meetings but given no time to speak or ask questions.
Creating a comfortable space is key, says Faulkner who is not a doctor.
"I am a lot less intimidating to a cardiovascular patient," she says.
It's not the good feedback that's important, she explained, you need to learn what to do better.
For example: "Why are all the people in this visual white and way younger than the target population?"
The Adaptors told the investigators that the recruitment materials were "pretty boring" so they came up with more interesting visuals.
McCormick raised concerns about relying on email to recruit patients.
"Just because you have an email address doesn't mean you actually use it," he said.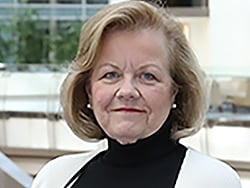 The Adaptors participated in virtual meetings about twice a month – the virtual approach was planned before COVID-19, because the goal was to involve people across the country. To facilitate free exchanges, Faulkner created a "shared display" approach where she would ask pointed questions and then write down the responses on the screen for everybody to see. This ensured that suggestions were tracked and followed up.
Another key was to start and end each meeting with a check in unrelated to the trial to create a sense of community.
Faulkner admits that she resisted at first, thinking it would be a waste of time. To start it was pretty boring with people talking about the weather, but "as we got to know each other and we developed relationships the check ins became very real."
Some of the patients would talk about a recent hospitalization, she says.
Jargon Translation
Medical jargon is often a barrier to communication between doctors and patients, so Faulkner discouraged the scientists from using abbreviations and acronyms. Often if the lead researcher was presenting, she would interrupt and ask "what does that mean."
This was key for Brown, who tried to learn some of the terminology, but "it was like in one ear out the other. To this day, I find it extremely difficult."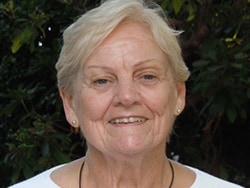 Adaptor Nadine Zemon spoke the lingo. She had completed a curriculum at the University of Florida Clinical Translational Science Institute to train "citizen scientists" to understand research processes and how to relate to researchers. Even so, she found the use of a patient facilitator very helpful.
"I felt extremely comfortable [speaking up] if I didn't know something," she says.
Jacqueline Alikhaani wasn't intimidated because of her experience as a volunteer with the Patient Centered Outcomes Research Institute. The mission of patient involvement in research is especially personal for her because she has a very rare heart condition where large scale clinical trials are not possible and innovative approaches are critical.
When the results of the trial were written up for publication, the Adaptors were listed as co-authors alongside the researchers. While most didn't realize the prestige of being published in The New England Journal of Medicine, they do now. Zemon likened it to winning an Academy Award. Brown made sure to post it to all her Facebook friends.

Despite her new-found enthusiasm for medical research, Brown hasn't been able to convince family members.
"They're just so anti joining research," Brown says. Alikhaani understands "how people would be leery of getting involved in clinical trials."
As an African American, she knows the history of major problems with clinical trials where people were lied to and misled. But she believes that "transparency and the involvement of patients, family members, and caregivers at the leadership table with this whole process from start to finish," is the way to regain trust.
And patients don't have to wait to be asked, Alikhaani highlighted the engagement grants the institute offers to encourage members of the community to get involved. Merritt proposed a chain effect: Of the 15,000 patients in the ADAPTABLE trial, might there be 500 who could be patient leaders on a study somewhere else and so on to grow the community?
Zemon agreed and suggested the institute develop local groups: "Little seeds, put out there that we could grow from."
If medical researchers want patient advisory boards to be something other than a fad that will go away, Faulkner certain "this model is sticking around."
Merritt, of the Adaptors, thinks that buy-in from elite academic research centers will be key to spreading the message that patients need to be involved.
"If you're treating somebody with X condition, [there's] no better people to actually be a part of the question asking phase than the people who actually have the most at stake," he says.
Alikhaani would encourage researchers to take advantage of the resources available through the Patient Centered Outcomes Research Institute website even if their study is not an institute study.
She thought it apt that the trial was named ADAPTABLE because they had the flexibility to go back to the drawing board at times to redesign efforts that didn't work out.
"It's a good model, it's a good example for others to learn about and try to emulate," she says.
WebMD Health News © 2021

Cite this: Meet the Patients Who Helped Run a Big Aspirin Trial - Medscape - Jul 23, 2021.