Editor's note: Find the latest COVID-19 news and guidance in Medscape's Coronavirus Resource Center.
Although many things ground to a halt during the global pandemic, healthcare fraud continued, according to a new 124-page report by the federal government.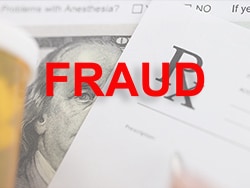 The Office of the Inspector General (OIG) of the US Department of Justice (DOJ) recently announced that it had won or negotiated more than $1.8 billion in healthcare fraud settlements over the past fiscal year. The DOJ opened 1148 criminal healthcare fraud investigations and 1079 civil healthcare fraud investigations from October 1, 2019, through September 30, 2020. There were 1498 civil healthcare fraud matters pending at the end of that period.
Investigations conducted by the US Department of Health and Human Services' Office of the Inspector General (HHS-OIG) resulted in 578 criminal actions against individuals or entities that engaged in crimes related to Medicare and Medicaid. They also yielded 781 civil actions, which included false claims and unjust-enrichment lawsuits filed in federal district court, civil monetary penalty settlements, and administrative recoveries related to healthcare professionals' self-disclosure matters. HHS-OIG excluded 2148 individuals and entities from participation in Medicare, Medicaid, and other federal healthcare programs.
The Health Care Fraud and Abuse Control Program, a national initiative designed to coordinate federal, state, and local law enforcement activities regarding healthcare fraud and abuse, recently published its fiscal year 2020 report outlining these cases. The HHS and the DOJ are required to publish the report annually.
COVID-19 Provided Ample Opportunity for Fraud
COVID-19 created new fraud risks to federal health programs, according to the report. The Centers for Medicare & Medicaid Services developed a robust fraud risk assessment process to identify potential risks and vulnerabilities associated with the pandemic and potential unintended consequences of the waivers and flexibilities that were granted.
One key risk involved the performance of additional or unnecessary services, such as offering COVID-19 tests to Medicare beneficiaries in exchange for personal information, including Medicare information. In one fraud scheme, labs targeted retirement communities by claiming to offer COVID-19 tests but instead drew blood and billed federal healthcare programs for medically unnecessary services. Other schemes involved conducting additional or unnecessary laboratory testing, such as requiring tests in addition to the COVID-19 test that were medically unnecessary. These included unnecessary respiratory tests, allergy tests, and genetic tests. In one case, healthcare professionals included in a bill for a COVID-19 test costs for far more expensive tests, such as respiratory pathogen panel (RPP) and antibiotic resistance tests.
COVID-19 testing also provided opportunities for engaging in fraudulent practices involving healthcare technology, such as including false and fraudulent representations about COVID-19 testing, treatments, or cures to defraud insurance carriers and to perpetrate fraud on the financial markets by defrauding investors.
Specialized Teams Crack Down on Billions in Fraud
The DOJ and the HHS rely on several specialized teams to investigate and prosecute alleged fraud. Health Care Fraud Strike Force Teams (SF) utilize data analytics and the combined resources of federal, state, and local law enforcement entities to prosecute complex healthcare fraud matters and cases involving the illegal prescription, distribution, and diversion of opioids. In fiscal year 2020, SF filed 263 indictments involving charges against 405 defendants who billed federal healthcare programs and private insurers more than $4.7 billion. They obtained 254 guilty pleas and guilty verdicts against 30 defendants and secured imprisonment for 254 defendants. The average period of incarcation was nearly 42 months per sentenced defendant.
The Health Care Fraud Unit organized and led a national takedown in collaboration with the US Attorney's Offices, HHS-OIG, the Federal Bureau of Investigation, the Drug Enforcement Administration, and other federal and state partners. On September 30, 2020, this nationwide enforcement action involved charges against 345 defendants in 51 federal districts, including more than 100 doctors, nurses, and other licensed medical professionals. These defendants were collectively charged with submitting more than $6 billion in allegedly false and fraudulent claims to federal healthcare programs and private insurers. More than $4.5 billion was connected to schemes that involved telemedicine fraud, more than $845 million was connected to substance abuse treatment facilities, and more than $806 million was connected to other healthcare fraud and illegal opioid distribution schemes across the country.
The Opioid Fraud and Abuse Detection Unit (OFAD), formed in 2017, handled hundreds of investigations and prosecutions involving medical professionals in 2020. Defendants were charged with a range of crimes, including healthcare fraud, drug trafficking, and money laundering. In an exemplary case in the Eastern District of Michigan, the OFAD indicted 19 defendants in an opioid distribution conspiracy case. The defendants included 10 doctors, nurse practitioners, pharmacists, and pharmacy technicians. They were indicted for prescribing and dispensing more than 1.9 million dosage units of Schedule II controlled substances. The prescribed oxycodone and oxymorphone alone carried a conservative street value of more than $41 million.
From Pill Mills to Pharma Kickbacks
No facet of healthcare was safe. Fraud infiltrated medical clinics, hospitals, pharmacies, drug companies, and electronic health record (EHR) vendors. Among the cases highlighted in the report:
Abyssinia Love Knot, of Southfield, Michigan, and 1st Priority Physical Therapy, of Detroit, Michigan, engaged in the largest pill mill operation in the Detroit metropolitan area from 2009 to 2016, billing $36 million to Medicare and $5.5 million to Blue Cross Blue Shield of Michigan. The defendants at these two clinics received 11-year prison sentences. The clinics worked with Detroit-area patient recruiters to bring patients to their physical therapy clinics, where physicians would write them medically unnecessary prescriptions for oxycodone, alprazolam, and other controlled substances. These drugs were then sold on the street in the Detroit metropolitan area as well as out of state.

Practice Fusion Inc, a health information technology developer based in San Francisco, California, agreed to pay $145 million to resolve criminal and civil liability relating to its EHR software. The company allegedly accepted kickbacks from an opioid company and other pharmaceutical companies and caused its users to submit false claims for federal incentive payments by misrepresenting the capabilities of its software. This case marked the first kickback action against an EHR developer for receipt of remuneration from a pharmaceutical company.

Novartis Pharmaceuticals Corporation agreed to pay $642 million to resolve a pair of settlements. One allegation involved use of foundations as conduits to fund copayments of Medicare patients using their products. The other allegation involved paying kickbacks to doctors who prescribed the company's products. The kickbacks were disguised as speaking fees. Novartis Pharmaceuticals Corporation also agreed to an additional civil forfeiture of $38.4 million and to pay more than $48 million to resolve state Medicaid claims.

A broker for telemarketing companies and medical laboratories was charged with regard to a scheme that involved submitting cancer genetic tests (CGX) and COVID-19 and RPP tests that were not eligible for reimbursement to Medicare. The scheme totaled $3 million in fraud. The broker admitted that she and her co-conspirators paid kickbacks to telemarketers who obtained completed CGX tests from Medicare beneficiaries and to telemedicine companies that obtained doctors' orders authorizing the CGX tests. They would send the completed CGX tests and the doctors' orders to a medical laboratory, which would bill Medicare for the tests. The broker would receive kickbacks from the laboratory in return. The broker was not named in the report.
For more news, follow Medscape on Facebook, Twitter, Instagram, and YouTube.
Medscape Medical News © 2021

Send news tips to news@medscape.net.
Cite this: Feds Recover Nearly $2B From Various Healthcare Fraud Cases - Medscape - Jul 21, 2021.