Declining trends in melanoma death rates accelerated from 2014 to 2018 in the United States, even as incidence rates increased for both males and females, according to an annual report by several national organizations.
"Death rates for cutaneous melanoma have declined rapidly in recent years following introduction of new therapies, including targeted and immune checkpoint inhibitors, the first of which was approved by the [Food and Drug Administration] in early 2011," Farhad Islami, MD, PhD, of the American Cancer Society, and associates wrote in the Journal of the National Cancer Institute.
The American Cancer Society, along with the Centers for Disease Control and Prevention, the National Cancer Institute, and the North American Association of Central Cancer Registries, issue a joint report each year to update the incidence and mortality of the most common cancers and analyze short- and long-term trends since 2001.
Long-term melanoma mortality gets divided into two trends: First a slow decline over about a decade, then an accelerated decline until the end of the study period, although the timing is slightly different between males and females. For men, the death rate fell by an average of 0.9% a year from 2001 to 2009, compared with 5.7% per year in 2013-2018. For women, the average annual change went from –0.3% for 2001-2012 to –4.4% in 2012-2018.
The incidence of melanoma, however, headed in the opposite direction, rising 1.9% per year for females and 2.2% for males from 2001 to 2017, without the notable change in trend seen with death rates, Islami and associates said.
Incidence by race/ethnicity, reported for 2013-2017, shows that melanoma is much more common among white non-Hispanics: 37.4 per 100,000 standard population for males and 24.5 for females. Non-Hispanic American Indians/Alaska Natives were next at 10.8 (men) and 6.7 (women), followed by Hispanics (5.1/4.5), non-Hispanic Asians/Pacific Islanders (1.6/1.3), and non-Hispanic Blacks (1.2/1.0), they reported.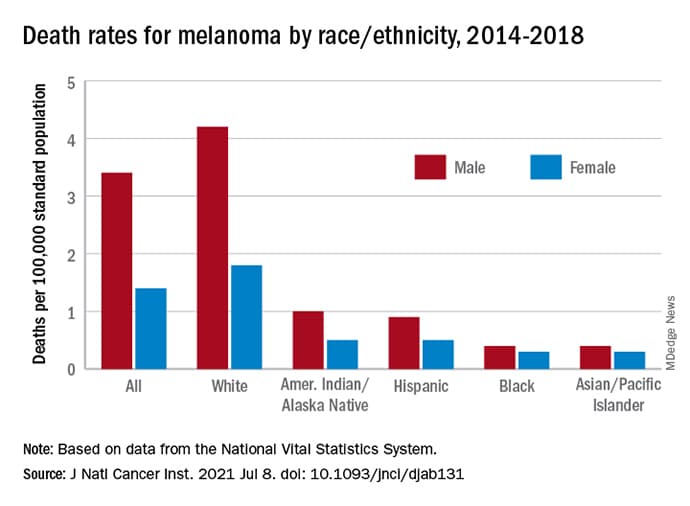 Death rates for melanoma, reported for 2014-2018, follow a similar pattern. White males (4.2 per 100,000) and females (1.8 per 100,000) had the highest mortality, then American Indians/Alaska Natives (1.0/0.5) and Hispanics (0.9/0.5), but rates were the same for Blacks and Asians/Pacific Islanders (0.4/0.3), the investigators said.
The accelerated decline in death rates in more recent years reflects "a substantial increase in survival for metastatic melanoma," the participating organizations noted in a joint statement.
Increases in 2-year survival in distant-stage disease averaged 3.1% per year for those diagnosed during 2009-2014, which "slightly preceded the FDA approval of new therapies, likely because of the administration of these therapies through clinical trials and the FDA expanded access programs prior to the approval," Islami and associates wrote.
The 2-year relative survival for those with nonmetastatic melanoma also improved over the study period, but the increases were much smaller: 0.4% per year for regional-stage disease and just 0.03% localized-stage cases diagnosed in 2001-2014, they reported.
The report was funded by the four participating groups. Six of the 12 investigators are employees of the American Cancer Society whose salaries are solely paid by the society; the other authors had no conflicts of interest to disclose.
This article originally appeared on MDedge.com, part of the Medscape Professional Network.
Medscape Medical News © 2021 WebMD, LLC

Cite this: Recent Trend: Melanoma MortalityDeclining Rapidly - Medscape - Jul 20, 2021.