The White House on Friday drew attention to its plans to dig into the effects of hospital consolidation on patients and to smooth the way for over-the-counter sales of hearing aids. It also pressed for lower drug costs and for easier ways to compare health insurance plans.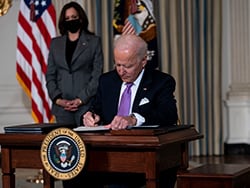 In a webcast ceremony, President Joe Biden signed an executive order that outlined plans for increasing competition in several industries. In addition to healthcare, Biden is seeking to have the Federal Trade Commission (FTC) limit manufacturers' ability to restrict consumers from repairing equipment they own. Biden's executive order also includes provisions regarding noncompete employment agreements and banning or limiting occupational licensing requirements.
In the executive order, Biden lists hospitals among the groups in need of more scrutiny by the FTC.
Biden told the FTC to review its guidelines for what are known as horizontal mergers, such as acquisitions of large hospitals by other large hospitals, and vertical mergers, such as the purchases of smaller medical organizations.
"Hospital consolidation has left many areas, particularly rural communities, with inadequate or more expensive healthcare options," Biden said in the order.
In an accompanying fact sheet, the White House said "unchecked mergers" had resulted in so much consolidation that the 10 largest healthcare systems now control a quarter of the market. Research shows that hospitals in consolidated markets charge far higher prices than hospitals in markets with several competitors, the White House said.
Competition vs Consolidation in Healthcare
In a statement, the American Hospital Association (AHA) disagreed with Biden. Rick Pollack, the chairman of the AHA, said, "Health systems can be a particularly important option for retaining access to hospital services in some rural communities.
"Mergers with larger hospital systems can also provide community hospitals the scale and resources needed to improve quality and decrease costs," Pollack said. He noted that there already is scrutiny of these business combinations by state and federal officials.
In response to a request from Medscape Medical News for a comment on Biden's executive order, Gerald Harmon, MD, president of the American Medical Association, said that competition, "not consolidation, is the right prescription for the U.S. health care delivery system.
"Competition promotes the delivery of high quality, cost effective health care," Harmon said. "Providing patients with more choices for health care services and coverage stimulates innovation and incentivizes improved care, lower costs, and expanded access."
The FTC also showed an interest in the effects of hospital consolidation during the Trump administration.
The commission in January 2020 announced a broad study of the effects of consolidation of hospitals and physician practices. It ordered major insurance companies to provide information that will allow the agency to study the effects of consummated physician group and healthcare facility mergers.
In an April blog post, FTC further detailed its plans for this study, saying, "U.S. physician markets are undergoing a dramatic restructuring.Traditional solo physician practices and small single-specialty physician group practices are rapidly being replaced by large multi-specialty physician group practices, or physician group practices that are owned or employed by hospital systems."
Biden's executive order also directs the US Department of Health and Human Services (HHS) to support existing hospital price transparency rules and to finish implementing bipartisan federal legislation to address surprise hospital billing.
The order also notes that consolidation in the healthcare insurance industry has reduced consumers' options. Biden told HHS to standardize plan options in the National Health Insurance Marketplace to allow easier comparison shopping.
Biden made a reference in the executive order to his continued support for "the enactment of a public health insurance option." But he did not greatly detail how such a program should be created.
Order Also Looks to Control Drug, Hearing Aid Costs
The executive order also gives HHS a deadline of 120 days to propose a rule to allow hearing aids to be sold over the counter. Hearing aids on average cost more than $5000 per pair, and those costs are often not covered by health insurance, the White House noted.
"A major driver of the expense is that consumers must get them from a doctor or a specialist, even though experts agree that medical evaluation is not necessary," the fact sheet said. "Rather, this requirement serves only as red tape and a barrier to more companies selling hearing aids."
The executive order demanded that HHS produce a plan within 45 days to "combat excessive pricing of prescription drugs and enhance domestic pharmaceutical supply chains." The order mentions Biden's support for allowing Medicare to directly negotiate drug prices. It did not greatly detail how such a change in federal policy would be made to allow this.
The order also contains some broad directives on pharmaceuticals costs, such as telling the US Food and Drug Administration to work with states and tribes to safely import prescription drugs from Canada.
Canadian officials, though, have been wary of attempts by US officials to lower drug prices in the United States by tapping the supply of their northern neighbor. Canadian health officials last year announced measures it was taking against the distribution of certain medicines for consumption outside of Canada if such sales would cause or worsen a drug shortage. These measures were announced in response to efforts to allow US pharmacists or wholesalers to import in bulk certain prescription drugs intended for the Canadian market.
Executive orders from presidents serve mostly as a way to draw attention to their priorities. The orders outline plans for changing federal regulations and laws. These steps often require significant effort on the part of government officials and members of Congress. By grabbing the spotlight with public signing ceremonies, though, presidents can use executive orders to argue their case for taking on powerful interests.
On Friday, Biden argued that federal actions are needed to protect consumers from the effects of consolidation in key industries. Biden referred to how one of his Republican predecessors, President Theodore Roosevelt, who served from 1901 to 1909, took on oil companies and railroads with an aim of making these industries more competitive and thus helped consumers. According to Biden, the federal government must act in the same vein now to preserve a level of competition needed to prevent large corporate interests and organizations from continuing to drive up the costs of critical services and goods.
"I'm a proud capitalist. I spent most of my career representing the corporate state of Delaware," Biden said during the press conference, referring to his tenure in the Senate. "Let me be very clear, capitalism without competition isn't capitalism. It's exploitation."
Kerry Dooley Young is a freelance journalist based in Washington, DC. She is the core topic leader on patient safety issues for the Association of Health Care Journalists. Young earlier covered health policy and the federal budget for Congressional Quarterly/CQ Roll Call and the pharmaceutical industry and the Food and Drug Administration for Bloomberg. Follow her on Twitter at @kdooleyyoung.
For more news, follow Medscape on Facebook, Twitter, Instagram, and YouTube.
Medscape Medical News © 2021

Cite this: Biden Calls for Action on Hospital Mergers, Drug Costs, Hearing Aids - Medscape - Jul 12, 2021.