MANCHESTER—World-renowned oncologist Professor Justin Stebbing sought funding to pay for private chemotherapy for an NHS patient after doctors decided to stop treating her because she only had weeks to live, a medical tribunal heard.
The funding application, which failed to mention the patient's life expectancy, was turned down and her father then had to pay £3000 for the chemotherapy but she died 2 days later.
Prof Stebbing is appearing before a Medical Practitioners Tribunal Service (MPTS) fitness to practise hearing and is accused of failing to provide good clinical care to 12 patients between March 2014 and March 2017.
In some cases, he's accused of inappropriately treating patients given their advanced cancer or poor prognosis, overstating life expectancy, and the benefits of chemotherapy, and continuing to treat patients when it was futile and they had just weeks to live.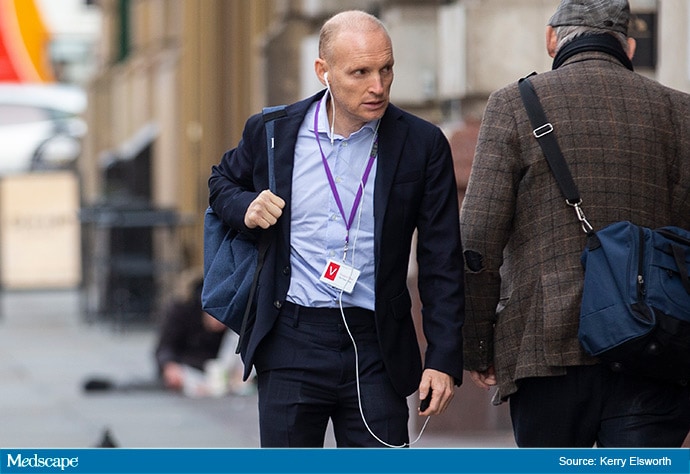 Patient D
One patient - a 44-year-old woman known only as Patient D - had been diagnosed with breast cancer in November 2011 which then spread to her liver and bones.
Although she'd had previous NHS treatment, by April 2016 her condition had deteriorated and medics at The Christie hospital, in Manchester, decided it would be inappropriate to carry on treatment as she was reaching "the end of the road".
She was seen by Prof Stebbing the following month and he prescribed combination chemotherapy carboplatin and gemcitabine.
He's accused of failing to make enquiries with doctors at The Christie regarding their plans for further treatment before writing a letter to "de-facto insurers" Grand Masonic Lodge to seek funding for treatment.
The "urgent" letter claimed that Patient D was "very sick but pretty fit" and doctors were taking "an enormously long time" to make any decision, but this was allegedly inaccurate as no further treatment was being offered.
In other charges, Prof Stebbing is accused of failing to adequately examine and/or assess the patient, failing to obtain an appropriate and thorough medical history, failing to obtain informed consent, and keeping inadequate records.
Prof Stebbing told the tribunal he'd successfully treated patients with "far, far worse" liver function than Patient D and he'd wanted to "improve her quantity and quality of life".
But Sharon Beattie QC, for the GMC, questioned why he'd not contacted medics at The Christie, given the patient was "running out of options".
He claimed he'd had all the information he needed, had copied them into letters, and it was never "100% clear" they had decided to end treatment.
The chemotherapy was "completely routine", he said, and it was "preposterous" to suggest that he couldn't offer it because The Christie had refused.
"That happens all over the country all the time," he said. "That's the nature of the second opinion and second referral network. There are no guidelines here."
Clinical Judgement
Ms Beattie asked Prof Stebbing why he'd opted to treat the patient, given hospital doctors had decided she'd reached "the end of the road".
Prof Stebbing said they'd been right in Patient D's case but wrong in others and it was "a matter of clinical judgement".
He claimed he'd treated patients in far worse condition who'd got better, Patient D had shown "excellent performance status" and his own reading off literature supported the decision.
But Ms Beattie questioned why, in his funding request letter to the Grand Masonic Lodge, he only mentioned disease progression and not that the patient only had a few weeks to live.
Prof Stebbing said he didn't know that was the case because the patient would have "lived a lot longer" if treatment had been successful, and he denied "dismissing" the opinion of doctors at The Christie.
But he admitted the letter, which stated the chemotherapy treatment would cost £3000 every 3 weeks over six cycles, was poorly worded and "sloppy", and should have stated The Christie would recommence treatment if the patient improved.
The tribunal heard Prof Stebbing's application for funding was declined on the basis the chemotherapy was available on the NHS, and he's accused of inadequately communicating the funding position to Patient D and/or her family.
Prof Stebbing said he "wouldn't get involved" in funding decisions and his focus had been on the patient.

Tribunal Publicity
Earlier, Prof Stebbing claimed other oncologists had been discouraged from treating patients due to the publicity surrounding the tribunal.

He said: "Every day I'm contacted by oncologists around the country saying, 'I'm really scared to treat any dying patients now because of what's going on, Medscape and so on', and this [Patient D] is a perfect example because she had excellent care."
The tribunal also heard about another patient, a 47-year-old woman known only as Patient E, who was diagnosed with rare ampullary cancer that had spread to her liver in November 2015.
Prof Stebbing, who failed to maintain an appropriate degree of professional distance with the patient after they exchanged "flirtatious" messages, prescribed chemotherapy and "off-label" immunotherapy but her condition deteriorated and she died 8 months later.
He denies prescribing pembrolizumab when there was no biomarker or clinical data to support his decision but admits he was wrong to continue the treatment beyond 6 months, given her disease progression and no evidence of any response.
Other charges concern his alleged failure to discuss the risks and benefits of the treatment with the patient, along with the impact of her disease progression on her prognosis and life expectancy, and alleged failure to maintain adequate records.
Prof Stebbing described Patient E's situation as "desperately tragic" but he believed he'd been correct to initially provide the immunotherapy as it was "routine" and there was "no downside".
He dismissed claims by Ms Beattie that the patient had not understood the prognosis and denied telling her that she had 2 years to live, although he'd wanted her to remain "happy" with a "positive attitude" and "hope".
"I did my best to manage her in conjunction with a huge team of international doctors all continually trying to put their tuppence worth in, and I think I did a good job in a catastrophic situation, apart from the emails," he said.

He said he'd remained objective and made attempts to refer the patient to another specialist once he was aware she'd developed feelings for him but he'd carried on treating her because her step-father had "begged" him to continue.

"I was trying to be kind," he said. "She'd been told she was dying and was about to get acutely distressed."

The tribunal continues.

Ian Leonard is a freelance journalist experienced in covering MPTS hearings.
© 2021 WebMD, LLC

Send comments and news tips to uknewsdesk@medscape.net.
Cite this: Ian Leonard. Oncologist 'Sought Private Chemo Funding for Woman With Weeks to Live' - Medscape - Jul 10, 2021.