MANCHESTER—World-renowned oncologist Professor Justin Stebbing has told a medical tribunal that he was right to give a seriously ill patient chemotherapy because he believed her advance lung cancer was reversible.
Prof Stebbing, a cancer medicine and oncology professor at Imperial College London with a private practice in Harley Street, defended his decision to carry on treating the patient - known only as Patient C - despite her deteriorating condition.
He told a Medical Practitioners Tribunal Service (MPTS) hearing that he'd made "plenty" of similar patients better and if there were doubts whether or not to treat a patient in this situation he would always "try to save their life".
Prof Stebbing is accused of failing to provide good clinical care to 12 patients between March 2014 and March 2017.
In some cases, he's accused of inappropriately treating patients given their advanced cancer or poor prognosis, overstating life expectancy and the benefits of chemotherapy and continuing to treat patients when it was futile and they had just weeks to live.
The 36 charges - 21 of which he's admitted - also include failing to keep proper records and failing to gain informed consent for treatment from patients.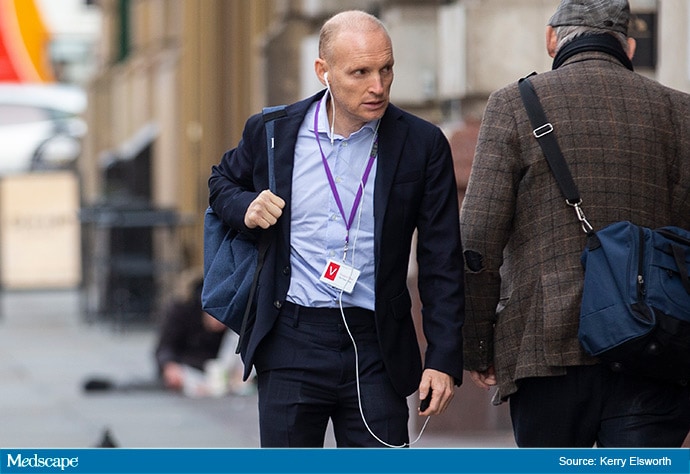 Patient C
Prof Stebbing treated Patient C, who'd been diagnosed with advanced lung cancer, between August and October 2014.
He's accused of inappropriately escalating her care, which included providing assisted ventilation, and prescribing second-line full dose chemotherapy in the weeks prior to her death.
It's alleged he also failed to discuss a realistic assessment of the patient's prognosis with her or her family, failed to discuss the risks and benefits of not having treatment and did not consider an appropriate ceiling of care with colleagues.
Sharon Beattie, for the GMC (General Medical Council), questioned why Patient C was given further chemotherapy when her condition had deteriorated following previous treatment and Prof Stebbing had been aware of her progressive lymphangitis.
Prof Stebbing admitted that by September 18, 2014, "things weren't looking as hopeful" but in his clinical experience patients with very rapid presentations of cancer were able to achieve "very durable long-term remission".
He said chemotherapy tended to work best for fast-growing rather than slow-growing cancers.
"I thought there was a very reasonable probability in a previously well woman with a rapidly progressive cancer that we could get her better," he said.
"And it's all very well afterwards saying, 'You see, you couldn't.'"
Life Saving
Ms Beattie said Prof Stebbing had maintained the patient's cancer was "eminently reversible" and that had played a "major role" in other clinicians' view of her treatment.
But Prof Stebbing said decisions on treatment were made with colleagues and the patient had been "scared" and "desperately wanted to get better".
Ms Beattie said his belief that the patient could get better was "not a realistic assessment of her condition at that time" and "the outcome was inevitable given her ongoing deterioration".
He said: "I'm sorry but I've had plenty of patients like this get better. You're picking on one that died. I can't agree with you."
He said if there's "any doubt about whether you should try to make a patient better or not in this situation" he maintained "you should try to make them better".
Prof Stebbing told Ms Beattie: "The GMC's position was 'if you're in doubt, let the patient die' and my position, which I'm not sorry for, was try to save their life."
He said although he'd had concerns given it was a "really hard, delicate, difficult situation" he'd had no concerns about ventilating a "treatment-naive" cancer patient.
Prof Stebbing insisted he'd agreed a ceiling of care with colleagues throughout Patient C's treatment, but Ms Beattie said records did not show this.
The hearing is continuing.
Ian Leonard is a freelance journalist experienced in covering MPTS hearings.
© 2021 WebMD, LLC

Send comments and news tips to uknewsdesk@medscape.net.
Cite this: Ian Leonard. Oncologist Defends Giving Chemo to Seriously Ill Woman - Medscape - Jul 09, 2021.