Healthcare and other essential workers took a victory lap Wednesday along the "Canyon of Heroes" in New York City with a ticker-tape parade held in their honor.
The parade began in Battery Park at the bottom of Manhattan with a view of the Statue of Liberty just across the Hudson River. It swept up Broadway and ended in City Hall Park where ABC News anchor Robin Roberts gave a heartfelt speech thanking all essential workers. For more than 135 years, everyone from presidents, royalty, rock stars, and sports icons have been celebrated along the same route.
Mayor Bill de Blasio described the "Hometown Heroes Parade" in a statement posted on the city's website as a "tribute to the first responders who got the city through the coronavirus pandemic."
de Blasio said the groups honored represent "all of the essential workers who made it happen and kept it together in New York." Besides hospital and healthcare workers, they include first responders, educators, and those who work in municipal, transportation, grocery, and delivery jobs.
For more than 2 hours, New Yorkers and tourists lined the streets and tossed confetti, cheered, and offered up high fives and hugs. The 14 different floats were filled with doctors, nurses, and other "everyday heroes," making it one of the largest ticker-tape parades in New York City history, according to NYC.gov.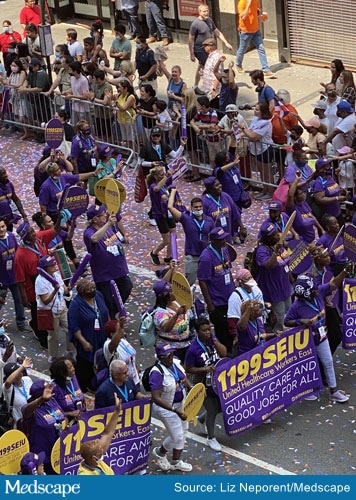 Healthcare professionals and other essential workers were
honored Wednesday with a ticker-tape parade through New York City.
Sandra Lindsay, the nurse from Queens who was the first American to receive the Pfizer vaccine, served as the parade's grand marshall. President Joe Biden announced last week that Lindsay's hospital scrubs, vaccination card, and badge she wore on the day she received her first dose will be displayed at the COVID-19 exhibit in the Smithsonian Museum of American History in Washington, DC.
The celebration was not without controversy, however. When the event was first announced last month, several categories of essential workers were omitted from the participant list, including the funeral workers who have picked up the dead throughout the city during the pandemic. After a public uproar, they were hastily added. Several unions, including those who represent many emergency medical personnel, declined to participate because of an ongoing dispute with the city over pay and other issues.
This was the first ticker-tape parade since the coronavirus swept through New York back in March 2020, bringing life in the nation's largest metropolis to a standstill. The city remained the early epicenter of the pandemic in the United States for several months in 2020. By April 2020, nearly 35,000 New Yorkers had been diagnosed with the virus and more than 4000 had died. More than 800 city residents died on a single day in April alone, according to the Centers for Disease Control and Prevention.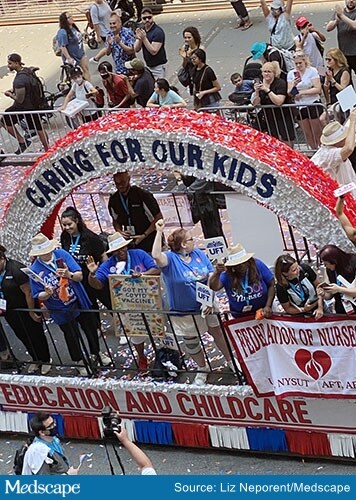 This was the first ticker-tape parade since the coronavirus
swept through New York back in March 2020.
Now over 70% of New Yorkers are now fully vaccinated, which allowed the city to officially reopen on July 1. Reported COVID-19 cases are currently low in the New York metropolitan area, though they are increasing with the spread of the more contagious Delta variant.
"We'll always remember the pain and tragedy of COVID. No one is going to ever forget those we lost and what families are still going through, but we need a day to celebrate the heroism of everyday New Yorkers," de Blasio said.
Liz Neporent is Medscape's executive editor of social media and community. She has previously worked at ABC News National as well as other major news outlets. She's based in New York City and can be reached at lneporent@medscape.net or @lizzyfit on Twitter.
Follow Medscape on Facebook, Twitter, Instagram, and YouTube.
Medscape Medical News © 2021 WebMD, LLC

Send comments and news tips to news@medscape.net.
Cite this: New York City Ticker-Tape Parade Honors Healthcare Heroes - Medscape - Jul 08, 2021.