MANCHESTER—World-renowned oncologist Professor Justin Stebbing has denied taking on too many patients and "spreading himself too thinly" leading to "failings" in his professional and clinical judgement, a medical tribunal heard.

Prof Stebbing, a cancer medicine and oncology professor at Imperial College London with a private practice in Harley Street, is said to have had as many as 1200 patients at one time but he insisted it never affected his practice.

His international reputation for innovative treatments has led to wealthy, terminally ill cancer patients from around the globe turning to him in the hope of extending their lives.

But Prof Stebbing, who's appearing at a Medical Practitioners Tribunal Service (MPTS) fitness to practise hearing, is accused of failing to provide good clinical care to 12 patients between March 2014 and March 2017.

In some cases, he's accused of inappropriately treating patients given their advanced cancer or poor prognosis, overstating life expectancy and the benefits of chemotherapy and continuing to treat patients when it was futile and they had just weeks to live.

The 36 charges - 21 of which he's admitted - also include failing to keep proper records and failing to gain informed consent for treatment.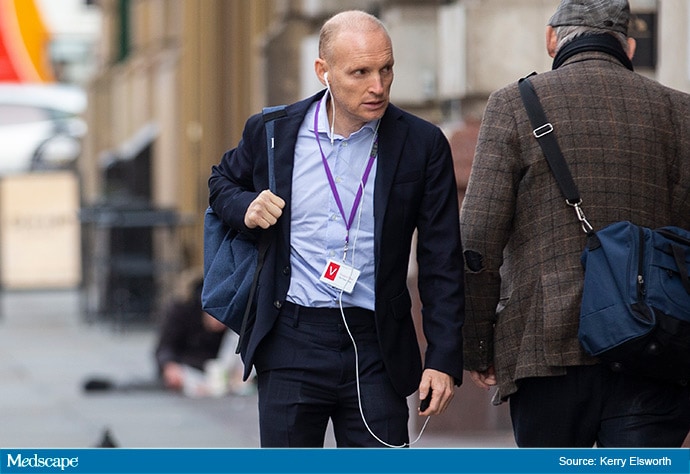 Spreading Himself Too Thinly?
Sharon Beattie, for the GMC, questioned Prof Stebbing about the number of patients under his care in May 2016.

Ms Beattie claimed it was around 1200 but Prof Stebbing, after admitting it was difficult to give an approximate, put the number at around 200-300 "active" patients .

The 1200 figure, he said, would have included patients who were scheduled to have 6 or 12 month follow-ups.

Ms Beattie said one of the concerns was Stebbing had seen too many patients and she asked: "Professionally and clinically were you spreading yourself too thinly?"

"Despite my work ethic - I always thought everything was perspiration not inspiration - I possibly worked too many hours," he said.

"But I really don't think I neglected my patients.

"I always tried to do as much for them as I could. I thought about them as individuals, considered their families, tried to take a patient-centred holistic approach.

"I don't think I neglected my patients, despite having large numbers. I had a very supportive team, great junior doctors and secretarial staff."
Prof Stebbing said his lengthy hours had created "personal" issues for him but he always had enough time for patients.

Ms Beattie pressed Prof Stebbing on whether his "failings" were due to time-pressures and his large number of patients had "impeded" his practice and communications with others.

"I don't think it was a question of the number of patients I was treating at the time," he said.

"I don't think I neglected my patients clinically. I neglected other parts of my life for sure and I didn't handle that very well. I think just to put it down to patient numbers is over-simplistic.

"I was always very focused on the patient and I could have communicated better with my colleagues. But I don't think it was a question of time."

Lazarus-like Treatment Responses
Ms Beattie made references to Prof Stebbing describing "Lazarus-like" responses to treatment with some patients, which he described as a "poor choice of words".

But he denied her claim that he'd taken the "line of least resistance" by treating patients and "giving them what they wanted".
Ms Beattie claimed patients came to him because they wanted a "Lazarus-like" response to treatment.

Prof Stebbing said the treatment plan was "just a piece of a jigsaw" and palliative care was a "necessity" to him while other oncologists saw it as a "nihilistic approach or giving up" he saw it as way to manage symptoms or end of life care.

He said that taking colleagues' patients on could lead to "gossip" and "professional issues" so he typically refused to do so but sometimes changed his mind.

When asked why he'd change his mind by panel Chair Hassan Khan, he replied: "Because simply I would have liked to have thought of myself as a kind and caring doctor and always acting in a patient's best interests.

"That's different to giving a patient a treatment that you wouldn't think appropriate."

He added that he had to "balance" being kind and caring to patients with colleagues taking a dim view of him taking on cases.

Difficult Relationship
Ms Beattie asked Prof Stebbing about a clash with one colleague Nuala Close, former matron at the London Clinic, the UK's largest private hospital, when she'd objected to him giving chemotherapy to a deteriorating lung cancer patient in March 2016.
Prof Stebbing allegedly told her: "The patient is f***** anyway so whether we give it or don't he will die."
He admitted to having a difficult relationship with Ms Close but didn't believe he'd used those words and he'd wanted to change the patient's "certainty of death".
The 73-year-old man - known only as Patient G - eventually received the chemotherapy but died a few days later.
The hearing is continuing.
Ian Leonard is a freelance journalist experienced in covering MPTS hearings.
© 2021 WebMD, LLC

Send comments and news tips to uknewsdesk@medscape.net.
Cite this: Ian Leonard. Oncologist Denies Taking on Too Many Patients Leading to Failings - Medscape - Jul 05, 2021.