MANCHESTER—World-renowned oncologist Professor Justin Stebbing has told a medical tribunal that he "always did his best" for patients but in some cases he'd "clearly fallen short" and hoped to have "learned his lesson".
Prof Stebbing, a cancer medicine and oncology professor at Imperial College London with a private practice in Harley Street, has an international reputation for his innovative treatments.
He's treated wealthy patients from around the globe, including New Zealand multi-millionaire Sir Douglas Myers and the actor Lynda Bellingham.
He's appearing before a Medical Practitioners Tribunal Service (MPTS) fitness to practise hearing and is accused of failing to provide good clinical care to 12 patients between March 2014 and March 2017.
In some cases, he's accused of inappropriately treating patients given their advanced cancer or poor prognosis, overstating life expectancy and the benefits of chemotherapy, and continuing to treat patients when it was futile, and they had just weeks to live.
The 36 charges - 21 of which he's admitted - also include failing to keep proper records and failing to gain informed consent for treatment from patients.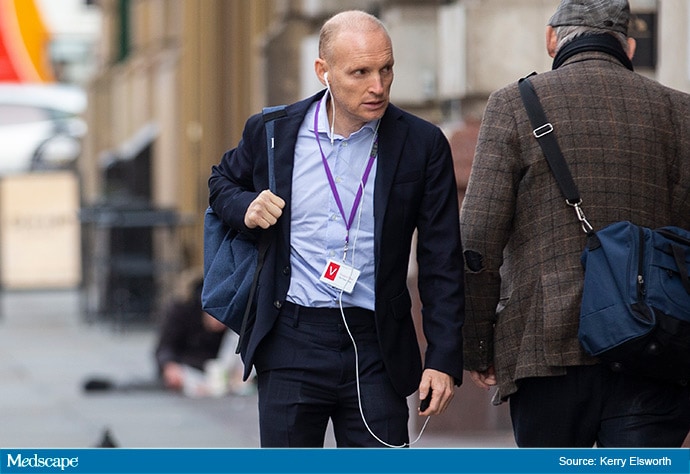 Quality of Life, and Death
Sharon Beattie, for the GMC, questioned Prof Stebbing on the "philosophy" of his treatment and the importance of giving dignity to dying patients.
He said: "I always thought about that.
"I mentioned quality of life but clearly there's also quality of death.
"Quality of life and quality of death mean different things to different people, and for me it was always about personalised medicine, which means treating the right patient at the right time, with the right drugs, for the right person, and the right tumour.
"But for another person it's totally different.
"Different people have different value systems whether it's physical, psychological, emotional or even spiritual.
"I always did my best and I've clearly fallen short in some cases and I'm very remorseful, upset and sad about that, and hopefully I've learned my lesson."
Prof Stebbing, who insisted he'd turned away many patients because he believed he couldn't treat them, said published literature showed it was often hard to specify a prognosis for cancer patients.
"I'm not very good at giving a very accurate prognosis," he said.
"These patients which you've super-selected as 0.1% or less of the patients I've ever treated were incredibly challenging patients.
"Obviously, you can't really buy a retrospective-scope and say beforehand. You know, if I even ask you who's going to win the European football.
"It's really difficult [to know] in advance but after you can say Italy are going to win because of X,Y, and Z.
"Well, it's not obvious to know beforehand."
Unauthorised Treatment
Earlier, he told the tribunal that he "panicked" when he realised chemotherapy had been administered to a patient without the authorisation of colleagues, but his intention wasn't to "circumvent" conditions placed on his practice.
Prof Stebbing had treated the patient who was from New Zealand - known only as Patient L - since 2013.
The patient was admitted to the Princess Grace Hospital in March 2017, where he was diagnosed with a small bowel obstruction and then given chemotherapy.
Prof Stebbing, who didn't see the patient for 3 days, has admitted inappropriately prescribing the treatment, given the bowel obstruction was evident on a CT scan and conditions had been placed on his practice by HCA Healthcare.
Those restrictions required him to get authorisation from two supervisors before changing a patient's treatment.
Prof Stebbing said he sent an email to get their approval believing it would be "pretty standard or automatic" as the chemotherapy he'd prescribed was "very, very straight-forward".
But no consent was given and Prof Stebbing failed to withdraw the prescription and Patient L received the chemotherapy the next day.
However, he told the tribunal he only failed to withdraw the prescription because he was under the impression the treatment had already been administered.
Prof Stebbing has admitted several other charges in relation to Patient L after he sought to have treatment retrospectively authorised at an MDT meeting, changed details on paperwork, including removing a reference to the CT scan, with his actions deemed dishonest.
But he denies a charge of dishonesty in relation to failing to get authorisation for Patient L's chemotherapy and not withdrawing his prescription.
Prof Stebbing said he'd expected the chemotherapy not to be given to the patient due to checks in the hospital system.
"I was very focussed on the patient and what he wanted but under no circumstances would I have wanted to circumvent any supervisory arrangement," he added.
The tribunal continues on Monday.
Ian Leonard is a freelance journalist experienced in covering MPTS hearings.
© 2021 WebMD, LLC

Send comments and news tips to uknewsdesk@medscape.net.
Cite this: Ian Leonard. Oncologist Accused of Inappropriate Treatment 'Always Did His Best' for Patients - Medscape - Jul 02, 2021.