Compared with their non-Black counterparts, Black patients with atopic dermatitis (AD) are significantly more likely to be younger, have lower household incomes, live in an urban setting, and use Medicaid or state assistance. They also have significantly poorer disease control and an increased rate of comorbid skin infections.
Those are among the key findings from a 25-question survey administered to members of the National Eczema Association.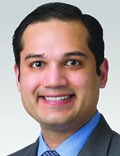 "Black individuals with AD have a unique sociodemographic and disease profile," lead study investigator Raj Chovatiya, MD, PhD, said during the Revolutionizing Atopic Dermatitis symposium. "Out-of-pocket expenses are just one component of the real-world burden faced by this population."
According to Chovatiya, of the department of dermatology at Northwestern University, Chicago, the clinical phenotype and burden of AD can vary across racial and ethnic groups. Black race, for example, is associated with a higher prevalence of AD, a higher burden of moderate to severe disease, increased rates of allergic comorbidities, greater AD-related impact on health-related quality of life, and more treatment-resistant AD.
"These features can make long-term AD control very difficult," he said. "Given the variable long-term efficacy and safety of current treatments, health care providers and patients often have to combine therapies, seek new treatments, and consider adjunctive approaches – all of which can contribute to increased costs."
AD is also associated with a considerable financial burden, he continued, including direct health care costs, lost work productivity and out-of-pocket health care expenses. "Previous population-based studies suggest that there are multifactorial increases in overall out-of-pocket health expenses in AD," Chovatiya said. "Black race in particular is thought to be associated with increased health care utilization in AD, but little is known about the out-of-pocket health care expenses."
To characterize the categories and impact of out-of-pocket health care expenses associated with AD management among Black individuals, he and his colleagues administered a 25-question voluntary survey to 113,502 members of the NEA between Nov. 14 and Dec. 21, 2019. They included adults with a self-reported diagnosis of AD or children, teens, or young adults who had a caregiver responding for them. In all, 1,118 respondents met inclusion criteria. Questions included those about out-of-pocket expenses for AD over the past 30 days and over the past year, as well as the disease impact on household finances.
The cohort included 75% of individuals with AD; 25% were primary caregivers of children, teens, and young adults with AD. More than three-quarters of respondents (77%) were female, 73% were White, 11% were Black, 6% were Asian, and the remainder were from other ethnic backgrounds. More than half of respondents (58%) had employer-sponsored insurance coverage and the median annual household income was between $50,000 and $75,000.
Nearly three-quarters of respondents (74%) classified their AD severity as moderate or severe, and 63% reported minimally controlled or somewhat-controlled AD. Black respondents were significantly more likely to be younger, have lower household incomes, live in an urban setting, use Medicaid or state assistance, have poor disease control, and frequent skin infections (P ≤ .02). "A numerically higher proportion of Black respondents also had increased AD severity and reported the use of step-up therapy with systemic agents, prescription polypharmacy with three or more prescriptions, and a higher monthly out-of-pocket cost," Chovatiya said.
Compared with their non-Black counterparts, Black survey respondents reported more out-of-pocket costs for prescription medications covered by insurance (74.2% vs. 63.6%, P = .04), prescription medications not covered by insurance (65.1% vs. 46.5%, P = .0004), ED visits (22.1% vs. 11.8%, P = .005), and outpatient laboratory testing (33.3% vs. 21.8%, P = .01). Black race was associated with increased household financial impact from out-of-pocket expenses (P = .0009), and predictors of financial impact included minimally controlled AD (adjusted odds ratio, 13.88; P = .02), comorbid anxiety and/or depression (aOR, 4.34; P = .01), systemic therapy (aOR, 4.34; P = .003), out-of-pocket costs that exceeded $200 per month (aOR, 14.28; P = .0003), and Medicaid insurance (aOR, 4.02; P = .03). Blacks with Medicaid had higher odds of harmful financial impact (aOR, 3.32; P = .0002) than respondents who were Black (aOR, 1.81; P = .04) or those with Medicaid alone (aOR, 1.39; P = .04).
"I looked at some of the findings from recent studies that have talked about this burden, including an increased prevalence among Black children, a higher likelihood of moderate to severe disease, higher rates of ED visits and hospitalizations, and increased prescription medications," Chovatiya said."Our findings reflect these racial and socioeconomic disparities and provide another piece of evidence for increased financial burden among Black individuals with AD and support the need for targeted strategies to address these inequities."
The study received funding support from the NEA. Chovatiya disclosed that he is a consultant to, a speaker for, and/or a member of the advisory board for AbbVie, Incyte, and Regeneron/Sanofi-Genzyme.
This article originally appeared on MDedge.com, part of the Medscape Professional Network.
Medscape Medical News © 2021 WebMD, LLC

Cite this: Survey Spotlights the Out-of-Pocket Burden on Blacks With Atopic Dermatitis - Medscape - Jun 28, 2021.