MANCHESTER—A leading oncologist who's accused of inappropriately treating terminally ill cancer patients has defended his decisions, saying he took on "difficult" cases with the aim to "change the certainty of death".

Professor Justin Stebbing, a cancer medicine and oncology professor at Imperial College London, with a private practice in Harley Street, has an

international reputation for his innovative treatments and has treated wealthy patients from around the world.

They include New Zealand multi-millionaire Sir Douglas Myers, and the actor Lynda Bellingham.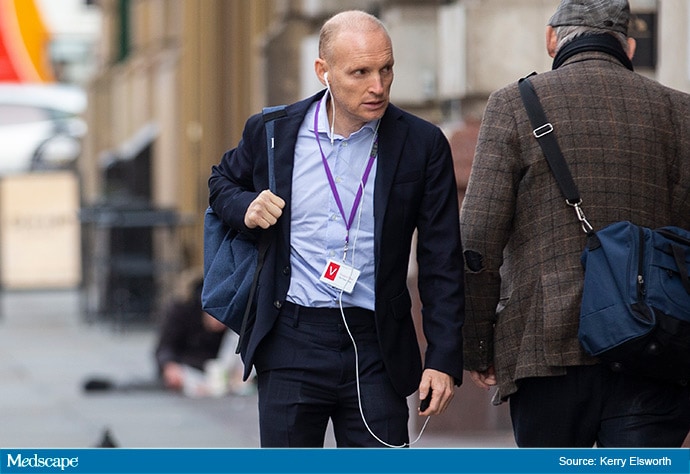 'Difficult Cancers'
Prof Stebbing is facing a Medical Practitioners Tribunal Service (MPTS) fitness to practice hearing and is accused of failing to provide good clinical care' to 12 patients between March 2014 and March 2017.
In some cases, he's accused of inappropriately treating patients given their advanced cancer or poor prognosis, overstating life expectancy and the benefits of chemotherapy and continuing to treat patients when it was futile, and they had just weeks to live.
The 36 charges - 21 of which he admitted - also include failing to keep proper records and failing to gain informed consent for treatment from patients.
Giving evidence before the tribunal, Prof Stebbing said his private practice differentiated from his NHS practice because the majority of his cases were "difficult cancers", with "at least 90 percent" of patients coming to him for a second or third opinion after being told they didn't have long to live.
The patients he's accused of mistreating all fell into the "difficult" category, he said.
"All 12 of these patients had advanced metastatic disease, so even if I was the main and first oncologist treating them they would fall into the difficulty category.
"When you go back and look at my NHS practice the vast majority would be easy cancers and the vast majority of my private practice were difficult cases where decisions were made under both time pressure and uncertainty."
'Emotional and Challenging' Consultations
He said his private patients were "typically highly-motivated to maximise their survival and quality of life, typically well-informed and well-read and typically wanting to explore all options and have a discussion and to understand what their options are".
Consultations could be "very emotional" and "challenging", he said, because he had to manage patients' expectations and "sometimes you can't make people better".
Prof Stebbing said he worked under time-pressures in private practice because some patients had incurable cancers or had been told they had just weeks to live or no treatment was available.
"If you leave a lot of these patients the disease would kill them," he said.
"So you're trying to change the certainty of death and, if you like, work in uncertain conditions with uncertain knowledge to create uncertainty about the fact they'll die."
He said he would "always discuss" the prognosis but some patients and their families preferred not to know "how bad it is" and if that was the case he wouldn't give them his "best guess", describing it as "good medical practice".
'Paucity' of Evidence
Earlier, his QC Mary O'Rourke said there was a "paucity" of evidence in the GMC's case against Prof Stebbing and an over-reliance on expert witnesses who "were not there, did not see the patient and never had any engagement with the patient or any of the family of the patient".
She said every one of the 12 patients had been a "challenging" case and involved "an end of life situation" and appeared to have been chosen because they died within 30 days or 6 weeks of receiving treatment and had come to Prof Stebbing for a second opinion.
Prof Stebbing, she said, was faced with "very emotional situations" and his focus was "to empathise with the patient, console them, possibly give them some hope as they've come by way of a second opinion".
Ms O'Rourke said his motivation was "patient quality and quantity of life" and "it wasn't a case of bad motivation, to simply treat a patient for financial or other reasons".
She added: "His motivation was achieving a result for a patient and whether he became over-zealous is maybe another matter."
Complainants in the case include Leaders in Oncology Care (LOC), a specialist cancer treatment centre, BUPA, and AXA insurers.
Support
The panel agreed to an application by Ms O'Rourke to include testimonials from 57 patients in support of Prof Stebbing as evidence in the case.
But panel chair Hassan Khan said they would only consider those parts of the testimonials relevant to the allegations against Prof Stebbing of failing to gain informed consent from patients by not discussing the potential risks and benefits of treatment or not having treatment.
Ms O'Rourke said the testimonials illustrated the professor's "modus operandi" and he was "attentive" and "accessible" to patients and willing to answer their questions about treatment.
She also told the tribunal that a support group had been set up by patients for Prof Stebbing and they were helping to pay his legal costs in the case.
The tribunal hearing is continuing.
There's more on the hearing here.
Ian Leonard is a freelance journalist experienced in covering MPTS hearings.
© 2021 WebMD, LLC

Send comments and news tips to uknewsdesk@medscape.net.
Cite this: Ian Leonard. Oncologist Accused of Giving 'Inappropriate' Treatment Aimed to 'Change Certainty of Death' - Medscape - Jun 30, 2021.