MANCHESTER—A world-renowned oncologist accused of inappropriately treating terminally ill cancer patients has told a medical tribunal that he achieves "good outcomes" which extend the "quantity and quality of life".

Professor Justin Stebbing said the outcomes of a dozen patients - 11 of whom died within 6 weeks of treatment - who are at the centre of allegations against him were "not representative" of his overall outcomes and "many" other patients were still alive today.

Prof Stebbing, a cancer medicine and oncology professor at Imperial College London with a private practice in Harley Street, has an international reputation for his innovative treatments and has treated wealthy patients from around the globe.

They include New Zealand multi-millionaire Sir Douglas Myers and the actor Lynda Bellingham.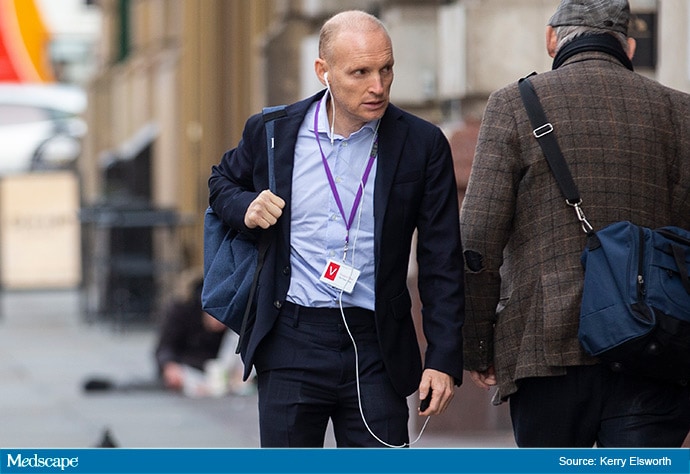 36 Charges
Prof Stebbing is appearing at a Medical Practitioners Tribunal Service (MPTS) fitness to practise hearing and is accused of failing to provide good clinical care to 12 patients between March 2014 and March 2017.
In some cases, he's accused of inappropriately treating patients given their advanced cancer or poor prognosis, overstating life expectancy and the benefits of chemotherapy and continuing to treat patients when it was futile and they had just weeks to live.
The 36 charges - 21 of which he's admitted - also include failing to keep proper records and failing to gain informed consent for treatment from patients.
When questioned by his QC Mary O'Rourke about whether a typical outcome would be the majority or all of his patients dying, he replied: "All patients with metastatic cancer will invariably die of their cancer unless they have a heart attack or something like that - the vast majority.
"I have good outcomes. I mean significantly extending their quantity and quality of life.
"For some people that might be a short time to get to a wedding or special occasion, for other people that may mean many years.
"But the 12 outcomes here - apart from Patient B and Patient J at the beginning - are not representative of my overall outcomes at all."
He said if patients survived "it was easy to say you've done the right thing" but if they died "it was easy to say you haven't done the right thing".
Tough Cases
Ms O'Rourke also asked Stebbing why he took on tough cases.
"I took on cases where I felt that there was a prospect of improving their quality and quantity of life," he said.
"Everyone has their own dignity. So for some people not having further treatment and dying at home peacefully with their family is dignity.
"But other patients they want to do everything until the final minute.
"If I thought, and they understood the risks, there was a reasonable prospect of a good outcome then I would take on the cases."
Prof Stebbing said he'd specifically started using gene sequencing in 2015/2016, which wasn't routine at the time, and based on that he'd been able to identify specific treatments and suitable trials for patients and "many had written testimonials and were alive today".
In the case of the 12 patients, he'd believed "he could try to make them better" and there was a prospect of treatment working.
He said he'd treated "many, many patients who were similar or in some cases sicker" and made them better and, in some cases, they were still alive today.
Prof Stebbing told the tribunal that the GMC had looked at between 10,000 and 20,000 of his cases and he'd never received a formal complaint from a patient.
He said he'd decided to admit several of the charges after hearing the evidence of experts called by the GMC.
"It's been a long, traumatic, difficult process and sometimes you reach conclusions earlier than other times," he added.
"A bit like the stages of grief after someone dies."
The tribunal hearing is continuing.
Ian Leonard is a freelance journalist experienced in covering MPTS hearings.
© 2021 WebMD, LLC

Send comments and news tips to uknewsdesk@medscape.net.
Cite this: Ian Leonard. Oncologist Accused of Inappropriate Treatment 'Achieved Good Outcomes' - Medscape - Jul 01, 2021.