Editor's note: Find the latest COVID-19 news and guidance in Medscape's Coronavirus Resource Center.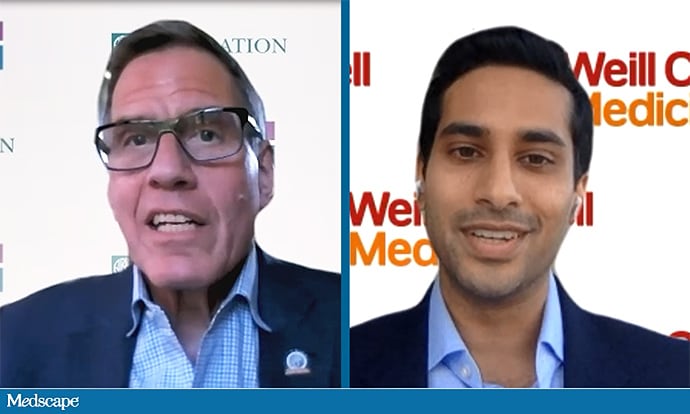 Left – Dr Richard Baron; Right – Dr Dhruv Khullar
Before medicine pins the plateauing vaccine uptake solely on hesitancy, health systems should ask themselves what they're doing to make it easy to get the vaccines and regain patient trust, physician and writer Dhruv Khullar, MD, said in a livestreamed conversation to which press were invited.
Khullar, assistant professor of health policy and economics at Weill Cornell Medical College in New York City, spoke on Tuesday with Richard Baron, MD, president and CEO of the American Board of Internal Medicine (ABIM) and the ABIM Foundation, as part of a series of conversations the foundation is hosting to elevate trust as an essential principle for improving healthcare.
"We need to make sure we've done everything to create access and we've made it easy – through giving people time off work or incentivizing people or making sure they have the ability to get vaccinated at a local site or at their primary care doctor," Khullar said.
Examples of Building, Betraying Trust
Khullar and Baron gave some examples of when trust can be improved or betrayed.
Baron relayed the effort shared by a colleague of including a phonetic pronunciation of a hard-to-pronounce patient's name on the home page of the patient's electronic health record (EHR) so that every member of the health team would be able to say it correctly.
Another example, Baron said, comes from an LGBTQ clinic that focused on inserting pronouns in EHRs. clinicians just need to figure out how to include that in their workflow, he said.
"We think a lot about how to use technology in systems, but how many of us are thinking about whether we could use technology so that everyone who has contact with the patient can build trust with the patient?" Baron asked.
"If we start with the naive sense that the only way trust happens is between individuals, we miss all kinds of opportunities to build trust at scale," he said.
Survey Finds Lack of Trust
The conversation followed the release this week of results of a survey conducted for the ABIM Foundation by NORC at the University of Chicago that found that a clear majority of adults say the United States health system routinely discriminates.
Fifty-nine percent (59%) of adult consumers say the healthcare system discriminates at least "somewhat," and 49% of physicians agree.
According to the study, "About one in every eight adults (12%) say they have been discriminated against by a U.S. health care facility or office, with Black individuals being twice as likely to experience discrimination in a health care facility compared to white counterparts."
People who report being discriminated against in a healthcare setting are twice as likely to say they do not trust the system, the survey notes.
Vaccine hesitancy is one result of trust betrayed, Khullar said.
He said that when vaccines first became available, he was perplexed that some healthcare workers — among those at highest risk for contracting COVID-19 — said they would not get vaccinated.
Ohio Gov. Mike DeWine (R) at the end of December said 60% of nursing home staff in Ohio were refusing to get vaccinated, for example.
Khullar talked with a certified nursing assistant who was in her mid-30s, had asthma, and was working in long-term care about why she had chosen not to get vaccinated.
The woman said that at the peak of the pandemic, she was working at three nursing homes to cover shifts and that she was working six 14-hour days. She was told there was no coronavirus in the places where she worked, and then she contracted the virus. She did not receive paid leave during her illness and had not been given an N95 mask. She had to turn to her family for help with rent.
Then she was told by her employers to get the vaccine, Khullar said. "This is not an isolated incident."
Being Labeled "Hesitant" May Strengthen Resistance
Khullar warned that labeling certain groups, regions, or political parties as being more likely not to get vaccinated may strengthen individuals' resolve to defend their stance.
"It's important to avoid making vaccine hesitancy part of one's identity," Khullar said. "Once you tie one's hesitancy to their identity, it becomes very hard to change one's mind. We have to be careful of the way we label people and make them feel that taking or not taking the vaccine is part of who I am."
Baron said that to rebuild trust, health systems may have to look outside their area of business.
For example, Baron noted, "Health systems are not in the wi-fi business or network business, but what would happen if a health system in the community it served during the pandemic made wi-fi available for kids trying to go to school? It's not doing healthcare better, but it's responding to need in the community."
"The strongest opportunities for building trust probably come outside the core business that we do and are more related to understanding the needs of the community we serve," he said.
Marcia Frellick is a freelance journalist based in Chicago. She has previously written for the Chicago Tribune and Nurse.com and was an editor at the Chicago Sun-Times, the Cincinnati Enquirer, and the St. Cloud (Minnesota) Times. Follow her on Twitter at @mfrellick.
For more news, follow Medscape on Facebook, Twitter, Instagram, and YouTube.
Medscape Medical News © 2021

Send news tips to news@medscape.net.
Cite this: Rebuilding Trust in Healthcare Essential to Recharging Vaccine Uptake - Medscape - Jun 16, 2021.