Patients with hypertrophic cardiomyopathy (HCM) can not only safely complete a high-intensity exercise programme but experience significant improvements in fitness, cardiovascular risk, and psychological outcomes, say UK researchers.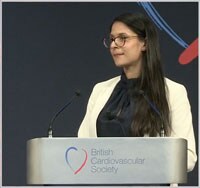 Dr Joyee Basu, a cardiology registrar at St George's University in London, and colleagues devised a 12-week training programme that combined resistance and aerobic training, comparing it with usual care in 80 HCM patients.
Those in the exercise group experienced significant improvements in cardiorespiratory measures, reductions in blood pressure, body mass index and cholesterol levels, and reductions in anxiety and depression scores.
Crucially, this was achieved without compromising the safety of the patients, with no differences between the exercise and usual care groups in terms of adverse outcomes.
Benefits and Barriers
The results therefore showed that a high-intensity programme is "feasible, with considerable cardiorespiratory fitness benefits," Dr Basu said, alongside a "reduction in cardiovascular risk factors and improvement in psychological outcomes".
"Most of the beneficial physiological adaptations, however, returned to baseline" at 6 months, "which basically reiterates that we need to look at barriers and how to maintain these benefits after cessation".
The research was presented at the British Cardiovascular Society 2021 Annual Conference on June 8 as part of the Young Investigators Award Competition.
The findings were warmly received on Twitter, where, among others, Dr Gavin McLean, an exercise physiologist at Running Smarter, Leeds, congratulated Dr Basu on a "really nice presentation".
He added that his "take home" from the results was that there is "a clear need for sustained exercise rehabilitation…if we're going to see long standing positive effects".
https://twitter.com/gavin_mcclean/status/1402270551477981198?s=12
Discussing the findings at the meeting, Silvia Schiavano, professor of biomedical engineering at University of London Institute of Cardiovascular Science, asked how the team could increase the number of participants.
Dr Basu said that, as it stands, the programme is "quite labour intensive" and they would like to have a "centre-based rehabilitation programme initially to allay anxieties around safety…and then move to a tele-rehabilitation programme".
She added that "in the COVID era remote rehabilitation is the way forward and it allows us as physicians to monitor people remotely".
The large improvement in the capability of wearable technologies also means that tele-rehabilitation is becoming a "feasible option", allowing individuals to "incorporate these rehabilitation programmes into their daily life".
This "would then tackle some of the issues…about sustaining involvement in an exercise programme and therefore maintaining benefits", Dr Basu added.
Common Condition
She began her presentation by explaining that HCM is the most commonly encountered inherited cardiac condition in clinical practice, and was historically considered to be the leading cause of sudden cardiac death in youth athletes.
Consequently, individuals with HCM were excluded from competitive sport. Alongside a "reluctance among physicians to prescribe exercise, and among patients to engage in exercise", this has meant that 55% of patients "fail to meet physical activity recommendations".
More contemporary studies, however, have suggested that the risks "may not be as high as initially perceived," Dr Basu said, "and exercise may favourably affect cardiac remodelling".
Indeed, moderate intensity exercise programmes have been shown to improve functional capacity and quality of life in HCM, without increasing adverse outcomes.
With growing numbers of younger, lower risk individuals with HCM being identified, there is a need for high-intensity exercise regimens that are "attractive" and reduce the long-term consequences of a sedentary lifestyle.
The team therefore set out to determine whether a 12-week high-intensity regimen would be feasible and safe, as well as improve functional capacity, cardiovascular risk, and quality of life, with sustained improvements.
They included symptomatic and asymptomatic HCM patients aged 16–60 years who were stable on medication and able to exercise. They excluded competitive athletes, and "anyone with any pathophysiology or comorbidities that might interfere with them getting to high-intensity exercise", Dr Basu said.
After an initial assessment and two baseline physiological and quality of life evaluations, the participants were randomised to either usual care or a 12-week exercise programme consisting of two sessions per week of alternating aerobic and resistance sessions, alongside assessment of patient diaries and pulse watch downloads.
All the sessions were supervised by Dr Basu, a fitness instructor and a cardiac rehabilitation instructor. Home-based YouTube exercise videos were detailed in a patient booklet, and the participants had a 30-minute educational session.
The baseline evaluations were then repeated at 12 weeks, and patients in the exercise group were encouraged to continue exercising at the heart rate reserve they reached at the end of the programme.
The exercise arm was additionally followed up at 6 months, when baseline characteristics, physical activity levels, 48-hour Holter monitoring, cardiopulmonary exercise testing, and the questionnaires were again assessed.
Study Details
Eighty patients were enrolled into the study, and 34 in the exercise arm completed the study and 33 were followed up at 6 months. In the control group, 33 were followed up at 12 weeks.
While the cohort was "generally representative" of the typical HCM population, Dr Basu said, there were few women in the study, and the majority were White. Nevertheless, the exercise and control arms were well matched at baseline.
The exercise programme was completed by 85% of participants, and adherence to the sessions was 75%.
There was no difference between the exercise and usual care groups in the primary composite safety outcome of cardiovascular death, cardiac arrest, device therapy, exercise-induced syncope, sustained ventricular tachycardia, non-sustained ventricular tachycardia, and sustained atrial arrhythmias (p=0.99).
However, there was a significant increase in physical activity levels in the exercise group at 12 weeks (p<0.001), with patients increasing their total exercise time compared with controls (p=0.005).
The exercise group also had a significant increase in VO2max versus controls, by an average of 3.7 ml/kg/min (p=0.006), oxygen uptake at anaerobic threshold, by 2.44 ml/kg/min (p=0.009), and time to anaerobic threshold, by 115s (p<0.001).
Patients in the exercise group also saw significant improvements in systolic blood pressure, reducing by an average 7.3 mmHg versus controls (p=0.002), as well as body mass index, which reduced by an average of 0.8 mg/kg2 versus controls (p<0.001).
Total cholesterol levels also decreased in the exercise group versus controls over the 12 weeks of the programme, by an average of 0.3 mmol/l (p=0.076).
Finally, patients in the exercise group experienced improvements in anxiety (p<0.001) and depression scores (p=0.017) compared with those assigned to usual care.
"The results at 6 months were also encouraging," Dr Basu said. "There was some maintenance in benefits on some exercise parameters, as well as anxiety scores."
She continued: "However, a lot of the advantages that we'd seen declined to baseline," with adherence to exercise falling to baseline levels and body mass index and systolic blood pressure, among other measures, rising back up.
Dr Basu acknowledged that the study was limited by the majority of the study population being "White and male" and the follow-up being "short-term".
She added that "future research should concentrate on corroboration of these findings, with larger, long-term, multi-centre randomised controlled trials powered for safety, including greater heterogeneity of individuals, with the ultimate aim of creating a national programme".
The study was funded by Cardiac Risk in the Young.
No relevant financial relationships declared.
British Cardiovascular Society 2021 Annual Conference: Abstract 003. Presented 8 June.
© 2021 WebMD, LLC

Send comments and news tips to uknewsdesk@medscape.net.
Cite this: Liam Davenport. High-Intensity Exercise Safe and Effective in HCM Patients - Medscape - Jun 10, 2021.