Most Americans do not know that there is a safe, effective, and inexpensive treatment for patients who are addicted to opioids. Buprenorphine is an opioid-derived medication that lessens opioid cravings, minimizes withdrawal symptoms, and reduces the risk for dangerous overdoses. Sadly, even those who are aware are often unable to find a clinician who can prescribe this lifesaving medication.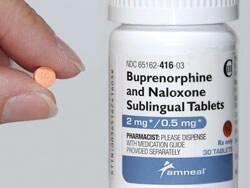 Recent policy changes from the Biden administration and US Department of Health and Human Services (HHS) removed the education requirement for obtaining a limited X-waiver for prescribing providers, which is an important step forward. However, there is still more work to be done to ensure that all patients can access buprenorphine.
We are hospitalists practicing in very different settings across the country, from urban hospitals in Connecticut to academic county hospitals in New Mexico; from suburban hospitals in Florida to rural settings in Wisconsin. But we all see in our communities the heartbreaking impact of opioids on our patients and their families as they fight to break out of the cycle of addiction. In the hospital, we frequently treat patients who struggle with opioid use disorder (OUD) and relapse, develop addiction-related life-threatening illnesses, and all too often die after repeated admissions — each discharge constituting a missed opportunity to save a life. Opioids are insidious, and the nationwide crisis has only worsened during the COVID-19 pandemic.
To better care for our patients, each of us sought out and completed 8 hours of a required training to obtain a prescribing waiver — the X-waiver. This allows us to prescribe buprenorphine at discharge to patients with opioid addiction. We are, unfortunately, in the minority of clinicians in the United States who can prescribe this lifesaving medication. After discharge from the hospital, our patients have few, if any, options for connecting with outpatient providers who can continue this effective therapy, which must be taken daily. In the United States, only 40% of counties have at least one X-waivered physician, a scarcity that is most acute in many rural areas where the opioid crisis looms largest.
Buprenorphine cannot be abused in the same way as other medications used to treat opioid addiction. Evidence demonstrates that patients take buprenorphine to treat symptoms of withdrawal and to maintain their sobriety — not to get high. Buprenorphine can be dispensed from any pharmacy, unlike methadone, which requires daily visits to specialized clinics, making it easier for patients to access and comply with treatment. It is a highly effective medication, well suited to the era of COVID-19 and telemedicine.
The X-waiver requirement is not based on the dangers of buprenorphine or complexity of administering the medication. Instead, this antiquated policy is fueled by stigma and fallacies that do not reflect the realities of modern addiction treatment. Ironically, physicians do not need any extra training or special certification to prescribe the opioids that fuel this epidemic but must take these steps to treat opioid addiction. In an ideal world, OUD would be considered a chronic illness, similar to diabetes or heart disease, with all providers — especially those in the primary care setting — trained and empowered to treat and monitor their patients who struggle with it. We would not accept such restrictions on insulin for diabetes and should not accept this for OUD.
Following years of advocacy and education regarding the X-waiver and buprenorphine, the HHS announced a practice guideline change on January 14, 2021, that effectively eliminated the X-waiver requirement for physicians. The medical community strongly supported and celebrated this decision. Unfortunately, HHS determined weeks later that it lacked the authority to enact this change. In April 2021, HHS and the Biden administration released a new clinical guideline that allows clinicians in the United States, including MDs and advanced practice providers, to receive an X-waiver, without completing the required training, by submitting an online Notification of Intent.
When approved, they will be issued an X-waiver, but they are only able to prescribe buprenorphine to fewer than 30 patients. If treating more than 30 patients, they must still complete the required training and apply for an X-waiver. This process eliminating the education component to the X-waiver is probably the most the Biden administration can achieve without a legislative action to eliminate the X-waiver requirement, but it does not go far enough to address this issue.
We, alongside our professional association, the Society of Hospital Medicine, urge Congress to pass — and the president to sign — the reintroduced Mainstreaming Addiction Treatment Act. This bipartisan, bicameral bill, sponsored by Rep. Paul Tonko (D-NY), Rep. Michael Turner (R-OH), Sen. Maggie Hassan (D-NH), and Sen. Lisa Murkowski (R-AK), would eliminate the X-waiver entirely and streamline access to buprenorphine.
There are many more steps we must take to address this crisis, including streamlining insurance coverage of buprenorphine and tackling OUD education during medical training. But taking this first step to eliminate the X-waiver is necessary to address the subsequent policy and societal barriers to treating OUD in our population.
As hospitalists, we are intertwined with the communities we serve and call home. We have seen the toll that opioid addiction takes on our patients, families, and friends. We can take control of this disease together, using safe and effective tools like buprenorphine to stem the tide. This starts with #XtheXWaiver. We implore Congress and the Biden administration to act swiftly to get this lifesaving medication into the hands of all patients who need it.
Kendall M. Rogers, MD, is a professor and the division chief for hospital medicine in the Department of Internal Medicine at the University of New Mexico in Albuquerque.
Suparna Dutta, MD, MPH, is an associate professor at the University of Connecticut School of Medicine in Farmington and a department chair at Hartford Hospital in Connecticut.
Jennifer B. Cowart, MD, is an assistant professor and vice chair of quality and patient safety at the Mayo Clinic in Jacksonville, Florida.
Steve P. Phillipson, MD , is a family medicine hospitalist and a director in the Department of hospital medicine at the Aspirus Wausau Hospital in Wisconsin.
Follow Medscape on Facebook, Twitter, Instagram, and YouTube
© 2021 WebMD, LLC

Any views expressed above are the author's own and do not necessarily reflect the views of WebMD or Medscape.
Cite this: Dropping the Buprenorphine Waiver: More Is Needed to Ensure That Patients Have Access - Medscape - Jun 10, 2021.