There were no local recurrences when Mohs surgery was used to treat early stage Merkel cell carcinomas in 53 patients at the Zitelli and Brodland Skin Cancer Center, Pittsburgh.
The results compare favorably with the standard treatment approach, wide local excision with or without radiation, which has a local recurrence rate of 4.2%-31.7% because of incomplete excision or false negative margins, said Vitaly Terushkin, MD, a Mohs surgeon who presented the findings of the study, a retrospective chart review, at the annual meeting of the American College of Mohs Surgery.
Mohs surgery as monotherapy offered "survival at least as good as historical controls treated with wide local excision plus radiation therapy, and because of the superior local control, Mohs surgery may obviate the need for adjuvant radiation and decrease the chance for additional surgery for the treatment of local recurrence," said Terushkin, now in practice in the New York City area.
"We hope this data fuel additional studies with larger cohorts to continue to explore the value of Mohs for Merkel cell carcinoma," he said.
The findings add to a growing body of literature supporting Mohs for many types of rare tumors. "Micrographic surgery or complete circumferential peripheral and deep margin analysis has been shown to be superior to wide local excision in a variety of tumors and clinical scenarios," said Vishal Patel, MD, assistant professor of dermatology and director of the cutaneous oncology program at George Washington University, Washington.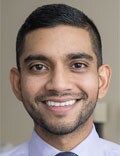 "When the entire margin is able to be evaluated over random bread-loafed sections, there is growing evidence that this leads to superior outcomes and disease specific mortality," he said when asked for comment on the study results.
In all, 56 primary Merkel cell carcinomas were treated in the 53 patients from 2001 to 2019; about two-thirds of the patients had stage 1 tumors and the rest stage 2a.
They were treated with Mohs alone, without radiation. Average follow up was 4.6 years, with about a third of patients followed for 5 or more years.
The average age of the patients was 78 years, and just over half were men. In more than half the cases, tumors were located on the head and neck (62.5%), and the mean tumor size was 1.7 cm. Patients were negative for lymphadenopathy and declined lymph node biopsy.
Although there was no local recurrence, defined as tumor reemerging within or adjacent to the surgery site, 7 patients (12.7%) developed in-transit metastases, 13 (23.6%) developed nodal metastases, and 3 developed distant metastases.
The 5-year disease-specific survival rate was 91.2% for stage 1 and 68.6% for stage 2a patients, which compared favorably with historical controls treated with wide local excision with or without radiation, with reported 5-year disease-specific survival rates of 81%-87% for stage 1 disease and 63%-67% for stage 2. Although radiation wasn't used in the study, Patel noted that more investigation is needed about the role of adjuvant radiation therapy after Mohs surgery "given recent publications showing improved outcomes in patients with narrow margin excision and postoperative radiation therapy."
No external funding of the study was reported. Terushkin had no disclosures. Patel is a consultant for Sanofi, Regeneron, and Almirall.
American College of Mohs Surgery (ACMS) 2021 Annual Meeting: Scientific 02. Presented May 7, 2021.
This article originally appeared on MDedge.com, part of the Medscape Professional Network.
Medscape Medical News © 2021

Cite this: M. Alexander Otto. Mohs Surgery Favorable as Monotherapy for Early Merkel Cell Carcinomas - Medscape - Jun 02, 2021.