Despite a small drop in income, slightly more dermatologists said that they felt fairly compensated in 2020 than in 2019, according to survey results from Medscape.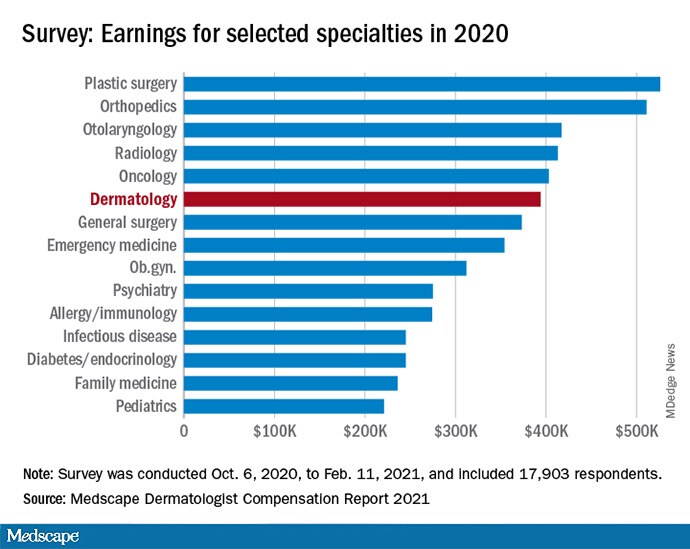 The numbers look like this: Average income was $394,000 in 2020, compared with $411,000 in 2019 – a drop of 4.1% – but 67% of dermatologists said they felt fairly compensated in 2020, compared with 65% in 2019, Medscape said in its 2021 Dermatologist Compensation Report. Only 3 of the 29 participating specialties had a more favorable reaction: oncology (79%), psychiatry (69%), and plastic surgery (68%).
"Most dermatologists who saw a drop in income cited COVID-19–related issues, such as job loss, fewer hours, and fewer patients," Keith L. Martin wrote in the annual report, while also noting that 45% of dermatologist respondents "said that the pandemic did not cause them financial or practice-related harm."
For the dermatologists who did see such negative effects, just over half (54%) said that they expect income to return to pre–COVID-19 levels in the next year, while 31% believe it will take 2-3 years and 12% said that their income would never return to normal. For all specialists included in the survey, the corresponding numbers were 42%, 41%, and 12%, with primary care physicians coming in at 39%, 43%, and 10%, the report said.
Among all participating specialties, plastic surgeons reported the highest average earnings at $526,000, with orthopedists ($511,000) and cardiologists ($459,000) next. Pediatricians had not just the lowest average income ($221,000) for 2020, but also the largest decline in patients seen per week (18%), according to the results of the survey, which was conducted from Oct. 6, 2020, to Feb. 11, 2021, and involved 17,903 physicians.
Dermatologists also experienced a larger-than-average decline (16%) in patient traffic – only the pediatricians had a larger drop – as their weekly patient count fell from 141 before the pandemic to the current 119. Despite that drop, though, average hours worked per week remained at 45, as time is now being spent on office safety protocols and other issues involving COVID-19, Medscape pointed out.
Dermatologists also spent more time on paperwork and administration in 2020 than in 2019: 14.6 hours per week versus 13.2 hours. Their 2020 average, however, was still lower than that of all physicians, 16.3 hours, and much lower than that of the infectious disease physicians, who topped the survey with an average of 24.2 hours per week, the Medscape data show.
One area where dermatologists did lead the survey was in their commitment to their specialty: 96% said they would choose dermatology again if given the chance, which was equaled by orthopedics and oncology, Medscape said.
This article originally appeared on MDedge.com, part of the Medscape Professional Network.
Medscape Medical News © 2021 WebMD, LLC

Cite this: Dermatologists Took 2020's Income Drop in Stride - Medscape - May 28, 2021.