The Senate on Tuesday confirmed Chiquita Brooks-LaSure, MPP, as the first Black administrator of the federal agency that oversees the two largest US healthcare programs and sets payment policies that have a ripple effect on the practice of medicine nationwide.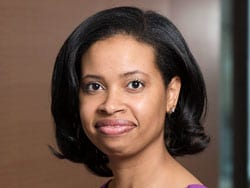 Several influential Republicans joined Democrats in a 55-44 vote in favor of the nomination of Brooks-LaSure as administrator of the Centers for Medicare & Medicaid Services (CMS).
Brooks-LaSure brings to the post particularly deep experience in federal health programs, including working to implement the Affordable Care Act (ACA) during the Obama administration. She also helped in the writing of the ACA as a senior member of the staff of the House Ways and Means Committee. Earlier in her career, she worked on Medicaid and the Children's Health Insurance Program (CHIP) at the Office of Management and Budget.
"She's worked on healthcare from just about every angle short of scrubbing into the operating room herself," said Senate Finance Chairman Ron Wyden (D-OR) on Monday.
Brooks-LaSure takes charge of CMS as the agency continues to serve as a key part of the nation's response to the COVID-19 pandemic. In response to the crisis, Medicare and Medicaid policies have changed so as to increase access to care, such as easing restrictions in telehealth. Under Brooks-LaSure's tenure, CMS likely will face challenges in deciding how much to scale back or advance these changes.
Several senators asked Brooks-LaSure about her views on telehealth at an April Senate Finance hearing. Brooks-LaSure said that because of telehealth, her brother, a psychologist, has been able to see more patients during the pandemic.
"I really want to work with all of you to look at what CMS' administrative authority is and what changes we may need congressionally to work on bringing the lessons that we've learned from COVID into our healthcare system on a permanent basis," Brooks-LaSure said at the hearing.
In her prepared testimony for the Senate Finance Committee, Brooks-LaSure also noted how the pandemic has drawn more attention to the need to address problems regarding healthcare equity.
"During my career, I've seen how communities of color too often experience worse health outcomes, which we've seen so acutely during this pandemic. Last year in April, my own hometown, a predominantly black community where my parents still live, experienced higher rates of COVID-19 infections and deaths compared to much of the surrounding communities," Brooks-LaSure wrote in her prepared testimony.
"Nation's Largest Public Health Agency"
Brooks-LaSure also will have a chance to influence how CMS, the nation's biggest purchaser of health services, uses its payment policies to improve the quality of care.
More than 120 million Americans are covered by Medicare, Medicaid, and CHIP, according to estimates by Medicare's trustees based on CMS data about overlaps between Medicare and Medicaid. Private insurers often follow the policies set by CMS, giving the agency even broader influence.
Brooks-LaSure's previous experience on Capitol Hill and at the Department of Health and Human Services (HHS) will help manage efforts to use Medicare payment policies to drive changes in care, said Mark McClellan, MD, PhD, the director of the Duke-Margolis Center for Health Policy at Duke University, in Durham, North Carolina..
"Chiquita has experience with all of the major parts of CMS," said McClellan, who served as the agency's administrator from 2004 to 2006. "She also brings with that knowledge of the programs a very thoughtful and analytical approach to addressing problems. It's a great set of skills for the administrator."
Before joining CMS, McClellan had been commissioner of the US Food and Drug Administration (FDA) in the Bush administration. In a history of Medicaid and Medicare that was published by the National Academy of Social Insurance in 2016, McClellan recalled his first talk as CMS administrator to the program's staff at the agency's Baltimore, Maryland, headquarters.
"I led off by saying that, 'You are the nation's largest public health agency.' Some in the crowd were thinking, 'McClellan doesn't know he's not at FDA anymore,' meaning that CMS is under the Social Security Act, not under the Public Health Service Act as is FDA," McClellan recalled in the history. "I meant that the way that we pay for care has probably a bigger impact [than] anything else in the way care is delivered."
In her prepared testimony for the Senate Finance Committee, Brooks-LaSure emphasized her intention to work with members of both parties. She noted that she had worked with the Treasury Department and key members of the Bush administration in the wake of the 9/11 attacks to help ensure people affected by the tragedy had health insurance.
"I took that philosophy of bipartisanship and sense of mission to improve health care for patients and families with me to the House Ways and Means Committee," where she worked with members of that committee on five bills that eventually became law, Brooks-LaSure wrote.
Debate About Medicaid Waiver
Brooks-LaSure's nomination vote was delayed for weeks because of objections from Sen. John Cornyn (R-TX), who used this issue to protest the Biden administration's decision to rescind a Medicaid 1115 waiver approved by the Trump administration.
Cornyn described this decision as "a dangerous precedent" whereby one presidential administration would undo agreements made by another. At issue is the Trump administration's January 15, 2021, approval of a 10-year extension of a Medicaid waiver. Cornyn and other members of the GOP Texas congressional delegation contend this waiver extension would help safety-net hospitals care for people living in or near poverty in Texas.
Texas is one of 12 states that has not yet moved to expand eligibility for Medicaid through the terms set by the ACA, according to a tally kept by the nonprofit Kaiser Family Foundation. Cornyn says the Biden administration's decision was a ploy meant to push Texas officials toward accepting the ACA's Medicaid expansion.
Members of the Texas Democratic delegation, in contrast, applauded the decision on the waiver.
"Since this Trump action occurred more than 1½ years before the current waiver expires, no current Texas health care provider nor beneficiary is jeopardized by CMS now taking the necessary time for a thorough and thoughtful consideration of this matter," wrote Rep. Lloyd Doggett (R-TX) and colleagues.
They urged CMS and Texas officials to revise the terms of the waiver.
"The inadequate social safety net which the State has authorized under the current waiver is in no way jeopardized, but a properly renegotiated waiver could address the many gaping holes in that net," Doggett and colleagues wrote.
In the April 16 letter rescinding the waiver, CMS cited flaws with the process under which it was granted. There was a mistaken determination to approve an exemption from normal requirements regarding public notice and comment, wrote Elizabeth Richter, the acting CMS administrator. She also noted that Texas had requested to extend "a complex demonstration ― already authorized through September 30, 2022 ― into the next decade.
"The demonstration would not yet expire for a significant period of time, and the extension also included new programmatic features not ever previously approved by CMS," Richter wrote. "Furthermore, the exemption from the normal public notice process deprived Texas and CMS of the benefit of public comments that might have helpfully informed Texas's design of the extension request and the decision to approve it."
Republican Support Amid Cornyn's Objections
Despite the tussle over the Texas Medicaid waiver, Brooks-LaSure received support from several influential GOP senators for her confirmation vote .
Five Republicans voted for Brooks-LaSure:
Sen. Richard Burr of North Carolina, the ranking member of the Senate Health, Education, Labor and Pensions (HELP) Committee. Burr is also a senior member of the Senate Finance Committee, which has jurisdiction on CMS issues.

Sen. Susan Collins of Maine, who is a senior member of the HELP Committee.

Sen. Jerry Moran of Kansas, who serves on the HELP Committee and the Labor-HHS-Education Appropriations subcommittee.

Sen. Lisa Murkowski of Alaska, who serves on the HELP Committee.
Brooks-LaSure also received a special nod of support from a Republican with a deep interest in Medicare and Medicaid policies, Sen. Charles Grassley of Iowa, whose legislative successes in healthcare policy include helping create CMS' Open Payments database.
In a May 13 statement, Grassley explained that he would vote against Brooks-LaSure in solidarity with Cornyn. Grassley said that delaying confirmations of nominees is one of the "few tools we have in the Senate to extract answers from the executive branch."
But Grassley, who has been a noted watchdog of Medicare spending, has praise for Brooks-LaSure.
"I have met with the nominee and appreciate her commitment to our shared priorities, including lowering prescription drug costs in a bipartisan manner and maintaining essential medical services for rural Americans," Grassley said.
Grassley also noted her years of experience. "Ms. Brooks-LaSure is qualified to serve as administrator of CMS, and I personally do not have concerns about her nomination despite ideological differences," Grassley said.
Kerry Dooley Young is a freelance journalist based in Washington, D.C. She earlier covered health policy and the federal budget for Congressional Quarterly/CQ Roll Call and the pharmaceutical industry and the Food and Drug Administration for Bloomberg. Follow her on Twitter at @kdooleyyoung.
For more news, follow Medscape on Facebook, Twitter, Instagram, and YouTube.
Medscape Medical News © 2021

Send news tips to news@medscape.net.
Cite this: Senate Confirms Veteran Health Policy Expert to Lead CMS - Medscape - May 26, 2021.