Richard Morgan, DO, lay on the floor of a Long Island, New York, jail cell in May 2007, wearing the suit he'd put on to go to work that day.
An addiction to opiates, sparked by a prescription after dental surgery as a medical student and fed by writing his own painkiller prescriptions over years, had brought him here: under arrest on felony charges for conspiracy to distribute oxycodone.
Morgan pled guilty, surrendered his medical license, and served 8 years in federal prison.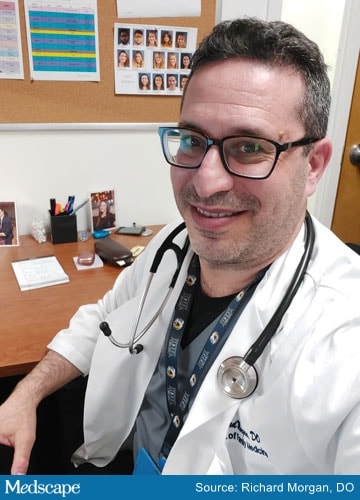 Now more than 4 years after his release, Morgan, 49, is off probation and is working full time as a clinical instructor at his alma mater, the New York Institute of Technology College of Osteopathic Medicine, in Old Westbury, New York. With the help of New York State's physician health program (PHP), he's working to regain his medical license. "It's about redemption," he says. "It's about what I worked so hard in my life to gain, then lost."
Morgan tells students his story of addiction with the hope they'll ask for help if they need it or recognize when a colleague needs help and reach out to the PHP. Similar programs exist in most states. They offer treatment referrals, resources, and monitoring for physicians with substance use disorders (SUDs) or other conditions that could harm them and their ability to practice. Programs vary from state to state, however, and many physicians are reluctant to seek care, fearing career repercussions.
Morgan also hopes that constantly remembering what happened to him because of addiction will protect him from relapsing. "As long as I never forget it," he says, "I won't be doomed to repeat it."
"No Longer About the Pain"
Morgan took his first opioid pill almost 10 years before his first day in jail.
In 1997, as a medical student, his wisdom teeth were extracted. He developed an abscess, and his oral surgeon gave him a prescription for hydrocodone-acetaminophen.
He took the pills as prescribed but began to notice a change in how the medication affected him. "It was no longer about the pain," he says. "I felt this intense euphoria." He had his prescription refilled twice. "I really started enjoying how it made me feel."
When he got married in 1998, he was taking pills about once a week. He says he probably had some on his wedding day. In the next few years, he began using opioids more often. He felt stress from disagreeing with his wife about having children and experienced the trauma of watching the World Trade Center towers fall in 2001. He got pills from the hospital where he worked as a resident by requesting hydrocodone-acetaminophen from the pharmacy and saying it was for a patient.
In 2002, Morgan graduated from his residency, was board certified in physical medicine and rehabilitation, and started working at a practice in midtown Manhattan. He liked the practice when he interviewed, and he began his job on a low base salary. He felt pressure from one of the practice owners to perform more procedures, such as electromyography (EMG) testing, nerve studies, and injections, to bring in more revenue. He soon learned the practice only took high-paying insurance plans. His boss sent him to see patients at urgent care centers on Long Island in addition to working at the Manhattan office.
"I started resenting the idea that I wasn't practicing medicine the way I thought it was going to be," he says. "It was more about the almighty dollar."
With his resentment and frustration, Morgan's addiction worsened. He'd seek out a buzz, even a weak one — the tramadol samples that pharmaceutical reps left at the office and "anything resembling an opiate" in friends' medicine cabinets.
"I realized I was starting to take pills to boost my confidence," Morgan says. Soon he couldn't be in public without taking pills, couldn't see patients, couldn't be around family and friends. "It just made me feel like I was a better person around them."
One afternoon, people he describes as "young kids" came to the Long Island urgent care center where he was working and offered him money to prescribe them pills. At first he said no. Then one of them threw down thousands of dollars in cash.
In what Morgan now describes as "sick thinking," he changed his mind. "If I do it this once, with one or two people, it should be okay, and I can control it," he thought at the time. He agreed to write prescriptions for Oxycontin, Soma, and Tylenol #3. He rationalized that he was only doing it to fund his own addiction.
With more money to buy drugs, continuing frustration at work, and stress in his marriage, his usage increased. He wrote himself prescriptions using about 15 fake names. He kept track of them in a Palm Pilot, with false addresses and dates of birth. He went to dozens of pharmacies to spread out his prescriptions and refills, and he paid cash.
He started having liver pain from the amount of acetaminophen he was taking in combination with opioids, so he started writing himself prescriptions for hydromorphone and fentanyl patches.
His first daughter was born in January 2003, and in 2005, he and his wife bought a house in Oceanside, New York. That same year, his contract with the physical medicine and rehabilitation practice expired, and he left his job for a number of part-time gigs that kept him traveling to chiropractic offices in Queens and Long Island for nerve testing.
As he used more, his behavior began to change. He was irritable and angry with his wife. He'd get to work late, after picking up prescriptions, and would fall asleep while seeing patients and at meals with his family. He told people he just wasn't feeling well and made up a medical-sounding reason. He was hospitalized a couple times in a catatonic state.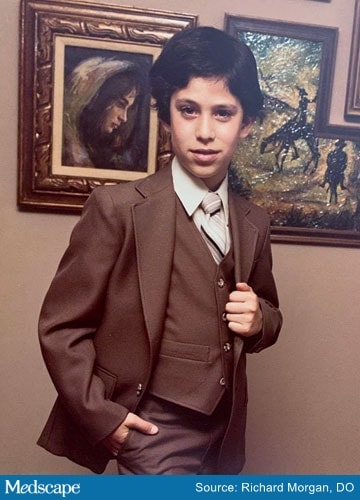 His older sister, Victoria Bartasek, a pharmacist, remembers growing more and more concerned about her brother's odd behavior. When she tried to confront him and suggested he needed help or a family intervention, he became defensive. "It's not going to be a good outcome for him if he doesn't get the help he needs," Bartasek remembers thinking, "and he's going to lose what he worked for his entire life."
He was taking so many pills he developed tolerance. At his peak use, he took 15 80-mg oxycodone pills every morning all at once. Every night, he took alprazolam to minimize withdrawal symptoms, which started if he went 24 hours without a pill. He had headaches, sweating, nausea, diarrhea, vomiting, constipation, "every cramp you can imagine."
Between 2004 and 2006, he took pills mainly to stave off withdrawal. It was no longer about getting high. "I just remember feeling so helpless that I couldn't change who I became," he says.
Programs Can Help Physicians Recover
Many physicians are reluctant to seek mental health care because they may be obliged to disclose the treatment to their state medical board, Melina Davis, CEO of the Medical Society of Virginia, said in a recent interview with WebMD Chief Medical Officer John Whyte, MD. "We have made it so that our caregivers are afraid of repercussions to their career and livelihood if they seek support for their mental health," she said.
Experts estimate that the prevalence of SUD among physicians is about the same as in the general public ― about 10%. It's not clear how many physicians seek treatment each year through PHPs nationwide or how many are referred by family, colleagues, employers, or state licensing boards. Some physicians have raised concerns that participation in the programs can be coercive and expensive and that physicians lack due process to dispute PHP recommendations to state medical boards for treatment and monitoring.
For those physicians with SUD who do sign up with their state's PHP, are assessed, go to the intensive treatment programs tailored to healthcare professionals, and accept substance use monitoring contracts and participate in recovery support groups, data suggest that the majority remain in recovery and continue to practice medicine, says Lisa Merlo, PhD, MPE, an associate professor in the Department of Psychiatry at the University of Florida College of Medicine, in Gainesville, Florida.
In a 2009 article, Merlo and colleagues reported 5-year outcomes of 904 physicians who began PHPs in 16 states from 1995 to 2001. They found that 80% of the physicians had no relapse episode during that period and that 72% were still practicing medicine.
Among the approximately 260 physicians who did not complete their contracts, about half had withdrawn or were removed from the program. Most did not keep their medical licenses. Those who did had transferred to another state's PHP or were lost to follow-up in a move; 22 died while under monitoring.
Physicians with SUD have significantly better outcomes than the general population. Their 80% recovery rate at 5 years contrasts to a recovery rate in the general population of about 40% a year after finishing treatment, Merlo says. The difference could be due to the combination of physicians having other resources, personality traits or intelligence common in the profession, and higher quality treatment with ongoing follow-up, but it's not clear how much each factor contributes.
"A physician who has SUD who participates in a physician health program has an extremely high likelihood of being able to return to practice and have a fulfilling and successful career," Merlo says. "It doesn't have to be this stereotypical view of what it means to suffer SUD where life is ruined."
Descent to the Bottom
By early 2006, Morgan's family staged an intervention. He willingly entered rehab in Florida.
After he was kicked out of two facilities for bringing in drugs, he entered a program for professionals, lawyers, and doctors like himself. He decided to do it right and stayed at the facility for a few months. "I humbled myself," he says, "or at least I thought I did."
When Morgan returned home in August 2006, he didn't use anymore. He signed a monitoring contract with New York State's PHP, which allowed him to keep his license and practice medicine while undergoing six drug tests per month and going to two therapy sessions each week. His second daughter was born in December 2006.
But the people who bought prescriptions from him before he entered rehab tracked him down. When he returned to his part-time jobs, they came to his office and threatened him. He felt intimidated and scared. He considered calling the police but didn't want to admit that before rehab, he'd been selling scripts. He continued to write prescriptions for three people.
One person gave pills from Morgan to a roommate, who overdosed and died with oxycodone and cocaine in his system. Investigators found a pill bottle in the dead man's room with Morgan's name on it.
So one morning in May 2007, as Morgan opened the door of his car to drive to work, he heard someone say his name. He turned around and saw three SUVs that seemed to have come out of nowhere. Drug Enforcement Administration (DEA) officers handcuffed him.
Morgan's father got him a lawyer. He took her advice to cooperate with the DEA officers, in the hope of a lighter sentence. He was released on a $1 million bond, secured by his parents' houses.
During the next 2 years, while Morgan awaited sentencing, the judge allowed him to continue to practice medicine but without the ability to write prescriptions. He rented office space in Rosedale, Queens, where he saw no-fault cases that were referred by a lawyer.
Despite the frequent drug testing and therapy sessions, he still had a "pill fixation," he says. "I felt comfort in pills." He bought pseudoephedrine and took whole sheets of the pills to get a little high. "It would almost feel like I drank 10 cups of coffee at the same time," he says.
During 1 month, Morgan bought more pseudoephedrine than was allowed by state law. He was arrested again in March 2009. He looked his youngest daughter, then 2 years old, in the eye and said, "Daddy's got to go. I love you more than anything." He was crying. "That was the last time I saw her for 10 years."
Eight Years in Prison
Morgan remained in jail for 2 months until his sentencing in May. He had pleaded guilty to one count of conspiring to possess with intent to distribute oxycodone, a felony. Separately, he had also paid a civil settlement to the family of the young man who had died of an overdose.
The judge sentenced him to 14 years in prison, with 3 years' probation.
Morgan became one of nearly 300 physicians to be convicted or who pled guilty to charges related to diverting prescription drugs for recreational use during the past two decades, according to DEA records. In a review of cases from 2004 to 2017, researchers found that there were on average 18 prosecutions each year. More than 80% of prosecuted physicians pled guilty, and nearly 70% were sentenced to prison. The average sentence was about 7 years.
Morgan spent his first 2 years in a federal prison in Ohio and the next 6 in a minimum security facility in Morgantown, West Virginia.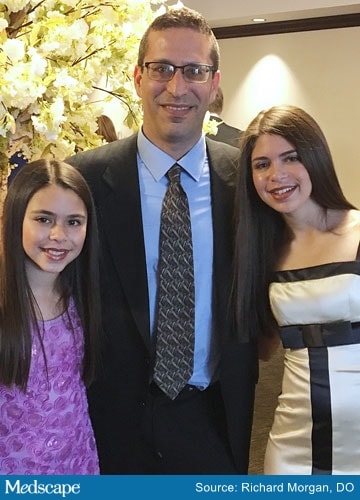 He was allowed 300 minutes of phone time each month. He called his two daughters three times a week, talking with them for exactly 7 minutes each time. He played games with them and learned to love their favorite music — Taylor Swift and One Direction — to feel closer to them.
Even in prison, it was clear that medicine was important to Morgan, said friend Hector Guadalupe. They met in the Ohio prison, where they worked out and cooked together. Morgan helped Guadalupe study for a personal trainer national certification exam. The other prisoners called him "Doc," Guadalupe says. "He was always talking about the medical field, the body, you could tell that's what he loved."
Morgan got a job in the prison recreation department and taught nutrition, men's health, and fitness classes with a curriculum he developed. "If one can shine in prison, I did," he says.
On a New Path
In April 2017, Morgan left prison. After spending time in a halfway house, he lived with his brother. Through Guadalupe's nonprofit organization, A Second U Foundation, which helps people who are released from prison receive training and job placement as personal trainers, Morgan got a job at a New York Sports Club gym. He later worked as a server in a Brooklyn restaurant.
In January 2018, he appeared on The Dr. Oz Show and told his story. Later that year, a longtime friend and former college classmate, Adena Leder, DO, a neurologist and associate professor at the New York Institute of Technology College of Osteopathic Medicine (NYITCOM), landed him an invitation to speak to students at the school about his experience with addiction.
Leder remembers recognizing something was off about Morgan's behavior during his years of addiction. But he was the last person in the world you'd expect to get involved in the things he did, she says. "If it could happen to him, it could happen to absolutely anyone."
Maybe, she thought, if he had heard a story like his own when they were medical students together, he wouldn't have gone down that path.
Students were enthralled with Morgan's story, and lecture organizers brought him back the next year. Nancy Bono, DO, chair of the Department of Family Medicine at NYITCOM, offered him a part-time job teaching a small group discussion class about the doctor-patient relationship. In the summer of 2020, she offered him a full-time teaching job. "He's doing really well," Bono says. If he gets his license back, the school would support his seeing patients at its health center.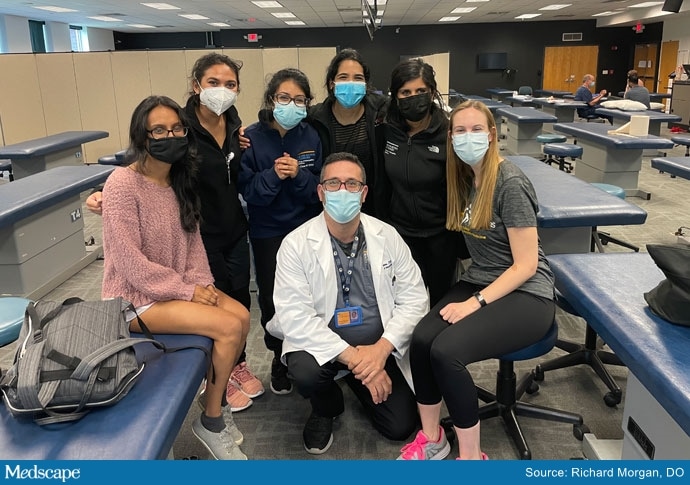 Morgan's students learn his story through lectures he gives at NYITCOM at least yearly.
As a clinical instructor, he continues to share his story with students through lectures to incoming classes. He stresses that they should not be afraid to ask for help, as he was. "I wanted help desperately," he said in a September 2020 event with students that was conducted over Zoom, "but was too afraid to ask."
Through New York State's PHP, Morgan continues to participate in a weekly meeting with other physicians in recovery, led by an addiction specialist. He is working with the program to get his medical license back, which he surrendered before he went to prison. After a couple more months of negative tests for substance use, administered as part of the PHP's monitoring program, he will apply to have his license restored, a process that could take a year or longer.
It's entirely possible for a physician in Morgan's position to get his license back, though it may come with restrictions, says Michael Brohman, a lawyer and shareholder in the Chicago office of Roetzel & Andress. "I've seen lots of doctors, including my own clients, who have served time in jail for committing a federal offense, who've been able to get their license back after a number of years."
Morgan doesn't want his license back in order that he can return to private practice. He'd like to see patients in the medical school's free clinic, even if he is barred from prescribing medicine.
In the 4 years since his release, Morgan says he's never come close to experiencing a relapse. But he knows it could happen.
He thinks of all he's been able to do since leaving prison: walking in New York City, breathing the free air, and seeing the look on his older daughter's face when he told her on Father's Day that he would be working full time at the medical school.
If he started taking pills now, he could lose it all again. "So many positive things are happening," Morgan says, "and they wouldn't be happening if I ever picked up a pill."
Ellie Kincaid is Medscape's associate managing editor. She has previously written about healthcare for Forbes, the Wall Street Journal, and Nature Medicine. She can be reached by email at ekincaid@medscape.net and on Twitter @ellie_kincaid.
Follow Medscape on Facebook, Twitter, Instagram, and YouTube.
Medscape Medical News © 2021

Send news tips to news@medscape.net.
Cite this: After Prison for Selling Opioid Prescriptions, a Doctor Is Trying to Get Back His Life, and His License - Medscape - May 25, 2021.