A Tampa, Florida neurologist who died of COVID-19 complications has bequeathed to his family a baseball card collection estimated at $20 million to be auctioned next month.
Thomas M. Newman, MD, died on January 29 at age 73 after a 40-year career as a board-certified neurologist and psychiatrist.
Babe Ruth Card May Fetch World-Record Price
Among his items to be auctioned starting June 21 is a 1933 Babe Ruth card that could become the most expensive card ever sold if, as auctioneers expect, it breaks the $5.2 million record for a single card, according to an announcement from Memory Lane Auctions. That record was set in January with a 1952 Topps Mickey Mantle PSA 9 card, according to ESPN.

Two Babe Ruth cards and a Mickey Mantle card from Thomas Newman's collection could fetch millions at auction.
Another prized item includes a near-flawless 1952 Mickey Mantle rookie card (Topps PSA 8) that is expected to sell for more than $1 million.
Some of the sports memorabilia in the collection date back to the 1880s, according to information from the auction house.
In 1954, Newman moved with his family from Cleveland, Ohio, to Tampa for the family business: J.C. Newman Cigar Co. He graduated from Vanderbilt Medical School in Nashville, Tennessee, then became board-certified in neurology and psychiatry.
He practiced in Houston before returning to Tampa in 1984. At the time of his death, Newman was managing partner and president of Neurological Specialties and was actively practicing with Brody Henkel, MD.
Newman's widow, Nancy, told Medscape Medical News he loved medicine and said, "I don't think he would have ever retired."
She said there was a "collecting gene" on her husband's side of the family.
"His father had the largest collection of pre-World War I Rolls Royces in the world," she said.
But Tom was a "quiet collector," she said. "He never bragged. He was so unassuming."
She said collecting and taking a hobby to such an extreme was a way to use his intellect in a different way from medicine in his free time.
His many loves included his family, his role as a doctor, his patients, his partners and colleagues, and sports, of course. He golfed and was a marathon runner as well, she said.
"He was a walking encyclopedia," Nancy Newman said, adding that her husband's fascination with science led him to medicine.
According to the auction house, Newman's son, Stewart, of Fort Lauderdale, said that in the 1980s he traveled each summer across the country with his father to attend the annual National Sports Collectors Convention.
"The only downside is that I never got a lunch break because he was on the go from the minute we entered the convention hall," he recalled.
Stewart Newman added that his dad began collecting in the early 1980s.
"Those were replacements for the treasured cards of his youth that he kept in shoeboxes as a youngster and that his mom later threw out," he said.
Musical Talent Among His Achievements
Newman also loved music. He had perfect pitch, Nancy said, adding that he played piano at the concert level and trombone in a community band.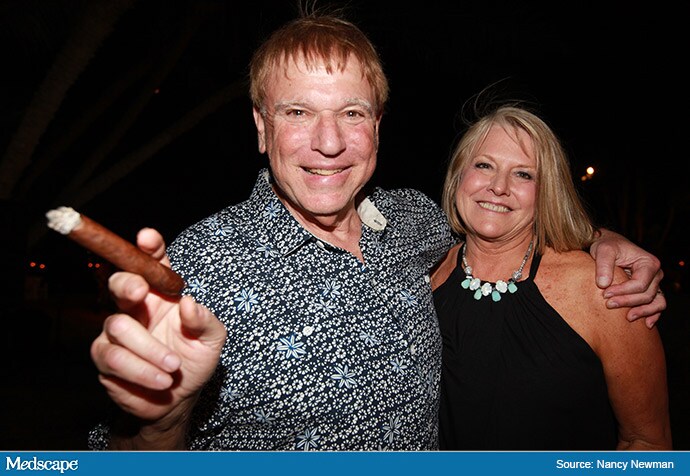 Dr Thomas Newman with his wife, Nancy.
"He liked to entertain and we had a lot of fundraisers and corporate parties at the house," she said. "People were mesmerized."
Judy Curtis, practice administrator of the four-physician Neurological Associates, told Medscape Medical News he used to play the piano at office Christmas parties.
Curtis described him as "humble," a very private person, "an every-day guy."
"He was well-known in Tampa and well-respected," she said. "His patients loved him for sure."
Among those who commented on his obituary was a patient who wrote:
"Dr. Newman saved my life when I was 19 years old. I had gone to 3 different ERs over a 3 week period and continued to get diagnosed with 'just a migraine' and sent home. Finally after the 3rd ER visit, someone suggested that I see Dr. Newman. Within 5 minutes of meeting him in his office, he had me admitted to the hospital for brain swelling. I remember him telling me that if I had waited even one more day, I might not have survived. I will turn 50 years old later this year and I can say that I wouldn't have even made it to 20 if it wasn't for Dr. Newman. The world is a better place because he was in it."
Curtis said although Newman had stored some of his collection in the medical office, he didn't talk about his hobby at work. He would get small packages delivered occasionally, she said, but would nonchalantly take them up to his office.
"None of us really knew what was up there or the value of anything," she said.
The auction will wrap up July 10. Other notable items among the sports memorabilia and 1000 vintage and modern baseball, football, and hockey cards were cards for Ty Cobb, Lou Gehrig, Honus Wagner, Ted Williams, and Cy Young and World Series program books dating back to 1903.
Joe Orlando, chief executive officer of Collectors Universe, said in a statement: "The Thomas Newman collection exhibits the kind of depth and level of quality that are rarely achieved. During his lifetime, Dr Newman was a custodian of some of the most historically important cards, the iconic pillars of our hobby. Collectors now will have a once-in-a-lifetime opportunity to add a piece of his legacy to their collections."
Marcia Frellick is a freelance journalist based in Chicago. She has previously written for the Chicago Tribune, Science News and Nurse.com and was an editor at the Chicago Sun-Times, the Cincinnati Enquirer, and the St. Cloud (Minnesota) Times. Follow her on Twitter at @mfrellick
For more news, follow Medscape on Facebook, Twitter, Instagram, YouTube, and LinkedIn
Medscape Medical News © 2021

Send news tips to news@medscape.net.
Cite this: Doctor Who Died of COVID Leaves Family $20M Baseball Card Collection - Medscape - May 24, 2021.