Editor's note: Find the latest COVID-19 news and guidance in Medscape's Coronavirus Resource Center.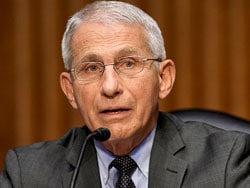 "Vaccines have been the bright light of this extraordinary challenge that we've gone through," said Anthony Fauci, MD, director of the National Institute of Allergy and Infectious Diseases.
In an address for the opening ceremony of the American Thoracic Society's (ATS) virtual international conference, Fauci emphasized the role of basic and clinical research and government support for science in helping turn the tide of the COVID-19 pandemic.
"A few weeks ago, I wrote an editorial in Science, because there was some misunderstanding about how and why we were able to go from a realization of a new pathogen in January of 2020, to getting doses of vaccines in the arms of individuals of a highly efficacious vaccine 11 months later. Truly, an unprecedented accomplishment," he said.
"But as I said in the editorial, the speed and efficiency with which these highly efficacious vaccines were developed, and their potential for saving millions of lives, are due to an extraordinary multidisciplinary effort, involving basic, preclinical, and clinical science that had been underway — out of the spotlight — for decades and decades before the unfolding of the COVID-19 pandemic, a fact that very few people really appreciate: namely, the importance of investment in biomedical research."
The General Addresses the Troops
Perhaps no other audience is so well suited to receive Fauci's speech as those who are currently attending (virtually) the ATS conference, including researchers who scrutinize the virus from every angle to describe its workings and identify its vulnerabilities, epidemiologists who study viral transmission and look for ways to thwart it, public health workers who fan out to communities across the country to push vaccine acceptance, and clinicians who specialize in critical care and pulmonary medicine, many of whom staff the respiratory floors and intensive care units where the most severely ill patients are treated.
Speaking about the lessons learned and challenges remaining from the COVID-19 pandemic, Fauci briefly reviewed the epidemiology, virology and transmission, diagnostics, and clinical course of SARS-CoV-2 infections and the therapeutics and vaccines for COVID-19.
Epidemiology
The pandemic began in December 2019 with recognition of a novel type of pneumonia in the Wuhan District of Central China, Fauci noted.
"Very quickly thereafter, in the first week of January 2020, the Chinese identified a new strain of coronavirus as [the] source of the outbreak. Fast forward to where we are right now: We have experienced and are experiencing the most devastating pandemic of a respiratory illness in the last 102 years, with already approximately 160 million individuals having been infected — and this is clearly a gross undercounting — and also 3.3 million deaths, again, very likely an undercounting," he said.
According to the US Centers for Disease Control and Prevention, as of May 9, 2021, there have been approximately 32.5 million cases of COVID-19 and 578,520 deaths in the United States. Those cases and deaths occurred largely in three surges in the US, in early spring, early summer, and late fall of 2020.
Virology and Transmission
SARS-CoV-2 is a beta-coronavirus in the same subgenus as SARS CoV-1 and some bat coronaviruses, Fauci explained. The viral genome is large, about 30,000 kilobases, and it has four structural proteins, most importantly the S or "spike" protein that allows the virus to attach to and fuse with cell membranes by binding to the ACE2 receptor on tissues in the upper and lower respiratory tract, gastrointestinal tract, cardiovascular system, and other organ systems.
The virus is transmitted mainly through exposure to respiratory droplets within 6 feet of an infected person, or sometimes through droplets or particles that remain in the air over time and various distances.
Contact with contaminated surfaces, once feared as a means of transmission, is now understood to be less common.
The virus has also been detected in stool, blood, semen, and ocular secretions, although the role of transmission through these sources is still unknown.
"Some very interesting characteristics of this virus, really quite unique compared to other viruses, certainly other respiratory viruses, is [that] about a third to 40% of people who are infected never develop any symptoms," Fauci said. "Importantly, and very problematic to what we do to contain it —particularly with regard to identification, isolation, and contract tracing — between 50% and 60% of the transmission occur either from someone who will never develop symptoms, or someone in the pre-symptomatic phase of disease."
The fundamentals of preventing acquisition and transmission are as familiar to most Americans now as the Pledge of Allegiance: universal mask wearing, physical distancing, avoiding crowds and congregate settings, preference for outdoor over indoor settings, and frequent hand washing, he noted.
Diagnostics
Tests for SARS-CoV-2 infection fall into three basic categories: molecular tests such as polymerase chain reaction (PCR) that are highly specific and highly sensitive for actual infections, antigen tests that detect the viral protein rather than the nucleic acids, and antibody tests to detect serum proteins made in response to viral infection.
Antigen testing is used largely for broader surveillance of groups of individuals to detect viral penetrance within that group, Fauci noted.
Clinical Course
The clinical course of COVID-19 has some interesting characteristics but is not substantially different from a flu-like syndrome, Fauci said.
Symptoms and signs common to both types of infections include fever, cough, fatigue, anorexia, dyspnea, and myalgias, but the loss of smell and/or taste preceding the onset of respiratory symptoms is a unique feature of COVID-19.
Fauci cited data on more than 44,000 individuals with confirmed COVID-19 in China that showed that a large majority (81%) of cases were mild or moderate in nature, but 14% of patients experienced severe disease, and 5% were critically ill. The case-fatality rate in this study was 2.3%.
People at increased risk for severe disease include older adults and those of any age with certain comorbidities.
Manifestations of severe COVID-19 infections in adults can include neurological disorders, hyperinflammation, acute respiratory distress syndrome, cardiac dysfunction, hypercoagulability, and acute kidney injury.
In children, COVID-19 has been associated with a multisystem inflammatory syndrome (MIS-C) similar to Kawasaki disease.
In a substantial number of cases, the effects of COVID-19 can linger for 6 months or longer, Fauci said, pointing to a study from the University of Washington in Seattle.
Investigators there found that approximately 30% of patients enrolled at their center reported persistent symptoms for as long as 9 months after the initial illness, with fatigue as the most commonly reported symptom. One third of outpatients with mild disease also reported persistent symptoms.
Therapeutics
Therapeutics that are either approved by the US Food and Drug Administration (FDA), have emergency use authorization, or are in clinical trials for early or moderate disease include remdesivir (Veklury, Gilead Sciences Inc), monoclonal antibodies, convalescent plasma, antiviral agents, hyperimmune globulin, anticoagulants, and immunomodulators.
Options for moderate-severe to advance disease include dexamethasone, baricitinib (Olumiant, Eli Lilly and Company) plus remdesivir, and immunomodulators such as infliximab (Remicade, Janssen Biotech Inc, and biosimilars).
Vaccines
Finally, Fauci reviewed the current state of vaccines, including the three with emergency use authorization from the FDA as of this writing: two nucleic acid, messenger RNA-based (mRNA) vaccines from Moderna and Pfizer/BioNTech, and an adenoviral vector-based vaccine from Johnson & Johnson.
Other vaccines in development or in use elsewhere in the world include recombinant protein and adjuvant approaches by GlaxoSmithKline and Sanofi (in a phase 2 clinical trial launched in February 2021) and by Novavax.
The three vaccines in use in the US were all highly efficacious in both clinical trials efficacy of about 95% for the mRNA vaccines and 67% for the Johnson & Johnson vaccine.
The real-world performance of these vaccines has been even more impressive, however.
For example, the Johnson & Johnson vaccine had a 72% efficacy at preventing moderate-to-severe COVID-19 in the United States, 68% in Brazil, and 64% in South Africa, and an 85% efficacy against severe disease across all regions studied, Fauci said.
He also cited a study of 22,234 employees of the University of Texas Southwestern Medical Center in Dallas who were vaccinated under a program started on December 15, 2020. The COVID-19 infection rate among these vaccinated employees was 0.05%.
Fauci also recounted the experience in Israel, where the highly transmissible B.1.1.7 strain of SARS-CoV-2 is predominant. A chart of the progress shows clearly that as the vaccine doses delivered steadily increased, the number of COVID-19 cases began a precipitous decline.
Horse Race
Fittingly for a speech presented on the day that the Preakness Stakes — the second leg in thoroughbred racing's Triple Crown — was run, Fauci closed with a cartoon showing two racehorses, labeled "SARS-CoV-2" and "Vaccines," nearly neck-and-neck, but vaccines having a slight lead.
"We are in a race against the virus. The vaccines, and the virus: If we vaccinate the overwhelming proportion of our population, we will without a doubt be able to crush the outbreak in the same way as we have done with other viral-borne diseases like measles, smallpox, and polio."
"So, the message is: Get vaccinated," he concluded.
American Thoracic Society International Conference. Presented online May 15, 2021.
For more news, follow Medscape on Facebook, Twitter, Instagram, and YouTube.
Medscape Medical News © 2021

Cite this: Neil Osterweil. Fauci: Extraordinary Challenges, Scientific Triumphs With COVID-19 - Medscape - May 16, 2021.