Editor's note: Find the latest COVID-19 news and guidance in Medscape's Coronavirus Resource Center.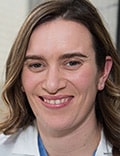 Patients who receive the mRNA COVID-19 vaccines are experiencing a variety of skin rashes, a dermatologist told colleagues, and some lesions don't appear until several days after an injection. The good news is that these side effects tend to be minor and vanish within a few days, Esther Freeman, MD, PhD, said in a presentation at the American Academy of Dermatology Virtual Meeting Experience.
"The reality is actually very reassuring," Freeman said, especially in light of what is currently known about when the rashes occur and how anaphylaxis is extremely uncommon. Now, she added, dermatologists can tell patients who had reactions to their initial vaccination that "we know you had this big reaction, and we know that it was upsetting and uncomfortable. But it may not happen the second time around. And if it does, [the reaction is] probably going to be smaller."
Freeman, associate professor of dermatology at Harvard Medical School, Boston, highlighted a study published in the Journal of the American Academy of Dermatology that she coauthored with dermatologists across the United States. The researchers tracked 414 cutaneous reactions to the Moderna (83%) and Pfizer (17%) COVID-19 vaccines in a group of patients, which was 90% female, 78% White, and mostly from the United States. Their average age was 44 years. The cases were reported to the AAD–International League of Dermatological Societies registry of COVID-19 cutaneous manifestations.
While most were women, "it's a little hard to know if this is really going to end up being a true finding," said Freeman, the registry's principal investigator and a member of the AAD's COVID-19 Ad Hoc Task Force. "If you think about who got vaccinated early, it was health care providers, and the American health care workforce is over 70% female. So I think there's a little bit of bias here. There may also be a bias because women may be slightly more likely to report or go to their health care provider for a rash."
Delayed large local reactions were the most common, accounting for 66% (175 cases) of the 267 skin reactions reported after the first Moderna vaccine dose and 30% (31 cases) of the 102 reactions reported after the second dose. These reactions represented 15% (5 cases) of the 34 skin reactions reported after the first Pfizer vaccine dose and 18% (7 cases) of the 40 reactions after the second dose.
There are two peaks with that first dose, Freeman said. "There's a peak around day 2 or 3. And there's another peak around day 7 or 8 with some of these reactions. Only 27% who had a reaction with the first dose had the same reaction with the second." She added that these reactions "are not cellulitis and don't require antibiotics."
Other more common reactions included local injection-site reactions (swelling, erythema, and pain), urticaria (after 24 hours in almost all cases, occurring at a higher rate in patients who received the Pfizer vaccine), and morbilliform eruptions.
Freeman said that patients may experience redness and swelling in the hands and feet that can be "very uncomfortable." She described one patient "who was having a hard time actually closing his fist, just because of the amount of swelling and redness in his hand. It did resolve, and it's important to reassure your patients it will go away."
According to this study, less common reports of other cutaneous findings with both vaccines included 9 reports of swelling at the site of cosmetic fillers, 8 reports of pernio/chilblains, 10 reports of varicella zoster, 4 reports of herpes simplex flares, 4 pityriasis rosea–like reactions, and 4 rashes in infants of vaccinated breastfeeding mothers.
The study noted that "patients responded well to topical corticosteroids, oral antihistamines, and/or pain-relieving medications. These reactions resolved after a median of 3-4 days."
It's important to understand that none of the patients developed anaphylaxis after the second dose even if they'd had a reaction to the first dose, Freeman said. "But I should point out that we're talking about reactions that have started more than 4 hours after the vaccine. If a rash such as a urticaria specifically starts within 4 hours of vaccination, that's in a different category. Those are considered more immediate allergic reactions, and those patients need to be seen by allergy before a second dose."
Freeman added that "it's really interesting to think about how our bodies are really reacting to the vaccine in a way that's mimicking our body's reactions to COVID-19." For example, some patients who got vaccinated developed chilblains similar to the "COVID toes" described in infected patients, apparently as part of the body's immune response to the virus. "We've seen this in patients who actually had COVID and had prior COVID toes and then actually got a flare with their vaccine. And then we've also seen it in patients who never had COVID."
In regard to general advice for patients, she said, "I do still encourage my patients who previously had COVID to go ahead and get the vaccine even if they had a skin manifestation with COVID."
Shari Lipner, MD, PhD, associate professor of clinical dermatology, Weill Cornell Medicine, New York, said she has have seen only a handful of cases of delayed large local reactions and local injection site reactions after COVID-19 vaccination. "I have seen a significant number of cases of acute urticaria following the first and second doses," she said in an interview. "However, it is important to keep in mind that we cannot determine cause and effect for the cases of acute urticaria. They may or may not be vaccine related."
Fortunately, none of the adverse effects she's seen have been severe. "It is important that dermatologists educate the public and their patients that most people do not develop any skin reaction in response to the vaccine," she said. In the minority who do, "reactions tend to be mild and are not life-threatening. Many of these skin reactions resolve on their own without treatment."
She added that "patients with pernio/chilblains or herpes zoster following vaccination should be referred by a board-certified dermatologist for prompt treatment and to avoid sequelae."
"COVID Vaccine Arm"
Delayed local reactions to the Moderna vaccine were also described in a report published online on May 12, 2021, in JAMA Dermatology, after the AAD meeting, in 16 patients referred to the Yale New Haven (Conn.) Hospital Dermatology service who experienced delayed localized cutaneous hypersensitivity reactions a median of 7 days after receiving the vaccine (range, 2-12 days), from Jan. 20 to Feb. 12, 2021. No such cases were reported in Pfizer vaccine recipients.
Of the 16 patients, whose median age was 38 years and who were mostly women, 15 developed the reaction after the first dose, described as "pruritic and variably painful erythematous reactions near the injection site," which lasted a median of 5 days (range, 1-21 days). After the second dose, 12 of the 16 patients developed injection-site reactions (including one patient who had no reaction after dose 1), a median of 2 days after the vaccine was administered (range, 0-5 days).
Histologic results of a biopsy in one patient with a reaction to the second dose "demonstrated mild predominantly perivascular and focal interstitial mixed infiltrate with lymphocytes and eosinophils consistent with a dermal hypersensitivity reaction," wrote Alicia J. Little, MD, PhD, of the department of dermatology, Yale University, New Haven, and coauthors.
Compared with immediate hypersensitivity reactions, occurring within 4 hours of vaccination, such as anaphylaxis and urticaria, they concluded that "these delayed localized hypersensitivity reactions are not a contraindication to subsequent vaccination," and they proposed that they be named "COVID vaccine arm."
Freeman reported no disclosures. Lipner also had no relevant disclosures. Little reported receiving a grant from the National Center for Advancing Translational Science and a Women's Health Career Development Award from the Dermatology Foundation while the study was conducted; another author reported equity in Johnson & Johnson in his spouse's retirement fund outside the submitted work.
This article originally appeared on MDedge.com, part of the Medscape Professional Network.
Medscape Medical News © 2021 WebMD, LLC

Cite this: Reports Further Characterize COVID Vaccine Skin Reactions - Medscape - May 12, 2021.