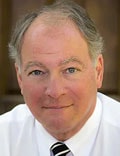 Mr M was a 79-year-old farmer who came to my rehabilitation facility after injuring himself at home. He had been working on his car when he slipped and bumped his head. Shortly thereafter, he developed progressive muscle weakness that worsened until he couldn't walk up a flight of stairs without becoming extremely fatigued. He did not have any shortness of breath and said the problem was that his muscles were basically weak. He said that prior to his injury, he had felt well.
He went to see his primary care physician, who thought his condition might be due to an inflammatory myopathy and drew laboratory studies, which were not revealing. His condition declined and he was hospitalized for pneumonia. His chest imaging studies showed a ground-glass appearance of infiltrates in his lower lobes. His condition slowly improved on antibiotics and corticosteroids. He was, however, too weak to return home and was transferred to the rehabilitation center for reconditioning.
A Continuing Decline
I saw the patient a day after he arrived at the rehabilitation center. He indicated that his muscle weakness was worse and that he was starting to become short of breath. His hospital records suggested that the dyspnea was initially mild in nature. The patient was cognitively intact, had no evidence of trauma, and had full range of motion in his neck and extremities. However, his arms were weak and showed spasticity. His deep tendon reflexes were diffusely hyperactive in his upper and lower extremities.
Because of this diffuse hyperreflexia, I knew I had to check his jaw jerk reflex. It was normal. With this red flag, I worried about cervical spine compression and immediately scheduled MRI of his cervical spine.
About an hour later, I was called in to see the patient because his oxygen saturation levels had dropped into the mid-70s. He was diffusely weak and panting for breath. Upon examination, I found no wheezes or adventitious pulmonary noises. EMS was called and he was transported to the emergency department. I advised the EMS team that I was concerned about the possibility of critical cervical spine compression. The patient was admitted to the hospitalist service for evaluation and treatment.
Despite My Concerns, No MRI Was Ordered
When I followed up on my patient, I was surprised to learn that an urgent MRI was not ordered. I contacted the hospitalist to ask about the MRI. He asked what my interest was in the patient's case. I told him that I saw him on admission to the rehabilitation center and shared with him my findings and concerns. The hospitalist seemed underwhelmed by my uneasiness regarding the patient's critical status but did say that he would order the MRI. (My review of the patient's previous exams in the electronic medical record did not reveal any documentation of muscle weakness or abnormal deep tendon reflexes, so I knew the findings were relatively new.)
One Surprise After Another
I went to see the patient in the hospital, where he was resting comfortably and said he had no complaints or concerns. He said that he had not received any imaging studies except for a chest x-ray.
The following day, I again reviewed the medical record, and to my profound surprise saw that the patient had been referred to hospice care for end-stage lung disease. I again contacted the hospitalist, who said he had canceled the MRI and that the patient was going home to receive hospice care. When I asked what he thought was the cause of his profound muscle weakness and extreme hyperreflexia, he said that he did not know and did not care to work up those patient complaints. He was not interested in getting pulmonary function studies to confirm either chronic obstructive pulmonary disease or the neuromuscular condition I suspected.
A Lifeline That Was Politely Cast Aside
I went back to the patient and asked him about the hospice care. He said that he had discussed the situation with the hospitalist and was comfortable going home with hospice. He had no family members and said that he had lived a full life and was ready to die "when it was his time."
I explained to him that he might have a severe spinal cord compression in his neck and that emergency surgery might restore his muscle function and improve his breathing if the compression could be relieved. He said that the hospitalist had convinced him that the hospice plan was best. With his permission, I rechecked his reflexes and they were significantly hyperactive with sustained clonus.
Upon Reflection…
The lesson that I learned from this interaction was that a physician can identify a rare, serious illness but still be completely ineffective in helping a patient if the patient and another physician do not wish to follow through. I also reconfirmed for myself the value of checking the deep tendon reflexes in anyone who has fallen or has bilateral leg weakness.
Medscape Family Medicine © 2021 WebMD, LLC

Any views expressed above are the author's own and do not necessarily reflect the views of WebMD or Medscape.
Cite this: The Lifesaving Diagnosis That Went Unheeded - Medscape - May 14, 2021.