For those up to age 55 who go to hospital emergency departments with chest pain in the United States, women are less likely than men to be triaged as urgent, receive an electrocardiogram (ECG), or be seen by a consultant, according to a new study.
Further, women waited 10 minutes longer than men to see a cinician and were 40% less likely to be admitted to the hospital, results showed.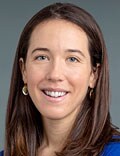 Lead author Darcy Banco, MD, MPH, an internal medicine resident at NYU Langone Health, New York City, reported these findings during a press briefing and will present the study at the American College of Cardiology 2021 Scientific Session.
"Lower rates of admission and testing in young women raise the possibility that heart attacks could be missed," she stressed.
Clinicians should be aware that chest pain is still the most common symptom in women with myocardial infarction, although sometimes women describe the pain as pressure or discomfort. Women are also more likely to have secondary symptoms — such as shortness of breath, nausea, vomiting, and back pain — that cloud the picture, she noted.
The results highlight that clinicians should "not exclude heart attack as a potential explanation of chest pain" just because of a patient is younger or a woman, Banco told theheart.org | Medscape Cardiology.
It's known that myocardial infarction (MI) is not an "exceedingly common diagnosis among young adults," she said, but it is "a 'can't miss' diagnosis," and young women who have an MI have worse outcomes than young men, she noted.
"Not every young woman [with chest pain] who proves to have heart attack will have the typical risk factors that become a red flag when they are being evaluated in the emergency department," senior author Harmony Reynolds, MD, a cardiologist at NYU Langone Health, pointed out. Some young patients with chest pain could have spontaneous coronary artery dissection, which, though rare, is more common in young women.
"Women should trust their instincts," Banco said in a statement. They "should seek care right away if they experience new chest discomfort, difficulty breathing, nausea, vomiting, fatigue, sweating, or back pain, as these could all be signs of a heart attack. The most important thing a woman can do is to seek medical care if she is worried and to ask specific questions of her doctor."
"Although the onus should never be on the patient, women should consider asking, 'Am I having a heart attack? How can you be sure?'" Banco advised.
The study highlights that clinicians "have to take symptoms in a woman more seriously and we need to not discriminate based on gender," press briefing moderator Eugene Yang, MD, University of Washington, Seattle, and chair, ACC Prevention of Cardiovascular Disease Council, echoed to theheart.org | Medscape Cardiology.
It would have been interesting, he added, to know if the amount of testing and additional work-up was justified based TIMI or GRACE risk scores, which are often used to decide what additional test needs to be done or how to stratify whether the patient needs to be admitted to the hospital.
"Even though there may be some unconscious bias, maybe what [clinicians in the emergency department] were doing was actually consistent with the overall risk of the individuals in that population," he speculated.
"The real question," Yang said, is "does the delay in care or reduced amount of testing impact the outcome?" If not, then maybe the care was appropriate. However, this study did not have this information.
"Even among the patients who were admitted, the likelihood that most of them had a heart attack is very low," Yang also noted.
From Triage to (Possible) Admission
MI is the leading cause of death in women and is rising among young adults, Banco said. A previous study reported that in 2013, roughly a third of patients who were hospitalized with acute MI were 35 to 54 years old, she noted.
Other studies reported that, compared with men, women with MI were less likely to have their chest pain recognized as heart disease, and compared with young men, young women had more delays in care, worse physical and mental health afterward, a lower likelihood of returning to work in the subsequent 12 months, and higher mortality.
To investigate potential sex differences in the evaluation and management of young patients with chest pain, from triage in the emergency department to (potential) admission, Banco and colleagues analyzed data from the Centers for Disease Control and Prevention's National Hospital Ambulatory Medical Care Survey, which provides a representative national sample.
They identified 4152 records of visits to the emergency department by people 18 to 55 years of age with chest pain from 2014 to 2018.
The patients had a mean age of 38 years, and slightly more than half (57%) were women.
A similar percentage of men and women arrived by ambulance (17%).
Women were less likely than men to be triaged as either emergent (potential threat to life) or urgent (requiring emergency intervention; 57% vs 63%) and women also waited longer to see a provider (45 vs 37 minutes; P < .001 for both).
A similar percentage of women and men had cardiac enzyme tests (roughly 21%).
However, women were less likely than men to receive an ECG (74.0% vs 79.0%), undergo cardiac monitoring (25.0% vs 30.0%), be evaluated by a consultant (8.5% vs 12.0%), or be admitted to the hospital or to an observation unit (12.0% vs 18.0%; P < .05 for all).
American College of Cardiology (ACC) 2021 Scientific Session.
For more from theheart.org | Medscape Cardiology, join us on Twitter and Facebook
Medscape Medical News © 2021

Cite this: Less Care for Young Women With Chest Pain in the Emergency Room? - Medscape - May 11, 2021.