Editor's note: Find the latest COVID-19 news and guidance in Medscape's Coronavirus Resource Center.
The decline in the number of cosmetic procedures performed in 2020, compared with 2019, very closely matched the amount of the time lost to physicians because of the COVID-19 pandemic, according to the American Society of Plastic Surgeons.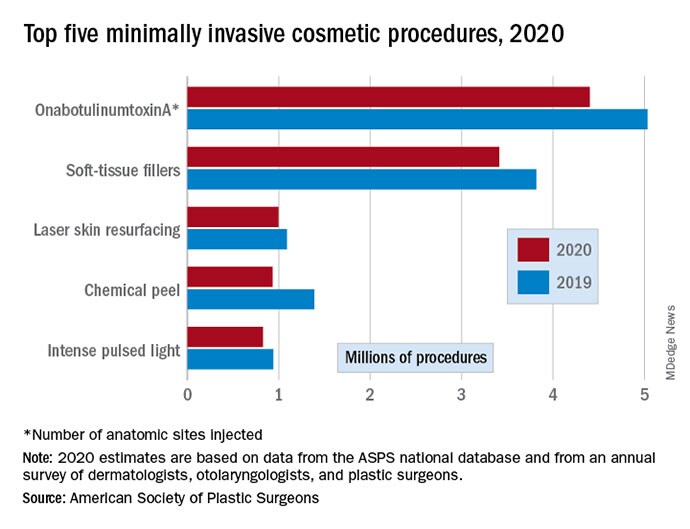 There were an estimated 15.6 million cosmetic procedures performed in 2020, compared with 18.4 million in 2019, a drop of 15.2%. Meanwhile, society members reported that they stopped performing elective surgery for an average of 8.1 weeks, which works out to 15.6% of a 52-week year, the ASPS said in its annual statistics report.
"The pandemic isn't over, but thanks to vaccines, a new normal is starting to define itself — and some surgeons' offices that were closed or offered only limited services within the last year are seeing higher demand," Lynn Jeffers, MD, MBA, immediate past president of the ASPS, said in a written statement.
Minimally invasive procedures, which made up the majority of cosmetic procedures in 2020, dropped by a slightly higher 16%, compared with 14% on the surgical side. "Injectables continued to be the most sought-after treatments in 2020," the ASPS said, with survey respondents citing "a significant uptick in demand during the coronavirus pandemic."
OnabotulinumtoxinA injection, the most popular form of minimally invasive procedure, was down by 13% from 2019, while use of soft-tissue fillers fell by 11%. Laser skin resurfacing was third in popularity and had the smallest drop, just 8%, among the top five from 2019 to 2020, the ASPS data show.
The drop in volume for chemical peels was large enough (33%), to move it from third place in 2019 to fourth in 2020, and a slightly less than average drop of 12% moved intense pulsed-light treatments from sixth place in 2019 to fifth in 2020, switching places with laser hair removal (down 28%), the ASPS reported.
Among the surgical procedures, rhinoplasty was the most popular in 2020, as it was in 2019, after dropping by just 3%. Blepharoplasty was down by 8% from 2019, but two other common procedures, liposuction and breast augmentation, fell by 20% and 33%, respectively, the ASPS said.
This article originally appeared on MDedge.com, part of the Medscape Professional Network.
Medscape Medical News © 2021 WebMD, LLC

Cite this: Pandemic Took a Cut of Cosmetic Procedures in 2020 - Medscape - May 11, 2021.