Most people whose medical record says they are allergic to penicillin are not actually intolerant, an allergist said Thursday during the first day of sessions for the American College of Physicians (ACP) Internal Medicine Meeting 2021.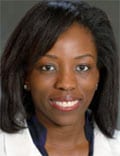 The mislabeling has implications for patient outcomes and efforts to fight antibiotic resistance, said Olajumoke Fadugba, MD, program director for the Allergy and Immunology Fellowship at University of Pennsylvania Health System in Philadelphia.
About 10% of the general population reports a history of penicillin allergy (up to 15% of hospitalized patients), but up to 90% of patients with that label are able to tolerate penicillin, Fadugba said. The mislabeling comes either because reactions were improperly characterized early on or people have outgrown the allergy.
"There are data that tell us penicillin IgE-mediated wanes over time and that after 10 years of avoidance of a drug, greater than 80% of patients have a resolution of their penicillin IgE."
Data also show patients outgrow their aminopenicillin reactions (including those from amoxicillin and Ampicillin) faster than parenteral penicillin reactions, she noted.

Josune Iglesias, MD, assistant professor of internal medicine at Rush University Medical Center in Chicago, Illinois, told Medscape Medical News she often sees patients who said their parents told them when they were kids that they were allergic to penicillin and that information just keeps getting entered into their records.
She said physicians are aware the penicillin-allergic label is not always accurate, but there is hesitancy to challenge those labels.
"We are cautious because of the potential side effects and the harm that we could cause if we unlabel the patient," she said. "I think having this information will help us unlabel those patients well so we don't cause harm."
Also, the threat to antibiotic resistance is real, she said, when penicillin is eliminated as an option unnecessarily.
When a person is labelled allergic to penicillin, the treatment choices often go to broad-spectrum antibiotics that are more costly, have potentially worse side effects, and may contribute to resistance.
"It's really important, especially with older people, patients sicker with chronic conditions to really make sure we unlabel those patients [who are not truly penicillin-allergic]," Iglesias said.
The label can also cause harm in the hospital setting and worsen outcomes, according to Fadugba.
She notes that the penicillin allergy label has been linked with longer hospital length of stay, higher rate of readmission, acute kidney injury, multidrug-resistant organism such as MRSA, and nosocomial infections including Clostridioides difficile.
Getting an effective drug history is an important part of determining who really has a penicillin allergy.
A questionnaire should ask whether the patient was likely to have had an immediate hypersensitivity to penicillin, such as hives or anaphylaxis, which would be more worrisome than a delayed rash.
Knowing the timeframe of the reaction helps determine how likely or unlikely people are to still have the allergy, Fadugba said.
"We also want to ask, have they received a penicillin antibiotic since that initial reaction and have they tolerated it?" she said.
She continued, "If a patient received amoxicillin 2 weeks ago, and they tolerated it, you can essentially remove the allergy label and essentially change that patient's potential hospital course — that immediate course or future outcomes."
After obtaining the history, there are choices to make.
If a patient is not allergic, she said, the next step is removing the label and documenting why so that in the future another clinician doesn't see the deleted label and put it back.
If a person is deemed allergic by history, clinicians should document the nature of the reaction and if the patient needs a beta-lactam during a hospitalization or in clinic, make a decision based on what kind of beta-lactam they need, she said.
"Generally, for a fourth-generation cephalosporin, for a distant history of penicillin allergy, you can probably give the full dose or — if you're conservative — give it cautiously, perhaps 10% initially and then monitor because cross-reactivity is known to be low, about 2%."
If the patient needs a penicillin antibiotic specifically, options are guided by the resources.
If a clinician has personnel or an allergy specialist available, skin testing may be an option and "if negative, you can rule out the allergy," Fadugba said.
"If that's not available and the patient really needs a penicillin, you can consider desensitization," she said.
However, she said, "If the patient is very high risk, then you have no choice but to use an alternative, especially if you can't desensitize."
Fadugba is a consultant for the Health Resources & Services Administration. Iglesias has disclosed no relevant financial relationships.
American College of Physicians (ACP) Internal Medicine Meeting 2021: Allergies in Adult Inpatients: Separating Fact From Fiction. Presented April 29, 2021.
Marcia Frellick is a freelance journalist based in Chicago. She has previously written for the Chicago Tribune, Science News, and Nurse.com and was an editor at the Chicago Sun-Times, the Cincinnati Enquirer, and the St. Cloud (Minnesota) Times. Follow her on Twitter at @mfrellick.
For more news, follow Medscape on Facebook, Twitter, Instagram, and YouTube.
Medscape Medical News © 2021

Cite this: Marcia Frellick. Most Labeled Penicillin-Allergic Are No Longer Intolerant - Medscape - Apr 30, 2021.