Low-dose naltrexone (LDN) may be effective in the treatment of refractory chronic pain, early research suggests.
Preliminary data from a retrospective chart review of patients with chronic pain showed those who received LDN experienced significant improvement in both pain and disability.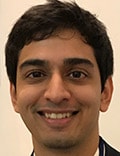 "Naltrexone has been studied especially in the setting of opioid and alcohol abuse, but we're seeing that at low doses, it has a paradoxical effect where it exhibits anti-inflammatory properties and it may be beneficial for patients with fibromyalgia or low-back pain," study investigator Kaivalya Deshpande, MD, a resident at the University of Pittsburgh Medical Center (UPMC), told Medscape Medical News.
The results showed that with appropriate patient selection, "LDN could be an additional treatment option within the pain physician's tool kit," Deshpande said.
In addition, because the dose of naltrexone used to treat pain is so low at just one tenth of the actual dose used in addiction, the potential for addiction is low, he noted.
"With high-dose naltrexone, you definitely have some of those risks of addiction, but thus far, there hasn't been any documented abuse potential with low-dose naltrexone," he added.
The findings were presented at the virtual American Academy of Pain Medicine (AAPM) 2021 Annual Meeting.
Refractory Patients
The investigators wanted to understand the effects of low-dose naltrexone as an adjunctive treatment in their chronic pain patients, many of whom are refractory to first-line treatments.
The study included 65 patients attending the UPMC pain clinic. All had experienced pain for more than 3 months from either low-back pain with radiculopathy or fibromyalgia. They also had failed traditional treatment strategies including physical therapy, anti-inflammatory and neuropathic pain medications, and epidural steroid injections.
All patients filled out standardized pain inventories to measure pain, disability, and the impact of naltrexone on their ability to carry out daily activities. Deshpande noted these surveys are helpful in tracking patient progress.
"Pain is such a subjective modality so it's really important to evaluate outcomes, especially function, to be able to say a particular intervention has been effective," he said.
"While there are many variables unable to be controlled for within a retrospective study, we were able to follow longitudinal outcomes of patients on low-dose naltrexone to assess if the medication was contributing to some of the benefit that we were seeing," he added.
Patients received low-dose naltrexone for a minimum period of 1 month and were followed longitudinally.
Outcome measures included pain scores, percent improvement in disability, the Oswestry Disability Index (ODI), the Pain Catastrophizing Scale, and Patient-Reported Outcomes Measurement Information System (PROMIS) metrics.
Viable Treatment Option?
Preliminary data analysis showed a statistically significant improvement in pain scores, percent improvement in disability, and ODI scores for patients who received low-dose naltrexone. These improvements were found at 3 and 6 months after treatment initiation.
Patients also reported improved sleep and decreased pain interference using the PROMIS metric. Numerical Pain Scale scores improved from an average of 7.5 to 4.9 at 3 months following the start of low-dose naltrexone.
In addition, investigators found a 40% improvement in disability at 3 months, and this improvement increased to 50% at 12 months. ODI scores improved from 50.3 to 43.4 at 3 months after treatment initiation.
Adverse events included dry mouth, headache, dizziness, gastrointestinal upset, and vivid dreams. However, these "were transient and generally mild," Deshpande said.
Overall, "we definitely saw positive results in our clinic with low-dose naltrexone with the pain and disability scores," he noted.
Deshpande reported that the investigators' next step is to review other metrics to examine potential improvement in psychosocial or fitness outcomes.
"Ultimately, it will be important to do a randomized control trial to eliminate potential confounding variables and increase the study's generalizability, in order to be able to say that LDN is helpful. But we can use this study as a foundation for such a trial," he said.
"I definitely think this is promising data that can be used to guide further studies," Deshpande said. "For now, we can say that low-dose naltrexone has potential. It has a fascinating mechanism of action, safe side-effect profile, and for the right patient it can be a viable treatment option."
Critical Preliminary Data
Commenting on the findings for Medscape Medical News, W. Michael Hooten, MD, professor of anesthesiology at Mayo Clinic, Rochester, Minnesota, noted that naltrexone "is generally considered not to have any abuse potential."
Hooten, who is also president-elect of the AAPM, was not involved with the current research. He added that the results may help expand the potential number of patients who could be candidates for low-dose naltrexone therapy.
"It provides the critical preliminary data necessary to conduct a prospective randomized placebo-controlled trial," Hooten said.
Deshpande and Hooten have disclosed no relevant financial relationships.
American Academy of Pain Medicine (AAPM) 2021 Annual Meeting. Presented April 23-25, 2021.
For more Medscape Neurology news, join us on Facebook and Twitter.
Medscape Medical News © 2021

Cite this: Fran Lowry. Addiction Medication Promising for Chronic, Refractory Pain - Medscape - Apr 30, 2021.