One step led to another. That is the message expounded by Keira Bell, a 24-year-old British woman who lives daily with the regret of transitioning to male gender in her teens. She received puberty blockers after just a few appointments at a gender clinic, and later progressed to injecting testosterone. By age 20, she had undergone a double mastectomy.

On December 1, 2020, Bell won a High Court case against the Gender Identity Development Service (GIDS) of the Tavistock and Portman National Health Service (NHS) Foundation Trust, London, claiming that clinicians should have challenged her more about the decision to transition before starting medical treatment. GIDS is the only institution that treats people under 18 with gender dysphoria as part of the NHS.
In short, the High Court ruled that young people under age 16 with gender dysphoria — people whose sex at birth is contrary to the gender they identify with — cannot give informed consent for treatment with puberty blockers, drugs that aim to halt normal puberty.
The decision also encouraged clinicians to seek court approval before treating any gender dysphoric person under age 18 with 'affirmative' medical therapy (ie, puberty blockers and cross-sex hormones, such as testosterone, to transition to male or estrogen to transition to female) if there is any chance that the patient might not fully understand the long-term implications of therapy.
This 36-page High Court ruling has upended the affirmative medical treatment model for adolescents with gender dysphoria in the UK; the decision is currently being appealed.
Arrested Development: Are Puberty Blockers the Start of a One-Way Path?
Of note, GIDS performed a study that showed no changes in quality of life, psychological function, or degree of gender dysphoria in 44 children who took puberty blockers for up to 3 years [1]. The study also showed adverse effects of the treatment: suppression of bone mineral density and growth. And almost 100% of kids taking these agents continued on to cross-sex hormones, contradicting GIDS' claims that puberty blockers function as a 'pause' button to give children more time to consider their options; rather, the findings suggest that the kids were effectively on a one-way path to transitioning medically.
The next step is taking cross-sex hormones, which are associated with several irreversible changes, including deepening of the voice, facial hair, clitoral growth in girls taking testosterone, and possible infertility and sexual dysfunction in both girls and boys. Long-term adverse effects include osteoporosis, thromboembolic events, cardiovascular disease, and malignancies, among others.
Many will then look to surgeries — as did Keira Bell — particularly the euphemistically termed 'top' surgery, which means a double mastectomy for a female transitioning to male, or breast augmentation for males transitioning to female. In the UK, such surgeries are reserved for people over 18, but in the US, double mastectomies have been performed on children as young as 13 years old [2, 3].
"I was an unhappy girl who needed help. Instead, I was treated like an experiment," says Bell, telling her story on Persuasion. "As I matured, I recognized that gender dysphoria was a symptom of my overall misery, not its cause. Five years after beginning my medical transition to becoming male, I began the process of detransitioning. The consequences of what happened to me have been profound: possible infertility, loss of my breasts and inability to breastfeed, atrophied genitals, a permanently changed voice, facial hair."
Bell's victory in the UK High Court is considered a landmark decision, and along with moves in some other European countries, it signals that the tide may be starting to turn when it comes to how a minor with gender issues can be treated by the medical profession.
A New Kind of Patient: Late-Onset Gender Dysphoria, Mainly Affecting Girls
Will Malone, MD, is an assistant professor of endocrinology practicing in Twin Falls, Idaho, who says there is little evidence to support hormonal interventions for people under 18 with gender dysphoria. In 2020, Malone was one of several clinicians and researchers who formed the Society for Evidence-Based Gender Medicine (SEGM), a not-for-profit organization that now has at least 100 physician members.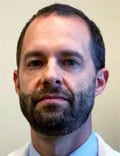 Malone told Medscape that he first became interested in this issue because he started receiving calls from primary care doctors who said they were seeing cohorts of friends — teenage girls — who were identifying as male, often clustered in groups. "Some girls were very distressed. Some were asking for hormones, some not. The primary care docs wanted to know what to do."
This phenomenon, Malone says, was very different from any gender dysphoria he had learned about in medical school or training, which was primarily in mature adult males who wanted to change sex or was the classical childhood-onset gender dysphoria where young children (mainly boys) reported feeling trapped in the wrong body.
The vast majority of youth now presenting with gender dysphoria are adolescents who suddenly express revulsion with their sex from birth, and 70% of them were born female. Many of them have comorbidities such as anxiety, attention deficit hyperactivity disorder, autism spectrum traits, and depression, Malone explains, which need to be considered.
This newer presentation — which has been termed late-, adolescent-, or rapid-onset gender dysphoria — has now been seen in every gender clinic in the western world, and there has been a huge surge in the number of cases. One recent US survey found a 4000% increase (over 40-fold) since 2006 [4], and there have been similar large increases in Finland [5], Norway [6], the Netherlands [7], Canada [8], and Australia.
The London GIDS clinic has seen a 30-fold increase in referrals over the past decade – and again they were primarily adolescent girls who said they now identify as boys.

Malone says there is no credible scientific explanation for why there has been such a big swing from predominantly males to predominantly females presenting with gender dysphoria around the time of puberty onset.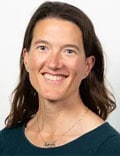 Sabine Hannema, MD, of the Department of Pediatric Endocrinology, Amsterdam UMC, in the Netherlands, treats transgender children. She told Medscape that the number of referrals has indeed increased in the last decade, and that the sex ratio of children she sees has changed, with relatively more trans-boys (assigned female at birth) in recent years.
Stephen Rosenthal, MD, is a pediatric endocrinologist at University of California, San Francisco, who treats transgender youth. He told Medscape he believes the concept of late-onset is a parental notion. "From our experience in clinical practice, what seems like putative rapid-onset from the perspective of the parents — because they are only just hearing about it — might not be [out] of the blue but something the child has lived with for some time — but only revealed during adolescence."
Nevertheless, he acknowledges that there's a lot more that needs to be known.
Is Social Contagion Playing a Role?
There have been numerous reports in the press of clusters of adolescent girls, often in schools, claiming they are now transgender. Many involved in the care of these children are increasingly concerned about the possible role of social contagion in the genesis and propagation of this phenomenon.
Hannema says she is aware of the concern that through exposure to certain media, some children might erroneously believe that their nonspecific emotional or bodily distress is a result of being transgender. She refers to a recent study on this topic in which the Amsterdam clinic was involved [9].
"The implied outcome is that such individuals will then access gender-related medical interventions, and eventually come to regret these once they realize that they are in fact not transgender," Hannema observes. However, she counters that other factors may explain an association between media coverage and increased referrals and that rates of regret have historically been very low.
Joshua Safer, MD, of Mount Sinai Hospital, New York City, is a spokesperson on transgender issues for the Endocrine Society and says the treatment of transgender youth is already conservative.
"We don't do any medical treatment on anybody before puberty. For most of the kids that we're talking about in these mid-teenage years, we're using a very conservative approach, which is puberty blockers…because those are essentially reversible."
"The approach has been used for a long period of time with…precocious puberty, so we do have data from adults who were treated years ago with these regimens. Our confidence about their safety is quite high," he adds.
Asked by Medscape for his reaction to the UK High Court finding that virtually all children taking puberty blockers progress to cross-sex hormones, Safer says people not opting out is a sign that doctors are successfully identifying the appropriate kids to receive this treatment.
Hannema, too, says that in her clinic the majority of youth taking puberty blockers do progress to cross-sex hormones, although they report a slightly lower percentage than did UK GIDS. "In a recent study [10], we reported that 87% of adolescents who had started puberty suppression subsequently started gender-affirming hormone treatment," she told Medscape. A total of 6% discontinued puberty blockers and 3.5% no longer wished to have gender-affirming treatment. The remainder were still on puberty blockers at last follow-up.
Safer adds: "I've certainly heard the argument that [puberty blockers] might be 'lulling them [children with gender dysphoria] along' but I'll tell you that our ability to brainwash kids is pretty lousy. We're thinking that we're doing a better job of vetting people, and fewer and fewer people are opting out."
Yet there is no doubt that more and more people — from the worlds of psychiatry, psychology, and endocrinology, as well as parents of children with gender dysphoria — are increasingly going public with their concerns about how swiftly medical treatment can be administered in some countries, with often minimal psychological counseling beforehand.
In fact, the parent of a 16-year-old with autism seeking treatment at GIDS — Mrs A — was the original instigator of the UK court case, which Keira Bell later joined.
The Detransitioners: Little Research on Those Who Regret Transitioning
Despite the claims of low rates of regret from doctors who treat transgender youth, there is evidence of a growing number of "detransitioners" — typically twenty-somethings who have had medical interventions and, in many cases, gender-reassignment surgery who now bitterly regret their decision. It is difficult to pinpoint the exact number of those who will come to regret their transition, as there has been no formal research into this, but many argue that this in itself is a strong rationale for pressing the pause button on this practice of "affirmative" medical therapy, particularly in those under 18.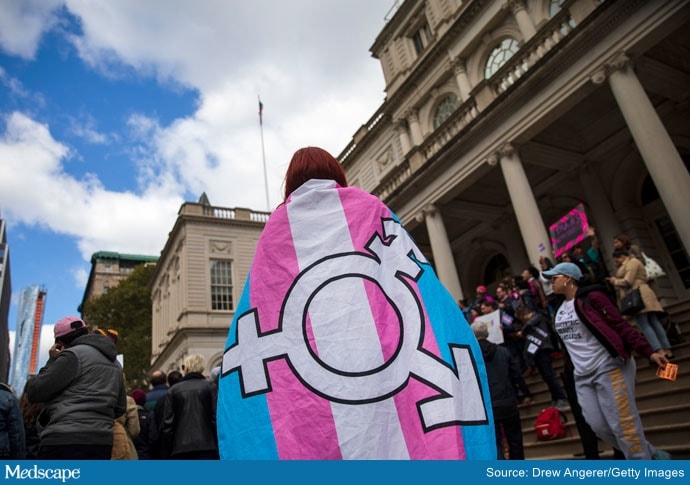 LGBT activists and their supporters rally in support of transgender people on the steps of New York City Hall in October 2018.
James Caspian is a British psychotherapist experienced in counseling transgender adults. He told Medscape in 2019 that he first became interested in this topic when a gender-reassignment surgeon he knew from Serbia told him he had patients coming back, requesting to have their transition surgery 'reversed.' At first, it was a trickle of patients, but as Caspian explains in a recent UK podcast, that surgeon has now reported more than 70 'regretting' patients at his one practice alone.
One Reddit subthread for detransitioners currently has more than 17,000 members, and a facility in Sweden, the Lundstrom Gender Clinic, provides trauma therapy for detransitioners.
Asked about those individuals who may regret transitioning, Safer told Medscape: "It's absolutely true that you can find individuals who regret their choice."
However, he qualifies, "the data do not seem to suggest that the majority of those people say their gender identity is necessarily any different; it's more that they regret the medical treatments for various reasons. Among them, it's the lack of acceptance by society that is their largest reason for regretting their decision."
And he maintains that those who regret their decision are less than 1% of those treated. "I can speak to my specific experience," he says when pressed to cite published research for this figure. "I've taken care of hundreds of transgender people and I have single digit numbers [of those] who have regretted medical treatment, so that's where my number for under 1% [comes from]."
Hannema tells Medscape, "As clinicians working in this field, we are highly mindful of the risk of regret throughout the assessment and treatment process. It will be important to continue not only to provide adequate counseling before such interventions are undertaken but also to observe whether regret rates increase in the face of greater media attention and more referrals."[10]
Even Transgender Adults Are Sounding an Alarm
Many transgender adults are also sounding the alarm because they know the burden of lifelong hormone treatment and the many complications associated with gender-affirming surgeries.
In the UK, the dialogue has now reached a critical turning point since Keira Bell's victory in court, and mainstream media are now openly covering all sides of the discussion. And although the conversation in the US is still markedly different, there are some signals that this may be about to shift.
Last year, Wall Street Journal contributor Abigail Shrier's book Irreversible Damage: Teenage Girls and the Transgender Craze created a furor when it was first published. The Economist listed it as one of its "Books of 2020."
Explaining the reasons why she set out to investigate this phenomenon in an article for the Daily Mail, Shrier says she became "haunted" by one question: What's ailing these girls? "Their distress is real, but their self-diagnosis is flawed — more the result of encouragement and suggestion than psychological necessity," she writes.
"Many adolescent girls identifying as transgender don't actually want to become men. They simply want to flee womanhood like a house on fire, their minds fixed on escape, not on any particular destination. They feel alienated from their bodies and the changes brought by puberty: acne, periods and breast development, and uncomfortable attention from men….This is a story Americans need to hear."
Some therapists interviewed by Shrier believe that these girls are actually experiencing a type of 'body dysmorphia' not unlike anorexia nervosa, and others are concerned that they are repressed lesbians, and that an internal kind of 'homophobia' is fueling their desire to be male.
Malone, the Idaho endocrinologist, says that Shrier — who interviewed over 200 people, including physicians, psychotherapists, parents, detransitioners, transgender 'influencers,' and trans adults — has penned "a meticulously researched and much-needed book."
Asked by Medscape what he thinks about Shrier's book, Mount Sinai endocrinologist Safer says it is "entirely based on the perspective of fearful parents worrying that their kids are being brainwashed."
Endocrine Societies, Trans Charities Join Appeal on UK High Court Verdict
The backlash to Shrier's book has been paralleled by responses to the UK court ruling, most notably from organizations supporting transgender individuals, who argue that this long-marginalized group has only recently gained the confidence to speak out and come forward for treatment.
These groups say that many children and their parents are now left in the lurch, unable to access medical treatment after having been told that puberty blockers and cross-sex hormones are the only hope for relief from gender dysphoria. (In fact, there has since been another ruling that says that parents can, in cases where children are already receiving puberty blockers, consent to continuing this therapy if they demonstrate full understanding of the risks and benefits.)
But the appeal of the Bell ruling, in June, will be the more important decision. And the US Endocrine Society has now been given leave to intervene in this appeal, together with GIDS.
Asked about the Keira Bell ruling, Hannema says: "I think that rather than involving a court to decide if treatment is appropriate, the mental health provider who has performed the diagnostic evaluation of the adolescent — and therefore knows about their specific situation and their development — should assess the ability of the adolescent to provide informed consent, together with the multidisciplinary team."
Rosenthal, too, stresses the importance of an interdisciplinary approach to the care of these children. "The Endocrine Society's…number one recommendation is that determination of gender dysphoria, whether present or not, should be made by a qualified mental health [professional.] This has not changed," he emphasizes.
"There may well be some people who truly have rapid-onset [gender dysphoria]…but also there are those who have landed on gender dysphoria as a solution to a different problem… and as a result might not truly be gender dysphoric. This is where we depend on the expertise of our mental health specialists," he adds.
On the opposing side of this legal battle with the UK GIDS and the Endocrine Society is psychiatrist David Bell (no relation to Keira Bell), who recently retired from GIDS and TransgenderTrend, a UK group representing concerned parents of children with late-onset gender dysphoria. Both have been given leave to intervene to defend the December 1 ruling.
The outcome of this appeal in the London High Court, which is to be heard over two days starting June 23, may turn out to have huge ramifications for the care of transgender kids worldwide, including in the United States, where there are now approximately 65 specialized clinics offering "affirmative medical care" for gender dysphoric children.
Endocrine Society Guidelines Based on One Study
Safer serves on the Standards of Care revision committee for the World Professional Association for Transgender Health (WPATH). WPATH's most recent standards of care [11], issued in 2012, state: "Adolescents may be eligible to begin feminizing/masculinizing hormone therapy, preferably with parental consent. In many countries, 16-year-olds are legal adults for medical decision-making and do not require parental consent." They add: "Hormone therapy should be provided only to those who are legally able to provide informed consent. This includes people who have been declared by a court to be emancipated minors."
Safe is also a co-author of the Endocrine Society's 2017 guidelines for treating youth confused about their gender [12]. These guidelines were formally presented at the annual meeting of the Endocrine Society in March 2018.
Malone was there.
"At this conference, the Endocrine Society — a highly respected organization — rolled out a set of guidelines for kids that essentially said, 'Your job as endocrinologists is to medically affirm [gender dysphoric] adolescents with puberty blockers and cross-sex hormones,'" he tells Medscape.
Malone says he was astounded when he first heard the guidelines, but immediately assumed, "There must have been a massive change in the landscape, some landmark study that I missed somehow, some stunning piece of evidence that says, 'Psychotherapy is out and affirmation is in.' " But the evidence simply wasn't there, he says.
The recommendations are based on a single uncontrolled study out of the Netherlands (the so-called 'Dutch' study, published in 2014 [13]), which Malone says was of low quality.
"The Dutch study involved kids with early childhood-onset gender dysphoria, and while it did find that psychological function was comparable to the general population after gender-affirming interventions, this is a very different group of children [from] the older adolescents who have no documented history of childhood gender dysphoria that now account for the surge in numbers," he explains.
He further notes that the Dutch protocol of using hormonal and surgical interventions was never meant for or tested in this group. In fact, the Dutch clinicians excluded cases of adolescent-onset gender dysphoria, considering them not eligible for medical interventions.
Malone adds that because gender identity is much more fluid in these newer cases and identity continues to change, medical interventions that cement a certain physical appearance are dangerous — and that may be the greatest reason to reassess the treatment approach.
No Questions Allowed: Follow the Advice; Debate Is Most Polarized in US
Malone says he was shocked by the Endocrine Society guidelines. "If you start puberty blockers at Tanner stage 2 [early puberty, as recommended], and then put these kids straight onto cross-sex hormones, then it's almost certain they will be infertile, as well as many other irreversible changes."
What he found equally concerning was a complete lack of any facilitated discussion on this controversial topic at the meeting.
"Endocrinologists need to be aware that the 2017 Endocrine Society guidelines on gender dysphoria [11] are one-sided and the evidence referenced within them is low quality. I would urge concerned clinicians to review the primary studies that are being used to justify irreversible interventions," he says.
Malone says the Endocrine Society is failing its members because "although they state that the evidence behind the recommendations is low, they promote the recommendations as though they are 'a standard of care'; they are not."
The debate about how best to treat transgender minors is probably more polarized in the United States than just about anywhere elsewhere in the world.
Arkansas has just passed a law, due to take effect in July, banning certain types of treatment for transgender youth, which threatens loss of license to any healthcare professional who provides puberty blockers, cross-sex hormones, or gender-affirming surgery to minors, and opens them up to lawsuits from patients who later regret their procedures. At least 16 other US states are considering similar legislation.
In contrast, parents trying to obtain psychological help for children before proceeding to hormonal treatment can often only find therapists who 'affirm' their child's transgender identity and recommend they start puberty blockers or cross-sex hormones.
Safer told Medscape, however, that except for Arkansas (once the ban is enacted), the standard of care for a child who has gender dysphoria does not differ among states.
"The establishment approach is that the kid would come in and would have a mental health intake and there would be sober conversations. If they are prepubescent, there is no intervention. If they are mid-teenage, then the intervention, if there is an intervention, would be puberty blockers, which are reversible. So, it's very conservative, actually," he says.
Asked about Malone, SEGM, and their concerns about rushed affirmation of transgender youth, Safer says, "This is a relatively small group that has been making the same arguments for a number of years, and they are very much outside the mainstream. It's not that there's a debate within organized medicine, where there are equal numbers of people on both sides. Dr Malone is outside of those arguments; [he is] not in the mainstream."
Safer also advises against "confusing conservative conclusions from our existing literature with absence of data."
Malone says he would like to challenge the Endocrine Society to debate, at one of its meetings, the issue of whether the 'affirmative' care model is the most appropriate for children with gender dysphoria.
"Pediatric gender dysphoria healthcare is still a relatively new and fast-moving area of clinical practice, in which there are inevitably many unknowns and evidential gaps. As scientists we're brought up to question: nullius in verba [take nobody's word for it]. Reflecting on our own practice, peer review, robust testing, and high-quality data collection, all improve outcomes for patients. None of us has [all] the answers but adhering to the scientific basics will bring us closer to them," Malone observes.
Asked also about SEGM, Rosenthal said he didn't want to comment on the organization specifically, but adds, "I completely support high-quality research. I couldn't be more in support of the concept inferred by the name of this group [Society for Evidence-Based Gender Medicine]."
However, Rosenthal further qualifies: "There's an unavoidable imbalance between the amount of information we know at the present time and the desire to provide compassionate care based on long-term data. We don't have long-term data, but that doesn't mean we should do nothing, which isn't a neutral option.
"We do have a significant amount of published research that is high-quality and supports our current clinical practice guidelines," he maintains.
"These interventions are Experimental"; Maturity Not Reached Until Age 25
An often-cited claim of proponents of affirmative medical therapy for gender dysphoria is that these kids have high rates of suicidal ideation and restricting their access to hormonal therapies (and surgery) would endanger them.
"The data are that if you are not supportive of the children, that is a source for greater mental health problems," says Safer. "And if you are supportive, the data are that you will have fewer mental health problems, so the strategy is to be supportive, or 'affirming.' That is the standard of care within the medical community."
But there is also little concrete evidence that transitioning improves mental health. And because the concept of late-onset gender dysphoria is relatively new, there are very few studies on this specific patient group.
But the UK GIDS study [1] does provide some interesting data on this point. The study was meant to emulate the "Dutch" study, but it found no changes in psychological function, quality of life, or degree of gender dysphoria among late-presenting adolescents. The authors concluded that "larger and longer-term prospective studies…are needed to more fully quantify the harms and benefits of pubertal suppression in gender dysphoria and better understand factors influencing outcomes."
Newly published reviews into puberty blockers and cross-sex hormones by the UK National Institute for Health and Care Excellence (NICE) this month drew similar conclusions. They note that no studies have compared cross-sex hormones or puberty blockers with a control group, and all follow-up periods for cross-sex hormones were relatively short.
Other historical data suggest that transitioning has little effect on mental health.
A study from Sweden in adults who had both medically and surgically transitioned found that death by suicide was still almost 20-fold higher in this group compared with cisgender [those identifying with their birth sex] individuals [14]. A study from the Netherlands found similar results [15].
"There is no evidence that transition reduces suicide when we look past 10 years, and there is some suggestion that suicide rates may actually increase after the transition honeymoon phase is over," says Malone, stressing the importance of providing proper evaluation and appropriate psychological treatment for any suicidal tendencies.
Indeed, in the Swedish documentary, Trans Train 2 , Danuta Wasserman, MD, PhD, a professor of psychiatry and suicidology at the Karolinska Institute, Stockholm, and a world expert on suicide, agrees.
"People are always advised to avoid making life-changing decisions when they are depressed, anxious, or grieving. We know that many trans people have anxiety and deep depression. What help do they need? The evidence clearly shows, in suicide prevention, that we need conversational therapy for young people before, during, and after puberty."
Malone therefore welcomes the judgment on the Keira Bell case.
"The UK ruling, from an endocrinology point of view, is that these interventions are experimental, that young people can't understand the implications of initiating puberty blockers, cross-sex hormones, and surgeries — and that makes sense based on our understanding of brain development," he explains.
"Cognitive maturity doesn't occur until the age of 25," says Malone, adding that this is why, for example, it's very unusual for a woman under 25 to be given a hysterectomy other than for life-threatening issues, even if she requests it, because doctors will deem she isn't mature enough to know whether she will want children in the future or not.
It is for this reason, too, that Malone dislikes the 'informed consent' model of affirming gender that he says now exists in the United States. As well as the numerous specialized gender clinics, there are multiple other providers of hormones for young people with gender dysphoria, such as Planned Parenthood, which will now provide cross-sex hormones for anyone self-identifying as transgender as long as they sign an agreement indicating that they are aware of the medical risks associated with hormone therapy.
Armchair Critics? Doctors Become Skeptical, Develop Ethical Stress
Many who support and practice the affirmative medical treatment of transgender children have accused those who argue against this stance of being "armchair critics," saying that until you have one of these distressed kids "in front of you," you can't begin to understand what will be best for them.
However, several clinicians who have been treating these children are themselves now starting to express regret.
Angela Sämfjord, MD, child and adolescent psychiatrist at Sahlgrenska University Hospital, Gothenburg, Sweden, started a child and adolescent clinic — the Lundstrom Gender Clinic — in 2016. Two years later, she resigned because of her own fears about the lack of evidence for hormonal and surgical treatments.
She tells Medscape: "There's a lot of tension between some approaches of gender clinics and the trans community. Patients found it hard to accept that they needed to undergo a full mental health assessment before being referred for medical treatment. Parents would say that nobody ever discussed that other issues…might be implicated in the child's dysphoria."
The referred adolescents had many psychiatric symptoms, says Sämfjord, and she realized that gender dysphoria was just one part of a complex problem. She also noticed that the psychiatric symptoms came first, followed by gender dysphoria upon reaching adolescence.
"[I] felt that we could not separate these things. Concentrating only on the gender dysphoria meant we might miss other things," she tells Medscape. Among her patients, 90% had another psychiatric diagnoses in addition to gender dysphoria; 80% had two or more. Depression and anxiety were most common, and 20% had a diagnosis of autism on arrival at the clinic; around 50% had symptoms of autism.
"When I realized the complexity [of these cases]…and that healthcare professionals are still expected to okay gender-affirming treatment despite the lack of evidence that we currently have, it preyed on my conscience," she told the Trans Train 2 documentary in autumn 2019.
"I wasn't prepared to take the risk, as a doctor, of causing these patients harm. I took the consequences of this and resigned," Sämfjord says.
Similarly, many of the staff at UK GIDS have now left that service, claiming they were afraid to raise concerns about patient safety for fear of retribution from bosses, as previously reported by Medscape.
Sue Evans is a psychotherapist who resigned from GIDS because she felt "deeply concerned" about the fast-tracking of young people into medical treatment.

She was a witness in the Keira Bell case, and told Medscape at the time: "The judges said that children need to understand the entire pathway of treatment from starting puberty blockers to moving to cross-sex hormones. It cannot be argued that starting the blocker is separate. Although a child may understand the concept of the loss of fertility, for example, this is not the same as understanding how this will affect their adult life."
Finland Has Tough Stance; US a "Perfect Storm" of Inappropriate Transitions
As evidenced by the doctors who were interviewed for the Swedish Trans Train documentaries, some Scandinavian countries have also started to put the topic of gender dysphoria in children — and the best treatment for them — under the microscope.
In 2020, Finland became the first country in the world to issue new guidelines for this group of patients when it concluded similarly to the UK High Court that there is a lack of quality evidence to support the use of hormonal interventions in adolescents with gender dysphoria.
This new Finnish guidance prioritizes psychological therapy over treatment with hormones or surgery and suggests different care plans for early-onset vs late-onset childhood gender dysphoria. And Sweden has just published a new guideline which reflects a significant change in direction for the diagnosis of gender dysphoria in minors, now emphasizing the requirement for a thorough mental health evaluation. Recommendations on treatments with puberty blocker and cross-sex hormones are due later this year.
Malone stresses that in terms of prioritizing psychological assessment, the US (and to a similar extent Canada and Australia) currently trail behind the UK and Finland.
But he is thankful that in the UK and elsewhere, doctors "are much more skeptical of guidelines [than we are in the US], and this is music to my ears."
"There is far less attention paid to psychological evaluation and treatment in the US compared with the UK," says Malone. "There is also a far more aggressive timeline for the provision of puberty blockers and hormones, such that we have created the perfect storm of inappropriate transitions.
"The case of Keira Bell was avoidable. Clinicians should know that if you intervene without good supporting evidence, there is a good chance people will be harmed. As more people come forward, more people will realize…that's what's occurring. The question is, 'What is the burden of harm that has to happen before people start to take notice?' "
Sources:
1. Polly Carmichael, Gary Butler, Una Masic et al. Short-term outcomes of pubertal suppression in a selected cohort of 12 to 15 year old young people with persistent gender dysphoria in the UK. PLOS One. February 2, 2021
2. Olson-Kennedy, Johanna, Jonathan Warus, Vivian Okonta et al. "Chest Reconstruction and Chest Dysphoria in Transmasculine Minors and Young Adults: Comparisons of Nonsurgical and Postsurgical Cohorts." JAMA Pediatrics 172, no. 5 (May 1, 2018): 431. https://doi.org/10.1001/jamapediatrics.2017.5440.
3. Jamie E Mehringer 1 , Jacqueline B Harrison 2 , Kit M Quain et al. Experience of Chest Dysphoria and Masculinizing Chest Surgery in Transmasculine Youth. Pediatrics published online ahead of print Feb 3, 2021 other Pediatrics on chest surgery
4. "National College Health Assessment: ACHA-NCHA s://www.acha.org/NCHA/ACHA-NCHA_Data/Publications_and_Reports/NCHA/Data/Publications_and_Reports.aspx?hkey=d5fb767c-d15d-4efc-8c41-3546d92032c5
5. Finland: Kaltiala-Heino, Riittakerttu, Hannah Bergman, Marja Työläjärvi, and Louise Frisen. "Gender Dysphoria in Adolescence: Current Perspectives." Adolescent Health, Medicine and Therapeutics Volume 9 (March 2018): 31–41. https://doi.org/10.2147/AHMT.S135432
6. https://sputniknews.com/society/202001141078030150-no-idea-why-this-is-happening-norway-sees-spike-in-young-girls-up-for-sex-change/
7. Netherlands: Vries, Annelou L.C. de. "Challenges in Timing Puberty Suppression for Gender-Nonconforming Adolescents." Pediatrics 146, no. 4 (October 2020): e2020010611. https://doi.org/10.1542/peds.2020-010611.
8. Canada: Zucker, Kenneth J. "Adolescents with Gender Dysphoria: Reflections on Some Contemporary Clinical and Research Issues." Archives of Sexual Behavior 48, no. 7 (October 2019): 1983–92. https://doi.org/10.1007/s10508-019-01518-8.
9. Pang KC, de Graaf NM, Chew D et al. Association of media coverage of transgender and gender diverse issues with rates of referral of transgender children and adolescents to specialist gender clinics in the UK and Australia. JAMA Network Open 2020. Jul 1; 3(7): e2011161.doi: 10.1001/jamanetw
10. Brik T, Vrouenraets LJJJ, de Vries MC, Hannema SE. Arch Sex Behav. 2020 Oct;49(7):2611-2618. doi: 10.1007/s10508-020-01660-8
11. Eli Coleman et al. "Standards of Care for the Health of Transsexual, Transgender and Gender Nonconforming People," 7th version, WPATH, 2012 https://www.wpath.org/media/cms/Documents/SOC%20v7/SOC%20V7_English2012.pdf?_t=1613669341
12. Hembree WC, Cohen-Kettenis PT, Gooren L, et al. Endocrine treatment of gender-dysphoric/gender-incongruent persons: An Endocrine Society clinical practice guideline. J Clin Endocrinol Metab. 2017;102:3869-3903
13. Annelou L.C.de Vries, Thomas D.Steensma, Theo A.H.DoreleijersMD, PhD et al. Puberty Suppression in Adolescents With Gender Identity Disorder: A Prospective Follow‐Up Study. The Journal of Sexual Medicine ; Volume 8, Issue 8, August 2011, pp. 2276-2283
14. Dhejne C, Lichtenstein P, Boman M, et al. Long-term follow-up of transsexual persons undergoing sex reassignment surgery: Cohort study in Sweden. PLoS One. 2011;6:e16885
15. Asscheman H, Giltay EJ, Megens JA, et al. A long-term follow-up study of mortality in transsexuals receiving treatment with cross-sex hormones. Eur J Endocrinol. 2011;164:635-642.
Medscape Medical News © 2021

Send news tips to news@medscape.net.
Cite this: Transgender Teens: Is the Tide Starting to Turn? - Medscape - Apr 26, 2021.