A panel of blood-based biomarkers can distinguish between depression and bipolar disorder, predict a person's future risk for these disorders, and inform more tailored medication choices, new research shows.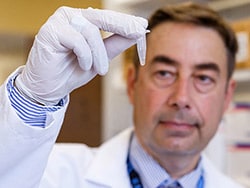 "In terms of precision psychiatry ― objective assessment, matching with the right medications, predicting and preventing future episodes ― blood tests are going to provide useful information to psychiatrists, as they do in other medical specialties, such as oncology," lead researcher Alexander B. Niculescu, III, MD, PhD, professor of psychiatry and medical neuroscience, Indiana University School of Medicine, Indianapolis, Indiana, told Medscape Medical News.
The study was published online April 8 in Molecular Psychiatry.
Modern Psychiatry
"We have pioneered the area of precision medicine in psychiatry over the last two decades, particularly over the last 10 years. This study represents a current state-of-the-art outcome of our efforts. This is part of our effort to bring psychiatry from the 19th century into the 21st century," Niculescu said in a news release.
To identify definitive biomarkers for mood disorders in general and depression in particular, the researchers employed a comprehensive four-step approach that encompassed discovery, prioritization, validation, and testing.
Participants included more than 300 psychiatric patients recruited primarily from the patient population at the Richard L. Roudebush VA Medical Center in Indianapolis.
The researchers followed participants over several years, tracking their mood states, both high and low, and correlating those states with changes in blood gene expression profiles.
They used a convergent functional genomics approach based on the current state of knowledge in the field to prioritize the differentially expressed biomarkers of relevance to mood.
They validated 26 candidate biomarkers for tracking mood states in independent cohorts of people with clinically severe depression or mania and for predicting clinical course, including future hospitalizations for depression or mania.
Ready for Prime Time?
For twelve biomarkers, the overall evidence was strongest for tracking and predicting depression. For six of these biomarkers, the overall evidence was strongest for tracking and predicting depression and mania (bipolar mood disorders). For two biomarkers, the overall evidence was strongest for tracking and predicting for mania.
Notably, said Niculescu, "at a biological level, there is a strong circadian clock gene component" to mood disorders, which explains why some patients' conditions become worse with seasonal changes. It also explains the sleep alterations that occur among patients with mood disorders.
"Therefore, interventions to regularize sleep-wake cycle, seasonal adjustments, and light therapy should be considered," he said.
Niculescu predicts that the biomarkers will be helpful in matching patients to existing psychiatric medications, as well as in identifying and potentially repurposing new drugs for the treatment of mood disorders.
On the basis of this research, top drugs to emerge as potential new antidepressants are pindolol, ciprofibrate, pioglitazone, and adiphenine, as well as the natural compounds asiaticoside and chlorogenic acid, the researchers report.
A Considerable Advance
Reached for comment, Lauren Osborne, MD, associate professor of psychiatry and behavioral sciences at the Johns Hopkins University School of Medicine, Baltimore, Maryland, noted that for a long time, this group has been doing "very careful work" characterizing biomarkers in blood that can help predict psychiatric disorders.
In this latest research, said Osborne, they did a "careful job of trying to separate what distinguishes low mood state in people who have a diagnosis of bipolar disorder or low mood state in people who have a diagnosis of depression as a way of helping us distinguish between those two disorders. In that sense, I think it advances the science considerably."
Osborne said the researchers also put forth "some really interesting ideas about whether we could use this to predict which kinds of drugs would be best for which patients.
"Depression is such a heterogeneous disorder, so if we can get to a more personalized approach, that would be great, but it's going to take a while," Osborne said.
She said, "we're still a long way from clinical utility, but we may get there."
The research was funded by the National Institutes of Health. Niculescu is a cofounder of MindX Sciences and is listed as inventor on a patent application filed by Indiana University. Osborne has disclosed no relevant financial relationships.
Mol Psychiatry. Published online April 8, 2021. Full text
For more Medscape Psychiatry news, join us on Twitter and Facebook.
Medscape Medical News © 2021

Send news tips to news@medscape.net.
Cite this: Blood Tests Offer the Promise of Precision Psychiatry - Medscape - Apr 20, 2021.