MANCHESTER—The ongoing medical tribunal hearing the case against British oncology professor Justin Stebbing, who is accused of inappropriately treating terminally-ill cancer patients, had heard that he struggled "greatly" with death and handled it "very poorly".
He is also said to have found it "very difficult" to speak to devastated families in his role, which has seen him treat many wealthy and high profile patients, including New Zealand multi-millionaire Sir Douglas Myers and popular British actor Lynda Bellingham
Prof Stebbing, a cancer medicine and oncology professor at Imperial College London and who has private practice in Harley Street, is appearing before a Medical Practitioners Tribunal Service (MPTS) fitness to practise hearing.
He faces 33 charges - 12 of which he's admitted - concerning his failure to provide good clinical care to 11 patients between March 2014 and March 2017.
They include making decisions based on a "poor" or "unrealistic" prognosis, overstating the benefits and life expectancy of chemotherapy and failing to gain informed consent from patients.
The tribunal heard about one lung cancer patient - referred to as Patient C – who, was treated by Prof Stebbing in August to October 2014.
Prof Stebbing is accused of inappropriately escalating her care, which included providing assisted ventilation and prescribing full dose chemotherapy, in the weeks prior to her death.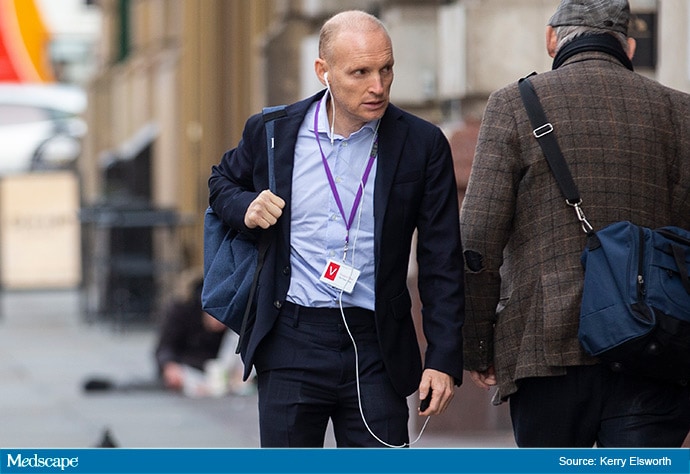 'Futile' Treatment
Expert witness Dr Ernie Marshall, a consultant oncologist at The Clatterbridge Cancer Centre, said the "extremely distressed" patient had been critically ill and the chance of her benefiting from the treatment was "futile".
When asked by Sharon Beattie QC, representing the GMC, about a clinician's responsibilities, Marshall said that the clinician's "primary responsibility" was to have honest, balanced conversations with patients, even if that caused distress.
"One of the most difficult aspects" of a consultant oncologist's role, he said, was supporting a patient and their family when treatment is no longer working, and end of life care becomes necessary.
"I believe in Professor Stebbing's generic witness statement he describes a loss of sense of balance and struggling greatly with death," Marshall said.
"He handled the process of death very poorly and he found talking to devastated families very difficult and very exhausting."
However, Stebbing's lawyer, QC Mary O'Rourke, argued that the patient and her family had wanted to try further treatment even if there was only "one to two percent chance" it would provide "days, weeks, or months of extra life."
'Unrealistic Expectations'
Prof Stebbing is also accused of inappropriately treating another lung cancer patient, Patient G, who was given chemotherapy at The London Clinic in March 2016.
He is accused of having inappropriately escalated the patient's care based on "unrealistic expectations" of the chemotherapy's benefits and a context of "increasing futility", given the patient's deterioration.
Other charges include a failure to consider colleagues' concerns regarding the appropriateness of the treatment, not considering an appropriate ceiling of care, and failing to obtain informed consent for the chemotherapy.
The tribunal had previously heard how colleagues at the private hospital - one of the UK's largest - had expressed concerns about the treatment.
Stebbing was suspended two months later after he "lost the confidence" of staff.
Marshall told the tribunal that this patient was initially a "borderline" case for chemotherapy, but his condition deteriorated and he suffered complications, including a collapsed lung.
By the time the patient did receive the chemotherapy, there was "no real prospect of benefit", Marshall said, and he died a few days later.
Marshall added that "reflection was lacking" and that Stebbing should have sought to establish a ceiling of treatment for the patient.
The tribunal heard how the patient suffered a collapsed lung during a procedure to insert a tube into his chest so that he could receive chemotherapy.
The patient had come off a ventilator but there had been a "further escalation" of treatment using non-invasive ventilation in the hospital's intensive care unit, the result, Marshall argued, of a failure to establish a ceiling of treatment.
"My argument is that escalation and continued approach was driven by Professor Stebbing's commitment to ensure chemotherapy was delivered as soon as possible," Marshall said.
"If a reflection had taken place at that time, a ceiling of treatment may have been put in place such that the patient and relatives may have decided not to proceed with treatment."
Marshall noted that there was "tension" between staff at the hospital and Stebbing after his decision to request the chemotherapy, and also records didn't show whether the patient understood the risks and benefits.
Marshall agreed with Stebbing's lawyer that the decision to escalate treatment was taken by a member of the intensive care team. But he argued that if an appropriate ceiling of care had been put in place the escalation wouldn't have occurred.
O'Rourke responded by saying there was "nothing" to indicate that was the case. She also dismissed his claim that a chemotherapy nurse had delivered the treatment "under duress".
"That's a very serious allegation to make because you are at the very least inferring Professor Stebbing or someone else put pressure on a health care professional to do something they otherwise wouldn't have done," O'Rourke said. "The notes do not support that position."
O'Rourke also noted that the earlier conflicts about the chemotherapy had been resolved and that our other consultants at the hospital had all agreed that Patient G was fit to receive it.
But Marshall replied: "There was conflict across the chemotherapy nursing team and the other professionals were not experts in the decision to have chemotherapy.
"The overall responsibility for chemotherapy consent and prescribing is with the treating consultant," he said, and in this case that was Stebbing. "In the private sector, patients are referred to a consultant. So, the standards I would expect are that a consultant oncologist retains overall responsibly," Marshall commented.
The tribunal hearing is continuing.
Ian Leonard is a freelance journalist experienced in covering MPTS hearings.
© 2021 WebMD, LLC

Send comments and news tips to uknewsdesk@medscape.net.
Cite this: Ian Leonard. Oncologist Struggled 'Greatly' When Patients Died, Tribunal Told - Medscape - Apr 16, 2021.