Fifteen Black medical school students — wearing stark white coats — posed for a photo in front of former slave quarters on a plantation in Louisiana. The symbolism was undeniable, and the reaction was immediate.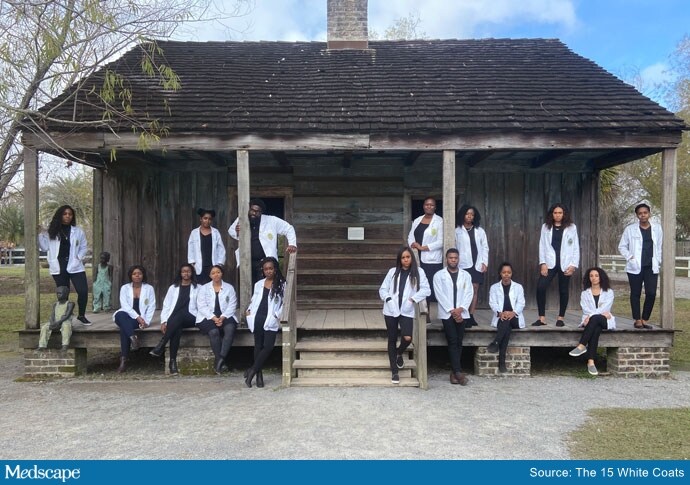 This photo of Black medical students at a plantation became the catalyst for a new organization.
On December 14, 2019, students from Tulane University School of Medicine, in New Orleans, Louisiana, posted a photo to social media the day they took it. It went viral. One subsequent tweet, from student Sydney Labat, read, "Standing in front of the slave quarters of our ancestors, at the Whitney Plantation, with my medical school classmates. We are truly our ancestors' wildest dreams."
The reaction led to a barrage of local and national news coverage and interviews, including coverage by Good Morning America and CNN. The students quickly realized they had an opportunity to do something bigger: They decided to use their newfound attention to address systemic racial inequality in medical education and medical care.
Five of the students from the photo got together. In January 2020, they started an organization that would encourage Black students ― from elementary school through undergraduate studies ― to become doctors. They named the organization after the photo: The 15 White Coats.
"Our Ancestors Were There With Us"
The photos that started it all did not come about by accident. They were inspired by a trip that Russell Ledet, PhD, one of the students in the photo and president of the The 15 White Coats, had taken with his daughter. They had gone to the Whitney Plantation for a tour with a friend he'd met while studying for his PhD. The former sugarcane plantation today operates as a museum and is dedicated to telling the stories of enslaved people in southern Louisiana.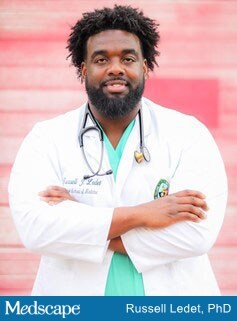 Medical student Russell Ledet, PhD
Ledet had been having conversations with his daughter about race and the importance of Black success in the United States. He didn't feel like their conversations were landing as well as he had hoped they would. Finally, after hearing about life as an enslaved person on a sugarcane plantation in the 1800s, Ledet's daughter told him, "Dad, I think I get it."
"She's like, 'I get why being a Black doctor in America is such a big deal,' " he said. He asked her to explain more. "And she told me, 'Just think about it: We just left a plantation where African-Americans were enslaved, and they couldn't be lawyers, or doctors, or dentists ― they couldn't be anything other than property. And now I'm riding in the car with two Black doctors. We've come a long way.' "
As he listened to his daughter, Ledet had a realization of his own: He and his Tulane University School of Medicine classmates should visit the plantation together. They should learn about the enslaved people who lived there, the lives they lived and how they survived. And they should take photos to illustrate his daughter's point ― "We've come a long way."
Almost every classmate he asked agreed. Ledet and his 14 peers carpooled to the Whitney Plantation, about 50 minutes east of New Orleans, and took the tour. When they got to the slave quarters, they put on their white coats and posed. An undergraduate student — who hopes to attend medical school himself — joined them and snapped a few photos.
Those who were a part of it say the moment felt "transcendent." "You juxtapose success with failure ― a system that was designed to make sure the people who were standing in the photo never got there," said Ledet. "And you see triumph."
Labat, who had almost skipped the plantation visit in favor of studying, said she felt both gratitude for being surrounded by other Black medical students and a deep sense of connection to the people who had lived in the slave quarters. "I honestly, honestly think that we were not alone in that space, that our ancestors were there with us," she said.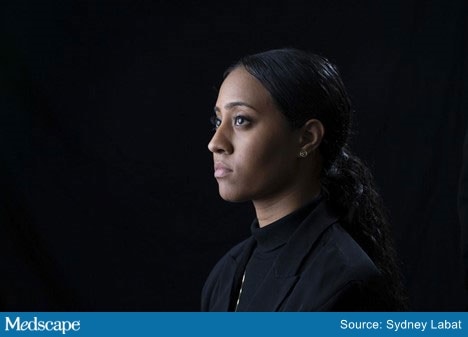 Medical student Sydney Labat
Turning Inspiration Into Support
It didn't take long for the students to turn the feeling they had into action. "When all this started happening, the first thing that came to my mind is that we've got to do something that is going to make a real difference," Ledet said.
The morning after the photo went viral, Ledet called Labat and asked her opinion about another idea he had. "I was like, 'What if we put this photo in classrooms all over the world?' " Ledet said. "We need to diversify medicine, and part of that is making sure that children imagine they could become physicians. I never met a Black doctor growing up, so the idea of a doctor who looked like me was far-fetched. It took me a while to believe it was possible."
The statistics bear this out: According to the Association of American Medical Colleges, only about 5% of practicing physicians in the United States identified as Black in 2018, whereas 13% of the US population is Black. This imbalance contributes to well-documented health disparities for Black Americans. Black Americans aged 18 to 49 are twice as likely to die from heart disease than are White people in that age range. Black women are 40% more likely to die of breast cancer than White women. In the first year of the pandemic, Black people who got COVID-19 were nearly three times as likely to be hospitalized and were twice as likely to die as White people.
The 15 White Coats believe that changing those statistics can start with something as simple as having one of the photos they took at the plantation be seen by Black children. "In these underrepresented minority communities, kids don't see Black doctors," said Rachel M. Turner, one of the students in the photo and the scholarship development and social media manager for The 15 White Coats. "It's hard to be something you can't see. Getting into medical school is hard enough as it is, and not being able to see people who look like you can be even more discouraging."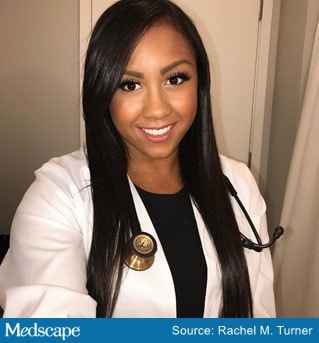 Medical student Rachel M. Turner
As the group's media appearances increased, so did donations. None of the students involved currently draws a paycheck; they used the money that came in to buy copies of their photo for schools and to fund scholarships. Their first scholarships helped five students attend the annual conference of the Student National Medical Association (SNMA), which supports underrepresented minority medical students. The group was just getting started when the pandemic hit. As has been the case for most people, the past year has not been as they expected.
Despite that challenge, The 15 White Coats have had plenty of successes. They distributed more than $10,000 in scholarships and financial assistance for medical school applications and remote conferences. Their iconic photo is now in about 8500 classrooms around the world, from Australia to Zimbabwe. They've also mentored undergraduate students hoping to pursue medical school through networking events (held outdoors or virtually during the past year) and offered guidance on coursework and the medical school application process.
Word about the organization seems to be spreading. Turner was on her neurology rotation at a veteran's hospital in New Orleans when a nurse who had seen the photo stopped her. The nurse's daughter wanted to go to medical school and had been accepted to Xavier University of New Orleans, a historically Black university. Turner knew that her fellow "white coater" Labat went to Xavier, so she offered to put them in touch.
That kind of networking and support can make a huge difference. Osose Oboh, MPH, national president of the SNMA and a medical student at Michigan State University College of Human Medicine, in East Lansing, said The 15 White Coats' work is critical, especially now.
"We've seen this last year how crazy our biases are when they come into play and how they can be a matter of life and death," Oboh said. "By increasing diversity in medicine, you increase the chance that these doctors care about Black patients, or know someone who looks like those Black patients, understands their perspective, empathizes with them, and gives them the care they deserve."
Laura Arenschield is a Columbus, Ohio–based, award-winning reporter for MDedge who has been writing about science and health for more than a decade.
For more news, follow Medscape on Facebook, Twitter, Instagram, and YouTube.
Medscape Medical News © 2021

Send news tips to news@medscape.net.
Cite this: Black Med Students' Photos at Plantation Spark New Group Focused on Racial Equity in Medicine - Medscape - Apr 15, 2021.