An investigational polymerase chain reaction (PCR) test that detects the presence of a viral gene in Lyme disease–causing bacteria can distinguish between early and late infection, according to the results of a study that the authors describe as "systematic and comprehensive."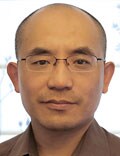 "The current way of diagnosing Lyme disease is struggling to reflect the 'true' incidence of Lyme disease," study investigator Jinyu Shan, PhD, said in an interview with Medscape Medical News. Although there are tests for Lyme disease approved by the US Food and Drug Administration, they are based on the development of antibodies in the blood, and the problem is that antibodies might not develop until several weeks after an infection.
Diagnosis therefore still relies heavily on the clinician's experience. There are often tell-tale signs — such as a 'bullseye' skin rash or having been to an area known to be infested with ticks that carry Lyme disease — but this might not always be the case.
For the new test, "we're not targeting bacteria. We're targeting bacteriophages," said Shan, a research fellow in the Department of Genetics and Genome Biology at the University of Leicester, United Kingdom.
Fortunately, there's high correlation between the presence of the bacteriophage terminase large subunit (terL) gene and the presence Borrelia burgdorferi, the spirochete that causes Lyme disease. "If you find the bacteriophages, the bacteria are there," said Shan.
"Importantly, there are ten times more bacteriophages compared to the bacteria, so you have a lot more targets," he added.
In an evaluation of a total of 312 samples (156 whole blood and 156 serum samples), significantly fewer copies of the terL gene were found in samples from people with early Lyme disease than in those with late Lyme disease, whereas the fewest copies of terL were seen in healthy volunteers.
Most pathogenic bacteria carry viral DNA either as multiple complete or partial prophages, Shan explained. Knowing the prophage sequences means that quantitative PCR primers and probes can be designed and used to detect the presence of the associated bacteria.
Although the novel test still needs evaluation in a clinical trial, it could represent a "step-change" in the detection of Lyme disease, Shan and associates suggest in their report published in Frontiers in Microbiology.
Early treatment is key to the prevention of longer-term consequences of Lyme disease. Clinicians familiar with the treatment of Lyme disease might choose to initiate antibiotic treatment without a positive lab test. However, the lack of a test that can pick out people with Lyme disease in the first few weeks of infection means that many people are not diagnosed or treated early enough.
The new phage-based PCR test Shan and associates have developed could change all that. With only 0.3 mL of blood being needed, it can potentially be developed as a simple point-of-care test, but that's a long way off.
At this stage, the research is very much a "proof of concept," Shan said. One of the things he plans to try to work out next is whether the test can distinguish between active and dormant disease, which is a "big question" in the diagnosis of Lyme disease.
"Bacteriophages can only be sustained by actively growing bacteria," explained Shan, so there is a chance that if they are present in a substantive amount the disease is active, and if they are not — or are in very low numbers — then the disease is dormant. The cutoff value, however, "is not trivial to establish, but we are working toward it," added Shan.
Over the past 2 years, Shan and associates have been working with the Belgian-based diagnostics company, R.E.D Laboratories, to see how the test will fare in a real-world environment. This relationship is providing useful information to add to their bid to perform a clinical trial for which they are now seeking additional sponsorship.
"The lack of an early and effective diagnosis of Lyme disease remains a major cause of misdiagnosis and long-term patient suffering." commented Rosie Milsom, charity manager for Caudwell LymeCo Charity in the United Kingdom.
It could be a game changer if the test passes the necessary clinical trial testing and validation stages, noted Milsom, who was not involved in the research.
"Not only would the test help to establish the level or length of infection," she said, "but it could also act as a way to test after treatment to see if the infection levels are decreasing." If levels are still high, "you would know more treatment is needed.
The research is being funded by the charity Phelix Research and Development with support from the University of Leicester and the Dutch-based Lyme Fund, Lymefonds.
Shan is named as coinventor of the phage-targeting PCR test, alongside Martha R.J. Clokie, professor of microbiology at the University of Leicester and the senior author of the study. Shan is chief scientific officer for Phelix Research and Development. Clokie and other coauthors hold key positions within the medical research charity.
Front Microbiol. 2021;12:651217. Full text
For more news, follow Medscape on Facebook, Twitter, Instagram, and YouTube
Medscape Medical News © 2021

Cite this: Phage-Targeting PCR Test Picks Up Early Lyme Disease - Medscape - Apr 15, 2021.