Editor's note, 13 April 2021: This article was updated with coverage of Tuesday's evidence.
MANCHESTER—Leading oncologist Professor Justin Stebbing gave chemotherapy to a patient in the "over-optimistic" belief he could reverse her advanced and aggressive lung cancer, a medical tribunal heard.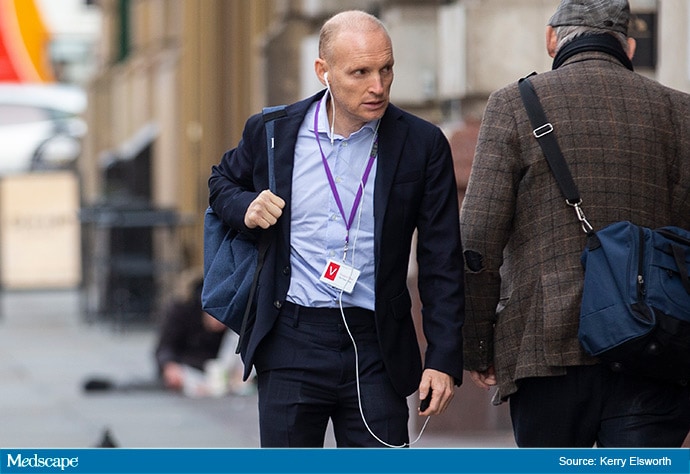 Professor Stebbing - who's treated New Zealand multi-millionaire Sir Douglas Myers and the actor Lynda Bellingham - is a cancer medicine and oncology professor at Imperial College London and has a private practice in Harley Street.

He's appearing before a Medical Practitioners Tribunal Service (MPTS) fitness-to-practise hearing and is accused of inappropriately treating terminal cancer patients, in some cases overstating the benefits of treatment, treating patients who had just weeks to live or failing to get informed consent.

The 33 charges - 11 of which he's admitted - concern his failure to provide good clinical care to 11 patients between March 2014 and March 2017.
Patient C
The tribunal heard about one female patient - referred to as Patient C - who was diagnosed with advanced lung cancer and treated by Professor Stebbing between August - October 2014.
He's accused of inappropriately escalating her care, which included providing assisted ventilation and prescribing full dose chemotherapy, in the weeks prior to her death.
It's also claimed he failed to discuss a realistic assessment of the patient's prognosis with her or her family and the risks and benefits of not having treatment.
Expert witness Dr Ernie Marshall, a consultant oncologist at The Clatterbridge Cancer Centre, said Professor Stebbing's initial first-line chemotherapy treatment was "reasonable" given the patient was a "borderline" case.
But the patient had failed to respond, he said, and Professor Stebbing had then prescribed further chemotherapy, despite being aware of the patient's progressive lymphangitis.
Given Patient C's deteriorating condition and "increasingly futile" prognosis, he said, it was essential to recognise the limitations of treatment.
"Regrettably, the majority of people with advanced lung cancer will die of their disease and there comes a time in their treatment where honest and open conversations are critical to allow a patient and their family and indeed the specialist team to make appropriate decisions around ceiling of treatment," he said.
"The patient had progressed not only in the face of appropriate supportive care but that deterioration was in the face of already having first-line chemotherapy where the patient was already borderline.
"Professor Stebbing held out a commitment that a change of treatment would be beneficial to the patient and that the condition was eminently reversible which I would respectively strongly disagree with."
He said there was "no reasonable chance" further chemotherapy would have "lead to any meaningful prolongation of life or quality of life" and the patient's very aggressive cancer indicated she'd had less than 2 months to live.
Therefore, he would have expected a "more honest" assessment of her prognosis but Professor Stebbing had believed her cancer was reversible.
He said: "Whilst the patient and the family were aware how critically ill Patient C was, I believe comments from Professor Stebbing in his notes suggest a degree of over-optimism that this situation was reversible."
Documentation
Prof Stebbing admits to failing to maintain adequate treatment records and Dr Marshall said there was a "complete absence" of documentation about whether the patient or her family were advised about the low probability of treatment having a positive impact, or the risks and benefits of not having treatment.
But he'd maintained the cancer was treatable and in a letter to AXA insurers he'd stated: "She may well get over this episode".
Mary O'Rourke, QC for Prof Stebbing, put it to Dr Marshall that as a NHS oncologist he wasn't used to dealing with patients in the private sector where it's "resource unconstrained" and - in his words - they "try until you die".
And Patient C, according to a letter from her daughter, had wanted "a chance, no matter how slim, to extend her life" so her family had "wanted to give it a go".
"They wanted to give it a go in a setting of what I would consider futility and which I believe the intensive care team agreed with," replied Dr Marshall.
"That decision was overridden and led by Prof Stebbing."
But Ms O'Rourke pointed out that Patient C had asked to be ventilated and the professor's decision to escalate chemotherapy was based on a "genuinely held and honest belief" that he could reverse the patient's cancer and there had been a reduction in the size of her tumour.
"He believed she had a chance of getting better," she said. "Cancers take a while to respond.
"She was responding in the sense of the tumour mass, which gave him belief that the rest of the cancer would respond.
"And all he's doing is giving her every chance of getting better."
But Dr Marshall said oncologists have a duty to understand the limitations of their therapies and their important role in ensuring patients have awareness of their limited life expectancy and where and how they wish to die.
Patient F
On Tuesday, Professor Stebbing was accused of treating another patient - Patient F - based on an "unrealistic" prognosis, despite their deteriorating condition.

The female patient, who had lung cancer, had been admitted to hospital in a critically ill condition in March 2016 after undergoing undergoing a lung operation and immunotherapy.
Dr Marshall said she had "fluctuating" encephalopathy, which was a "key theme" following her emergency admission and the underlying cause had been uncertain.

He said there was a "lack of a unifying diagnosis" and Professor Stebbing and the wider team "did not understand" why the patient was so unwell.
The patient was given a DNAR order, but it had been reversed - with Professor Stebbing telling a colleague her prognosis was more than 18 months - and she'd then received assisted ventilation.

Dr Marshall said the patient's condition had deteriorated, with respiratory failure and increasing confusion and agitation, and the decision to reverse the DNAR was based on "an unreasonable prognosis".

He said the patient had "not been fit" to receive standard chemotherapy for her advanced lung cancer, had not tolerated non-toxic treatment and shown brain metastasis on her admission.

Her health had deteriorated, despite the care she'd received, and in his opinion she was "approaching the last weeks of her life" - with indications of multi-organ failure.

Dr Marshall said the escalation of treatment, which also included chest drains, had placed an "unnecessary burden" on the patient and she may have made an alternative decision to return home for end of life care earlier than she did.

Professor Stebbing faces other charges that he failed to provide a balanced decision and consider an appropriate ceiling of care with the interdisciplinary team and failed to obtain informed consent for the patient's cancer treatment because he did not explain to her or her family that there was a "low probability" it would improve her condition or explain the benefits of not having treatment.

He's also accused of failing to keep adequate records.
Ms O'Rourke questioned Dr Marshall over his assertion that Professor Stebbing's 18-month prognosis for the 67-year-old patient had led to the decision to reverse the DNAR, and subsequently to provide assisted ventilation.

He agreed that by that time the patient should have received a second dose of planned immunotherapy - a treatment he deemed "appropriate" - and there was no evidence the patient's cancer had progressed.

Ms O'Rourke said Dr Marshall's assertion that the decision to reverse the DNAR and ventilate the patient was determined by Professor Stebbing's "unrealistic prognosis" was not supported by medical notes.

But he disagreed and said comments from other doctors "linked" those decisions to a conversation with the professor and "specifically" his 18-month prognosis.

Clinical notes, Ms O'Rourke said, showed the patient's son had agreed to her being intubated on the first occasion and it was "very clear" that a decision to intubate the patient for a second time had been taken by the ICU team and not Professor Stebbing, who'd simply agreed to the plan.
The patient had also given her agreement to the second intubation, as well as a tracheostomy that was never carried out.

But Dr Marshall said the intubation had taken place because the professor had wanted to carry out a PET-CT scan to determine the extent of the patient's cancer, although this was disputed by Ms O'Rourke.

She also said Professor Stebbing's 18-month prognosis was based on the belief her pneumonia and other health problems were "reversible" - a view shared by his colleagues.

"You've seen the language in the notes," she said to Dr Marshall.

"If it's reversed the prognosis is 18 months, so they must have all believed it was reversible in order to provide the treatment they did."

But he said he disagreed and that the prognosis had been "critical" to clinical decision-making.

The hearing is continuing.
Ian Leonard is a freelance journalist experienced in covering MPTS hearings.
© 2021 WebMD, LLC

Send comments and news tips to uknewsdesk@medscape.net.
Cite this: Ian Leonard. Leading Oncologist's 'Over-Optimistic' Treatment for Advanced Cancer Patient - Medscape - Apr 13, 2021.