A coalition of Black physicians met with American Medical Association (AMA) leaders this to week to discuss the urgent need for antiracism initiatives in medicine ― a move to hold the association accountable after its top medical journal released a now-deleted podcast labeled by many as racist and misinformed.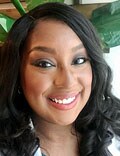 "I walked in very much not knowing what to expect. I wasn't sure how much accountability we'd see from them because they've been distancing from JAMA," says Brittani James, MD, an assistant professor of clinical family medicine at the University of Illinois College of Medicine and cofounder of the Institute for Antiracism in Medicine. "What we want to see is action. The AMA has the size, resources, and power to really do something. They can move mountains."
James helped start a petition, which has more than 8000 signatures, calling for a culture change at JAMA. She and seven other Black doctors, a group in its fledgling stages called the Black Healers Network, met with top officials at the AMA to demand action regarding decades of racism that have shortened the lives of Black and Brown people.
Among AMA leaders at the meeting were the CEO and its chief health equity officer.
In response to a request for comment about the meeting, an AMA spokesperson issued the following statement: "AMA leaders are grateful to the many physicians who have expressed concern about the deeply harmful podcast and tweet published by the JAMA Network. We have heard from longstanding AMA members, physician leaders within our organization, as well as other physicians, about the pain caused by this event but also their guidance and ideas for how the AMA might address these issues. AMA leaders are listening and learning and we are committed to dismantling structural racism across the AMA and in health care."
Although the recent events served to jumpstart conversation, James says, this isn't just about one problematic podcast. The AMA has a long history of racism: the founding editor of JAMA, Nathan Davis, MD, excluded both women and Black physicians from the association.
In 2008, the AMA publicly apologized for historical discrimination. However, James says, little to no action has been taken in the 13 years since.
Many other offenses have taken place in that time. Those include the publication of racist ideology, such as an article published last year that claimed high death rates among Black COVID-19 patients can be attributed to their nasal gene expression.
The AMA has openly criticized the 16-minute podcast from JAMA, aired February 23, that attempted to discuss structural racism in the US healthcare system.
The episode featured host Ed Livingston, MD, then–deputy editor for clinical reviews and education at JAMA, and guest Mitchell Katz, MD, the president and CEO for NYC Health + Hospitals and deputy editor of JAMA Internal Medicine. Livingston approached the episode as "structural racism for skeptics."
Livingston, who is White, said during the podcast, "Structural racism is an unfortunate term. Personally, I think taking racism out of the conversation will help. Many of us are offended by the concept that we are racist."
Since then, Livingston has resigned and AMA's Journal Oversight Committee announced that JAMA's editor-in-chief, Howard Bauchner, MD, was placed on leave pending the outcome of an investigation into the podcast.
The association immediately distanced itself from the journal. In a statement, CEO James L. Madara, MD, said: "JAMA has editorial independence from AMA, but this tweet and podcast are inconsistent with the policies and views of AMA and I'm concerned about and acknowledge the harms they have caused. Structural racism in health care and our society exists and it is incumbent on all of us to fix it."
According to James and other physicians of color, the AMA helps perpetuate racism by failing to make changes within a system rife with discrimination. The purpose of this week's meeting was to demand more than lip service, she says.
"Our goal here is not just to make people feel bad but to help them understand that their actions meanwhile are ending people's lives," James says. "What we really want is metrics. We want them to think in terms of hitting a concrete, measurable goal. We don't want platitudes, we don't want statements."
Association leaders have committed to meeting with the coalition again in 1 month to provide an update on their progress.
The COVID-19 pandemic and the development of three highly effective vaccines have shown just how quickly problems in medicine can be addressed when they are prioritized, says coalition member Raymond Givens, MD, assistant professor of medicine at Columbia University Medical Center, New York City.
Givens, who attended the meeting, says this fast action "revealed how awesome the scale of progress can be when there's sustained attention, absolute devotion, and willingness to invest ― when people do not accept any excuses and refuse to slow down just because someone feels uncomfortable."
Givens and James acknowledge that creating the change that's needed will be a lengthy and arduous process, but they remain hopeful that the AMA will begin giving the issue more attention.
"I think I was struck they really did seem to take what we were saying to heart and really process the weight of it," Givens says of the meeting. "What we're looking for is really a detailed approach to changing the internal culture of AMA, promoting equity in that organization and across the JAMA network."
He added, "We're looking for concrete external plans with targets, timelines, and backup plans in case things fail. We want them to move beyond nice words, roll up their sleeves, and get to work."
Lindsay Kalter is a freelance journalist based in Boston, Massachusetts.
For more news, follow Medscape on Facebook, Twitter, Instagram, and YouTube.
Medscape Medical News © 2021

Send news tips to news@medscape.net.
Cite this: Black Physicians to AMA: 'Get to Work' - Medscape - Apr 08, 2021.