The number of Americans donating to crowdfunding campaigns for medical bills during 2020 held steady relative to previous years, despite widespread financial hardships from the COVID-19 pandemic, according to a major polling organization.
As in past years, most of the money-raising campaigns sought to raise money for cancer care.
About 1 in 5 Americans (18%) donated to a medical crowdfunding campaign through websites such as GoFundMe, according to new survey results from 1208 Americans aged 18 years or older, reports NORC at the University of Chicago.
Forty-five million adults donated to a variety of campaigns for medical bills; 17 million people donated to campaigns related to cancer, and 16 million donated for accidental injuries. Nine million people donated to campaigns related to heart disease, 5 million to mental health, 2 million to COVID-19, and close to 1 million to diabetes.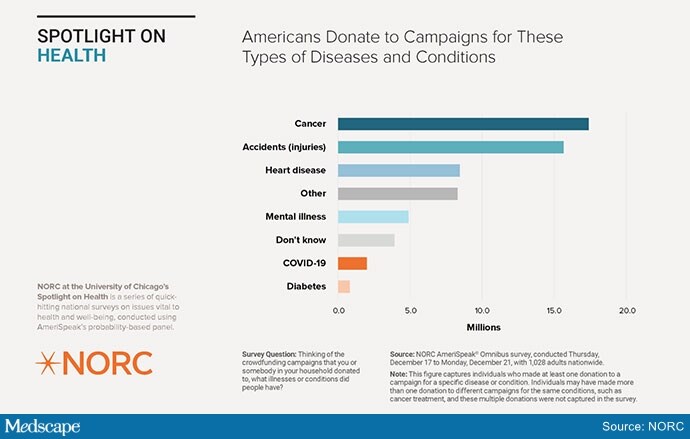 The "mental health" category appeared to include funding to defray the cost of residential treatment. Other campaigns seemed in some cases to be raising money for premiums and basic costs of care, Susan Cahn, DrPH, MHS, NORC senior research scientist, told Medscape Medical News.
Interestingly, almost 40% of the donations were from households with annuual incomes of less than $60,000, which was below the median income in the United States in 2019. "These were people who themselves were at financial risk during the pandemic, and they made donations to family, friends, and strangers," said Cahn.
Crushing Cancer Costs
NORC found that 17 million donations went to cancer-related campaigns; the organization did not ask survey respondents about whether the campaigns were for general cancer care or experimental treatments.
Cahn said NORC hopes to glean more information about cancer and other crowdfunding campaigns "to understand the gaps in our insurance coverage system" and how policymakers can develop solutions. Although America has a long history of contributing voluntarily to help those in need, crowdfunding is not a systemic solution to coverage problems, said Cahn.
Cancer care and its costs are particularly vexing.
"Many studies have shown that some patients with cancer are at risk for being overwhelmed by the cost," said Yousuf Zafar, MD, chief quality and innovation officer at the Duke Cancer Institute, Durham, North Carolina, when asked to comment on the NORC survey.
Oncologists are doing "a better job of acknowledging the potential financial strain caused by the treatment we prescribe," Zafar told Medscape Medical News. But there are still shortcomings, he said.
"We might be more likely to talk to patients about cost initially, but I suspect there is less follow-up," said Zafar. "So, we are less likely to know how patients are truly coping with their financial strain."
"We Are All Responsible"
The majority of respondents — 86% — said that the government has responsibility for providing free medical care or care at reduced cost to those who can't afford it. The degree of responsibility. according to the respondents, ranged from "some" to "a great deal."
Almost as many survey participants said that hospitals or clinics and doctors bore that responsibility. Close to half said that family or friends should not have to bear that responsibility.
"We are all responsible ― the pharmaceutical industry for prices charged, health systems for lack of price transparency, insurance companies for inadequate coverage, and I, as a clinician, for not clearly discussing the goals of care, including the risk of both physical and financial harm," Zafar said.
The respondents were asked about other avenues they had tried before beginning a crowdfunding campaign.
Slightly more than half said that they had contacted the billing organization to request financial help. Of those who did so, 85% sought a reduction in the total amount billed, and 63% said they had asked for a payment plan. Only 7% said they had met with a billing or financial counsellor.
The NORC interviews were conducted in English from December 17 to 21, 2020. Most were conducted online (953 of the 1028); the rest were conducted by phone. The cumulative response rate was 3.2%. The overall margin of sampling error was ±-4.07 percentage points, with a 95% CI, including the design effect. The margin of sampling error may be higher for subgroups.
The NORC surveys are self-funded.
Alicia Ault is a Lutherville, Maryland-based freelance journalist whose work has appeared in publications including Smithsonian.com, the New York Times, and the Washington Post. You can find her on Twitter @aliciaault.
For more from Medscape Oncology, join us on Twitter and Facebook.
Medscape Medical News © 2021

Send news tips to news@medscape.net.
Cite this: Despite COVID Hardships, Americans Still Help Others With Medical Bills - Medscape - Apr 05, 2021.