As COVID-19 cases surged last December, 100 seriously ill patients streamed into the ER of Martin Luther King Jr Community Hospital (MLKCH) in south Los Angeles every day. Staff at the 131-bed safety net hospital erected five tents outside the ER — and converted the gift shop and lobby into an overflow area — to accommodate all the patients.
The hospital, which serves the most impoverished part of the city, the poor and Latino communities with essential workers who have been hardest hit by the pandemic, filled up with more COVID-19 patients than other nearby hospitals that were up to four times the size.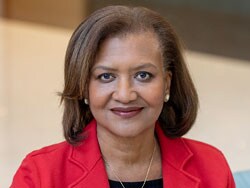 By Christmas Eve, hospital CEO Elaine Batchlor, MD, MPH, wrote to California's governor, Gavin Newsom, for help. In two days, he had dispatched a huge team from the state and county health departments, and sent in 90 nurses, 15 respiratory therapists and three strike teams from the National Guard who were trained as medics. Hospital CEOs across Los Angeles County started talking daily to facilitate transfers of patients and ease some of MLKCH's burdens.
"We have taken care of a hugely disproportionate number of COVID patients for a small community hospital," says Batchlor. "Every time we get to a point where I simply thought we were going to run out of space and gas, people have come up with another way to do it."
Batchlor and her team's can-do attitude and hard work have rebuilt MLKCH from the ashes of a troubled public hospital that closed in 2007. Decades of neglect, incompetence, and serious healthcare errors at the Martin Luther King Jr/Drew Medical Center, known as "Killer King," had resulted in needless suffering and deaths. But a coalition of community activists, political leaders, county health officials, and big-name philanthropic donors banded together to spearhead the opening of the new hospital in 2015.
Now, more than 5 years later, MLKCH is a highly rated hospital and health system. "For a formerly failed public hospital to turn it around and garner this much good will is remarkable," says Mark Ridley-Thomas, the Los Angeles City Council member who represents the hospital's district and was a crucial supporter of its reopening. "What makes it even more remarkable is how well the hospital is doing, which I attribute to the board, to the executive leadership and to the staff."
Everything in Batchlor's life experiences, from her upbringing as the child of activists to her long career as a physician focused on population health, has informed her leadership and desire to provide a revitalized model of healthcare for the community that relies on MLKCH.
"This was not just about opening a hospital," says Batchlor. "It was about developing a system of care for an underserved community, and the hospital was just the first part of it."
Early Years of Activism
Batchlor learned to fight for the poor and disenfranchised from her parents, who were social activists during the Civil Rights Movement in the 1960s and attended Martin Luther King, Jr's "I Have A Dream" speech in 1963. "My parents were always very politically active and outspoken and engaged from the time I was a small child," Batchlor recalls. "I remember them attending these events and some of that seeded my activism."
In one of her earliest memories, she's 10 years old, sitting on her father's shoulders amid a sea of humanity at the Poor People's March on Washington in 1968, held just two months after King's assassination. The sight of a makeshift camp that marchers set up on the grounds of the Washington Mall made an indelible impression on her, Batchlor says. Through her uncle, a "self-styled revolutionary," she became steeped in the thinking of the Black Panthers and Black power advocates like Stokely Carmichael, Angela Davis, Huey Newton, and Bobby Seale. "None of them were accepting the status quo," she says, "and that's how I was raised."
Batchlor's parents fought to buy a home in a nearly all-white Maryland suburb of Washington, DC, so she could go to a "good" public school. But it was a mixed blessing. Neighbors shunned the family, and Batchlor felt like an outcast. She spent a lot of time at the library, alone, where she found a book about Saint Luke that changed her life.
Reading about the "beloved physician" of the Gospels who worked with the poor made her realize that a career in medicine could combine all of her interests: healing, scientific inquiry, and social activism.
When she arrived at Harvard University in 1975, she finally found acceptance among a group of like-minded peers. "In addition to making a lot of friends of different backgrounds, it was the first time I had ever been in a community of similar African-American people," Batchlor says. "It was just intoxicating. We used to have this joke that when people asked us where we go to college, we'd say 'We go to a small black college on the campus of a major white university.' For a lot of us, it was the first time that we had that experience of being part of a community of really smart, really on-the-ball other Black students."
Batchlor went on to Case Western Reserve University School of Medicine in Cleveland, Ohio, for her medical degree, then headed west to do her internship and residency at Harbor-UCLA Medical Center. She earned her master's from UCLA's school of public health, where she learned not only to "heal bodies but heal the systems and attitudes that make us sick."
Afterward, she held a series of leadership positions at organizations focused on managed care and community health, such as the California HealthCare Foundation and the Los Angeles County Department of Health Services. She served as the chief medical officer at L.A. Care Health Plan, which provides healthcare to vulnerable populations.
In 2010, the board working on relaunching the new MLKCH recruited her to join them. At the time they were searching for a team to operate the facility, and none of the candidates seemed right.
"At a certain point, I realized that I could do a better job than any of them could," recalls Batchlor of the CEO candidates. After all, she had the background and connections working in the community, and she had held administrative roles providing healthcare to this population. It became obvious to the board "that she was uniquely qualified," says Ridley-Thomas.
"This was an opportunity to create something from scratch and to make it the way you think it ought to be," adds Batchlor.
Many Challenges Ahead
She had her work cut out for her. The hospital's patient population faced myriad challenges common for historically disenfranchised communities. About a third of residents live at or below the poverty line, less than half speak English at home, crime is high, and there are few places where they can buy healthy food or exercise outdoors safely.
You can't turn around the health of a community with just a hospital that takes care of people when they're at the end of the line.
Residents also face higher rates of diabetic wounds and amputations, and die at higher rates from preventable conditions like sepsis. Pregnant women who have had no prenatal care often come into the ER in labor. Diabetes mortality rates are 73% higher at the hospital than in Los Angeles County overall. During the pandemic, at least 3 people of color have died from COVID-19 for every White person.
Addressing these systemic inequities required a complete re-imagining of how medical care should be delivered. "You can't turn around the health of a community with just a hospital that takes care of people when they're at the end of the line," Batchlor says. "You really have to get out in front of that, and that means you have to invest in community-based care."
Starting from the ground up gave her, the staff, and the hospital's board of directors the opportunity to put in place initiatives that had been successful elsewhere. It wasn't smooth sailing. "Right now, it seems like a huge success but when we were first doing it, so many people didn't like what we were doing," she recalls.
But Batchlor proved to be astute in navigating a thicket of competing interests. For example, when an executive at a neighboring health center heard MLKCH was going to start a medical group, he felt they were threatening his organization. She met with him and won him over, explaining his clinic would also have access to the specialists MLKCH would recruit, and it would help them care for their patients better. "When patients come to the hospital and we discharge them, you don't know what to do with them because your staff, mostly composed of nurse practitioners and physician assistants, can't really manage complex sick adults," Batchlor recalls telling him and his health deputy. "So they end up coming right back to the hospital."
The hospital itself, a gleaming glass-and-concrete structure four stories high, serves as a centerpiece for the 38-acre, $300 million campus that now includes a medical office building with doctors in more than 70 sub-specialties, a psychiatric and urgent care center, a recuperative care center for patients who were formerly homeless, and a behavioral health center.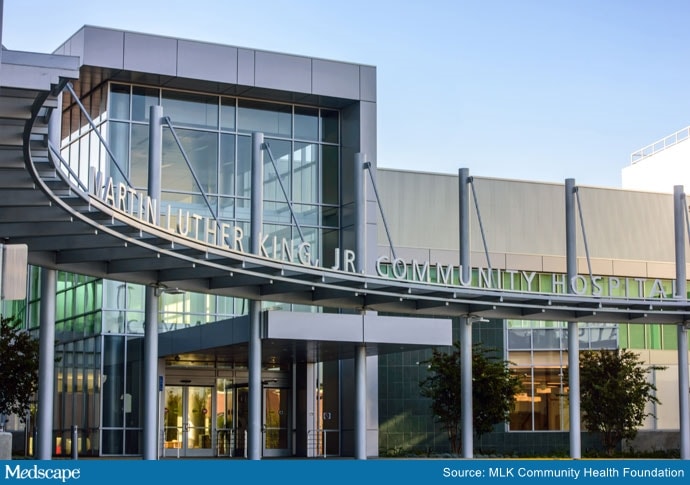 Martin Luther King Jr Community Hospital serves the most impoverished part of Los Angeles.
Batchlor calls hospitals "the heavy artillery of healthcare," and notes "they come with a price tag to match." Regular doctor's visits in community-based clinics cost less and save more lives over time. For preventive care, and to reserve hospital stays for only the sickest patients, the health system includes a web of satellite clinics in the community, either in leased storefronts or through alliances with existing clinics.
There is also a weekly farmers' market on the hospital's campus to meet the community's need for fresh, affordable, and quality food. A food program called Recipes for Health helps food-insecure patients with diabetes, obesity, and heart disease eat a better diet. A yearly evaluation found that the program changed eating habits for patients and their families, and also improved medical compliance — patients stay in the program as long as they attend their doctor's appointments. MLKCH staff also conduct health screenings in hair salons, barber shops, shopping malls, churches, and schools, where they check vital signs and offer education on preventing chronic diseases. In development: a street medicine program to provide care for the homeless.
Luring the Best
To attract healthcare professionals to the South Los Angeles campus, Batchlor has helped launch a nonprofit medical group, a professional nurse training program and, in 2019, a medical residency program. Still, recruiting top doctors, especially specialists, remains challenging. Batchlor estimates a shortfall of about 1200 physicians, based on the size of the surrounding area.
Many doctors, saddled with medical school debts, simply can't afford to work in poor communities because of low payments from Medicare and Medicaid. Batchlor and her team raised $20 million from philanthropic individuals and organizations to supplement physicians' income so MLKCH could pay market rates, which are about 400% higher than Medicaid payments. That program helps for now, but Batchlor readily admits that supplementing physician incomes with philanthropic money is a temporary solution.
MLKCH has also partnered with a UCLA program that trains Latin American doctors who want to practice in underserved communities; an added plus is they're bilingual and culturally attuned to the community.
"In the early days, before there was a hospital, we were astonished at the number of applicants we were getting of high quality that connected to our mission," says Ian Morrison, a healthcare policy consultant in Menlo Park, California, who serves on the hospital's board of directors. "It's not a wealthy community, but we've been able to make the math work."
The turnaround Batchlor has overseen is remarkable, the hospital's statistics show. In the 5 years since the hospital opened in 2015, it's received A ratings for patient safety from the Leapfrog Group; its low cesarean birth rates of 12.7% are about half of the state average, earning it a place on the Cal Hospital Compare Maternity Honor Roll; it's in the top 10% nationwide for patient satisfaction, according to Healthgrades; and is in the top 7% for the use of health information technology, according to the American Hospital Association. Its emphasis on prevention, electronic record-keeping and a network of community centers prompted Politico to call the facility "the hospital of the future."
But the work is far from finished. "This pandemic really highlighted the weaknesses in our healthcare system," says Batchlor. "People are gradually starting to understand that we can't completely separate ourselves from our less-fortunate brothers and sisters. Because these are the folks that are cleaning our homes, preparing our food in restaurants, taking care of our kids…and their health is in bad shape. We have an epidemic of poorly treated chronic illness that puts people at high risk from something like COVID. And if we don't take care of everyone, it poses a risk for all of us."
Linda Marsa is an award-winning writer focusing on science, health, medicine, and the environment.
For more news, follow Medscape on Facebook, Twitter, Instagram, and YouTube. Here's how to send Medscape a story tip.
Medscape Medical News © 2021

Send news tips to news@medscape.net.
Cite this: A Troubled Public Hospital Closed. This Doc Is Leading Its Rebirth - Medscape - Apr 05, 2021.