At least one doctor has lodged a complaint with the Maryland Board of Physicians against a physician member of the Maryland House of Delegates who apparently conducted legislative business at least twice while in the operating suite.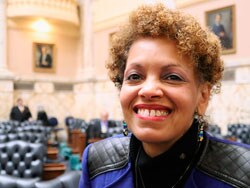 The delegate, Terri L. Hill, MD, called in once via Zoom to speak in support of a bill she was sponsoring, and on another occasion, logged into a Zoom committee meeting for at least an hour, according to the Baltimore Sun. On both occasions, Hill, a plastic surgeon who represents Maryland's 12th district in the Baltimore area, appeared to be in the operating room, the Sun reported.
Alan L. Robin, MD, a retired ophthalmologic surgeon in Towson, Maryland, who is executive vice president of the American Glaucoma Society, was "appalled" after reading the Sun stories, he told Medscape Medical News. Robin filed complaints with the Maryland Board of Physicians and the Maryland House of Delegates' Ethics Committee.
If Hill was indeed in the operating room, she should lose her license, or at least be put on probation, Robin said.
"It was a disservice to the patient that his or her procedure was delayed by the conversations that Dr Hill had via Zoom," he said, adding that he does not think it is medically safe to be conducting legislative business in the operating room. "One should be focused in on the task you're doing, even if you've done it a thousand times before — everybody is different."
The Maryland Board of Physicians told Medscape Medical News it was "unable to comment or confirm whether a licensee is under investigation," but Robin said he understood that the board had begun an inquiry. The House Ethics Committee would not tell Robin if other complaints had been filed, but he said the panel confirmed that it was investigating.
Medscape Medical News asked Hill for comment, but a spokesperson said that "Delegate Hill would like to respectfully decline any request for comment or interview."
"I'm at Work"
In a video clip from a February 2019 meeting of the Maryland House of Delegates' Environment and Transportation Committee that the Sun posted last week, the assembled lawmakers appear in a grid familiar to users of any videoconferencing program.
Most appear to be in offices, but Hill is seen in a bouffant cap and what appears to be double surgical masks. She begins speaking, but the committee chairman does a double-take, and says, "Are you at work? What's going on here?"
Hill answers, "I'm at work, yes. You're at work, I'm at work."
The committee chairman seems a bit baffled but allows her to speak and when her 2 minutes are up, awkwardly says, "Well, you get back to whatever it is you're doing."
When Hill was logged in for a committee session in March, her box on the grid showed multiple gowned and masked figures moving around, and operating room lights were visible, according to the Sun. The paper reported that all legislative hearings and sessions are publicly available on official government websites and YouTube.
Hill acknowledged to the newspaper that she had logged in from the operating room but said there were no privacy issues and that she had patients' permission. "There are no attention-to-duty issues and there's no dereliction-of-duty issues," Hill told the paper. "So, the only issue is people's perception of what could or could not or must or must not have been going on."
Days later, the Sun chided Hill in an editorial. "It's grossly unprofessional to shortchange one of the most fundamental responsibilities of a state lawmaker: full participation in legislative hearings," said the editorial.
Conducting hearings by computer also shouldn't be used as an excuse to flout conventions or boundaries, said the paper. "That's especially true of surgeons who, even in cases of a minor dermabrasion or routine lipoplasty, have life and death matters in their hands," it said.
Hill, a Democrat, has had higher political aspirations. She was one of several dozen people who in 2020 competed to fill the late Elijah Cummings' seat to represent the Baltimore area in the US House of Representatives, but she garnered only 7.4% of the vote in the Democratic primary and finished fourth.
Alicia Ault is a Lutherville, Maryland-based freelance journalist whose work has appeared in publications including Smithsonian.com, the New York Times, and the Washington Post. You can find her on Twitter @aliciaault.
Medscape Medical News © 2021

Send news tips to news@medscape.net.
Cite this: Complaints Filed on Lawmaker/Surgeon Who Took Zoom Calls in OR - Medscape - Mar 29, 2021.