Editor's note: Find the latest COVID-19 news and guidance in Medscape's Coronavirus Resource Center.
AstraZeneca today announced interim results of their phase 3 US study, which indicate 79% overall efficacy of their vaccine against symptomatic COVID-19, 80% in people aged 65 years and older, and 100% efficacy against severe or critical disease and hospitalization.
The vaccine's efficacy was consistent with regard to ethnicity and age, according to the company.
Company officials and clinical trial investigators also addressed the recent concerns about blood clots and vaccine efficacy in light of circulating variants of SARS-CoV-2 and provided a timeline for seeking regulatory approval.
"There are many countries in Europe and throughout the world that have already authorized this. The fact that a United States–run study has confirmed the efficacy and safety of this vaccine I think is an important contribution to global health in general," Anthony Fauci, MD, chief medical advisor to President Joe Biden, said during a White House press briefing March 22.
Andy Slavitt, White House senior advisor for the COVID Response Team, had a more tempered reaction. "It's important to remind everyone we cannot and will not get ahead of the FDA.... While we would certainly call today's news encouraging, it's the kind of thing we like to see, we have a rigorous process that will come once an EUA is submitted and that will give us more information," he said.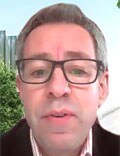 With 30 million doses at the ready, the company plans to file for US Food and Drug Administration (FDA) emergency use authorization (EUA) "within weeks," Menelas Pangalos, executive vice president of biopharmaceuticals research and development at AstraZeneca, said during a media briefing March 22.
Risk for Thrombosis Addressed
Regarding highly publicized reports of blood clotting associated with the AstraZeneca vaccine, the World Health Organization found that the risks are no higher in comparison with the background level of these events, as did the European Medicines Agency
"We've had absolute confidence in the efficacy of the vaccine. Seeing this data now I hope gives others increased confidences that this is a very safe and effective vaccine," Pangalos said.

"We're glad this is being investigated really thoroughly," Magda Sobieszczyk, MD, MPH, an infectious disease specialist at Columbia University, in New York City, said. "It's incredibly reassuring that the regulatory agencies have looked at the data thoroughly and there is no enhanced signal above what is seen in the population.
"There were no concerning signals noted in the US data," she added.
Regarding the risk for blood clots, "These data are therefore timely in further addressing any safety concerns that could undermine vaccine uptake," Andrew Garrett, PhD, executive vice president of scientific operations at ICON Clinical Research, said in a comment provided to the Science Media Center in the United Kingdom.
The vaccine was well tolerated, the company reported, with no serious adverse events. Temporary injection site pain and tenderness, mild to moderate headaches, fatigue, chills, fever, muscle aches, and malaise were among the reported reactions.
The phase 3 interim results revealed 141 cases of symptomatic COVID-19 in the study of 32,449 adults aged 18 years or older. "We don't have the whole breakdown yet.... These are the high-level results we just got this week," Pangalos said. Further information on rates of mild to moderate COVID-19 illness between groups is not yet available.
The company explained that participants were randomly assigned in a 2:1 ratio to receive either vaccine or placebo. Once released, the absolute numbers could be deceiving, because twice as many people received active treatment.
"Robust" Findings
"This is a large study, so these results can be expected to be robust. They could be expected to be even more so if there were more cases to compare between the groups; but 141 is still a substantial number of cases," Peter English, MD, retired consultant in communicable disease control and immediate past chair of the British Medical Association Public Health Medicine Committee, said in a comment provided to Britain's Science Media Center.
Experts welcomed the 80% efficacy in people aged 65 and older in particular. "Importantly, the trial provides further support for efficacy in the elderly where previous clinical trial data, other than immunologic data, had been lacking," Garrett said.
"It is clear this vaccine has very good efficacy. Remember that 60% was, prior to any trials being started, regarded as a good target," said Stephen Evans, MSc, FRCP (Edin), professor of pharmacoepidemiology at the London School of Hygiene and Tropical Medicine, in a comment provided to the Science Media Center. "This efficacy does not show a notable decline at older ages. This was expected and the speculation that it was ineffective or quasi-ineffective at older ages was totally unjustified.
"This is good news for the global community and one hopes that any political statements around this good news are avoided," Evans added.
The trial is ongoing. The FDA will receive information on more than the 141 COVID-19 symptomatic cases when the company submits a full primary analysis to the agency, Pangalos said.
In the phase 3 study, the two doses of the vaccine were administered 4 weeks apart.
The company has additional information regarding real-world data from the United Kingdom that it intends to submit to the FDA. Part of this evidence suggests increased efficacy and immunogenicity when a second dose is administered 3 months after the first.
Efficacy Against Variants?
Regarding virus variants, Pangalos noted that the study was conducted when several variants of concern were in circulation.
"What I can say is, given this study was conducted much later in terms of timing, it's very encouraging that we've got such high efficacy numbers when undoubtedly there are variants of concern in circulation in this study," Pangalos said.
"It also highlights why we believe that against severe disease, our vaccine will be effective against all variants of concern," he added.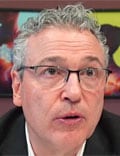 Once an EUA is received from the FDA, the company will be ready to immediately distribute 30 million doses of the vaccine and expects to ship 50 million total within the first month, Ruud Dobber, PhD, AstraZeneca executive vice president and president of the AZ Biopharmaceuticals Business Unit, said during the briefing.
The vaccine can be stored, transported, and handled at normal refrigerated conditions (2° to 8° C [36° to 46° F]) for at least 6 months, according to the company.
English and Evans have disclosed no relevant financial relationships. Garrett is an employee of ICON, a contract research organization that conducts clinical trials on behalf of pharmaceutical companies.
Damian McNamara is a staff journalist based in Miami. He covers a wide range of medical specialties, including infectious diseases, gastroenterology and neurology. Follow Damian on Twitter: @MedReporter.
For more news, follow Medscape on Facebook, Twitter, Instagram, and YouTube.
Medscape Medical News © 2021

Send news tips to news@medscape.net.
Cite this: AstraZeneca COVID Vaccine 79% Efficacious in Phase 3 Interim Results - Medscape - Mar 22, 2021.