Editor's note: Find the latest COVID-19 news and guidance in Medscape's Coronavirus Resource Center.
The Texas Medical Board has dropped its investigation of Hasan Gokal, MD, after finding insufficient evidence that he violated the Medical Practice Act when he gave vaccine doses to people outside the vaccination event he was leading, as the doses were about to expire.
However, Harris County District Attorney Kim Ogg and prosecutor Kim Smith continue to pursue a criminal indictment from a grand jury against Gokal.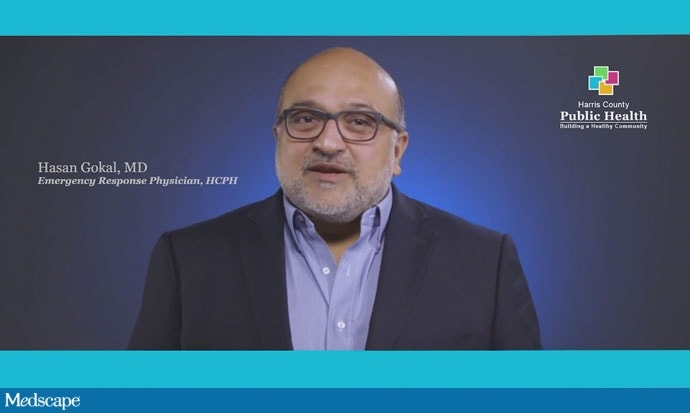 Dr Hasan Gokal
Gokal, an emergency medicine physician, was fired from his public health job after he administered the shots on December 29. His case has since received international attention.
In a letter to Gokal dated March 9, the board determined that Gokal appeared to have administered the vaccine to patients who were "properly consented, in the eligible patient category, and they were given doses that would have otherwise been wasted."
The board adds in the letter that there were no written waste protocols nor was there a waiting list on the day Gokal administered the shots.
The decision comes more than 6 weeks after Harris County Court-at-Law Judge Franklin Bynum's ruling on January 25 dismissed the original criminal charge brought by the Harris County DA.
Medscape Medical News previously reported that Ogg said in a January 21 statement that the charges were brought because Gokal "abused his position to place his friends and family in line in front of people who had gone through the lawful process to be there."
Gokal's defense team said he tried to get takers from healthcare workers and law enforcement at the vaccination site but, finding none, called people he knew so the 10 leftover doses in the punctured bottle of Moderna vaccine wouldn't be wasted at day's end. The vaccine in the vial was going to expire 6 hours after being opened.
Gokal's attorney Paul Doyle said in a press conference in late January that one person among the takers Gokal found reneged at 11:30 PM.
Gokal's wife has pulmonary sarcoidosis, Doyle said, and therefore was eligible, so Gokal gave her the last dose just before it expired. "He had 15-30 minutes left before this dose was trash."
"Inexplicable Reasons"
Dane Schiller, spokesman for the Harris County DA's Office, said in a statement: "We anticipate presenting all of the evidence in this matter to a grand jury, so representatives of the community can determine whether a criminal charge is appropriate. There has been a difference of opinion on the evidence, with a magistrate judge finding that there was probable cause to charge a crime and a misdemeanor judge finding that there was not. Our work continues."
Dave Oates, the media relations specialist working for Gokal's legal team, told Medscape Medical News the charges have interfered with Gokal's ability to work.
"Dr Gokal is working a limited number of shifts as an emergency room physician as time permits from dealing with the still unresolved matter with the Harris County district attorney," he said.
Doyle said in a statement: "For inexplicable reasons, Harris County District Attorney's office continues its unrelenting efforts to disparage this man and his family, causing great harm to Dr Gokal in the process. In doing so, the DA places the entire medical community in the position of choosing between performing the public good and preserving their careers."
Marcia Frellick is a freelance journalist based in Chicago. She has previously written for the Chicago Tribune, Science News and Nurse.com and was an editor at the Chicago Sun-Times, the Cincinnati Enquirer, and the St. Cloud (Minnesota) Times. Follow her on Twitter at @mfrellick
For more news, follow Medscape on Facebook, Twitter, Instagram, and YouTube.
Medscape Medical News © 2021

Send news tips to news@medscape.net.
Cite this: Doctor Who Gave Expiring COVID Doses Still in Legal Limbo - Medscape - Mar 18, 2021.