Editor's note, 18 March 2021: This article was updated with infrmation from a Downing Street briefing.


These are the UK coronavirus stories you need to know about today.
MHRA, EMA, WHO Confirm Oxford Jab Benefits Outweigh Risks
The MHRA again confirmed today that available evidence does not suggest the Oxford/AstraZeneca jab causes blood clots in veins. Several EU countries had halted vaccination with the jab due to clotting concerns.
The statement came after a detailed review of report cases, hospital admissions, and GP records.
MHRA Chief Executive, Dr June Raine, said: "Our thorough and careful review, alongside the critical assessment of leading, independent scientists, shows that there is no evidence that blood clots in veins is occurring more than would be expected in the absence of vaccination, for either vaccine."
Another review into five UK reports of sinus vein thrombosis and thrombocytopenia is ongoing and Dr Raine announced new precautions: "While we continue to investigate these cases, as a precautionary measure we would advise anyone with a headache that lasts for more than 4 days after vaccination, or bruising beyond the site of vaccination after a few days, to seek medical attention."
Chair of the Commission on Human Medicines, Professor Sir Munir Pirmohamed, added: "Further work with expert haematologists is underway to further understand the nature of these cases and whether there is a causal association with any of the vaccines. Given the extremely rare rate of occurrence of these events, the benefits of the AstraZeneca COVID vaccine, with the latest data suggesting an 80% reduction in hospitalisation and death from COVID disease, far outweigh any possible risks of the vaccine in the risk groups currently targeted in the UK."
The European Medicines Agency (EMA) Director Emer Cooke also announced the results of its review this afternoon. She told a news briefing: "The committee has come to a clear scientific conclusion. This is a safe and effective vaccine, its benefits in protecting people from COVID-19 with the associated risks of death and hospitalisation outweigh the possible risks. The committee also concluded that the vaccine is not associated with an increase in the overall risk of thromboembolic events or blood clots."
However, the EMA's safety committee said a potential link can't be ruled out between a small number of cases of a rare clotting disorder and vaccination.
Earlier, World Health Organisation European Director Dr Hans Kluge also backed continued use of the jab. "As of now, we do not know whether some or all of the conditions have been caused by the vaccine or by other coincidental factors," he told a news briefing.
He added: "At this point in time, however, the benefits of the AstraZeneca vaccine far outweigh its risks – and its use should continue, to save lives."
Antibodies vs Variants
University of Oxford preprint data finds the P1 Brazilian virus variant may be less resistant to antibodies than first feared.
Lead scientist, Professor Gavin Screaton, said: "This study extends our understanding [of] the role of changes in the spike protein in escape from the human immune response, measured as neutralising antibody levels. The results suggest that P1 might be less resistant to vaccine and convalescent immune responses than B1351, and similar to B117 [UK variant]."
The Oxford/AstraZeneca COVID-19 vaccine has an efficacy of only 10.4% against the South African variant of the virus, according to data from 2026 participants in South Africa published by The New England Journal of Medicine.
Public Health England data show that an estimated 75.8% of 70-84 year old blood donors had antibodies against COVID-19 by early March. Of these, only 5.6% were from natural infection.
In the general population, 37.7% had antibodies either from infection or vaccination.
In over-70s, PHE said both the Pfizer/BioNTech and Oxford/AstraZeneca vaccines reduce the risk of getting symptomatic disease by around 60% after a single dose with protection lasting for several weeks.
Protection against hospitalisation is around 80% in over-80s. The Pfizer/BioNTech vaccine is 85% effective at preventing COVID-19 deaths in over-80s.
PHE Consultant Epidemiologist, Dr Gayatri Amirthalingam, said: "These data show that the COVID-19 immunisation programme is having a big impact on the number of older people that have antibodies after vaccination.
"This suggests that a single dose of vaccine is producing a good immune response in those most at-risk and there is good indication that it is also reducing infection rates."
Meanwhile, a US preprint documents how a baby girl was found to have antibodies 3 weeks after her mum had the Moderna vaccine. Testing showed that antibodies passed through the placenta to the baby.
Impact of Reduced Jab Supplies
Just before England's Health Secretary Matt Hancock was about to tell a Downing Street briefing last night that the UK had reached 25 million first dose vaccinations, close to half the adult population, news broke of the NHS warning of a "significant reduction" in supplies next month. This means most healthy under-50s won't be invited for a jab just yet. Mr Hancock played it down saying vaccine supplies are always "lumpy".
Today he told the Commons that 1.7 million doses need to be retested and there are delays to supplies from India.
Prime Minister Boris Johnson told a Downing Street briefing that despite the delays "there is no change to the next steps of the roadmap".
Professor Martin Marshall, chair of the Royal College of GPs, said the shortage was disappointing, and: "What remains vital is that vaccine sites receive current and reliable information about when they will receive vaccine supply - and that any last minute changes are kept to a minimum - so that GPs and our teams can make the necessary preparations to ensure that programme continues to run as smoothly as possible, with the supplies available."
Commenting via the Science Media Centre, Dr Simon Clarke, associate professor in cellular microbiology, University of Reading, said: "It's to be expected that supply...will be variable, but to delay vaccination for the under-50s by a month is more than a bump in the road. To pretend that everyone at risk has been vaccinated is misleading. During the pandemic, more men in their 40s were admitted to Intensive Care Units than men and women over 85 and the Government were clearly expecting to proceed at pace with the vaccinations, otherwise they wouldn't need to stop appointments being made in April.
He added: "It will undoubtedly make the meeting of the target dates for lifting restrictions more difficult than they otherwise would have been. By pushing back the under-50s first doses, their second doses are also being pushed back. If full vaccination becomes required for holidays abroad or even more mundane things like going to the cinema, millions of younger people may end up being excluded from participating for the whole summer."
'What Should We Do?'
Also commenting, Dr David Lewis, co-clinical director, Central Liverpool Primary Care Network, said: "Right now we have a feast of vaccine. Thousands of doses arrived this week and more next week, but they have a very short shelf life so need using in the next 2-3 weeks (nobody's fault). Next month there will be a vaccine famine (nobody's fault)."
He said his options are:
Invite people for their 2nd vaccine a bit early (strongly discouraged by NHSE and it goes against the principle of vaccinating as many people as possible)

Invite younger adults (NHSE have specifically forbidden us from doing this). We've got vaccine and vaccinators

Give it to someone else (everyone is in the same situation)

Waste it. This would be a tragedy. We'd have to look people in the eye and say 'sorry, we could have offered you a vaccine last month but we don't have any now so you'll have to wait. Oh – you're a teacher? Well, I guess more convenient to get it after term ends ….'
"What should we do?!"
Shielding Ending Again
Shielding for clinically extremely vulnerable people is ending again in England from 1 April.
Deputy CMO, Dr Jenny Harries, said: "With the prevalence of the virus in the community continuing to decrease now is the right time for people to start thinking about easing up on these more rigid guidelines."
The Department of Health and Social care said more than 9 in 10 clinically extremely vulnerable people have now had a first vaccine dose.
Deaths
Office for National Statistics (ONS) data show deaths in England in February were 25.9% above the 5-year average.
COVID-19 was the leading cause of death for the fourth consecutive month in England (30.1%) and Wales (22.2%).
The age-standardised mortality rate (ASMR) of COVID-19 deaths was 392.3 deaths per 100,000 people in England and 272.2 deaths per 100,000 people in Wales. This decreased for the first time since August in England, and September for Wales.
The latest data from England's Test and Trace service show 39,118 people tested positive for COVID-19 in England at least once in the week to 10 March. That's down 14% on the previous week.
DNACPR
A review by the Care Quality Commission (CQC) found evidence of more than 500 cases during the pandemic where DNACPR decisions had not been agreed with an individual or their family.
CQC's Rosie Benneyworth said: "COVID-19 has brought this to the fore but these are not new issues. While this rapid review was not asked to make judgments on how decisions might have impacted individual cases, we have to take this opportunity to address these problems. We need to make sure that people have the opportunity to discuss their wishes about care and treatment in a compassionate and person-centred way."
Classifying Variants
The World Health Organisation has established new criteria to classify threats from variants of SARS-CoV-2. The designations are 'variant of interest'; 'variant of concern'; and 'variant of high consequence'.
Public Health England has an additional classification for 'variants under investigation'.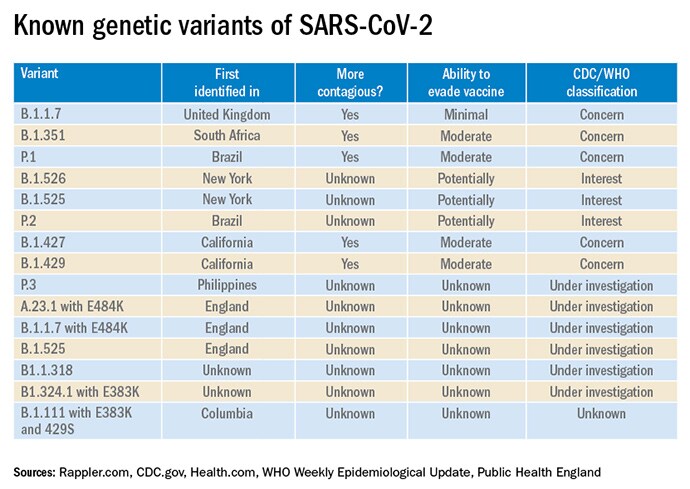 NHS England Budget
The Department of Health and Social Care announced £6.6 billion in funding to support the ongoing COVID-19 response in England over the next 6 months.
Chief Executive of NHS England, Sir Simon Stevens, commented: "Today's announcement to cover extra covid costs - alongside the £1.5bn already earmarked last November - now provides welcome funding certainty for hospitals and frontline NHS services looking out to Autumn, meaning the NHS can now plan and prepare for the year ahead."
Digital Aspirants
NHS Providers welcomed funding for 32 more trusts in England to join the 'Digital Aspirants' programme.
While the scheme supports innovation, NHSX Chief Executive Matthew Gould said: "We don't want everyone to reinvent the wheel, so we have made sharing learning a core part of the programme."
Deputy Chief Executive of NHS Providers, Saffron Cordery, said: "Digital technologies have played a crucial role in the sector's response to COVID-19, and the entire NHS workforce, including clinicians, operations and IT staff, have all worked tirelessly to deploy, implement, and adapt to new ways of working.
"Trust leaders themselves will be best placed to make investment decisions. For many this will involve investing in core infrastructure to make things easier for staff: from improving Wi-Fi coverage to fixing slow log in times.
"Looking ahead, we hope the digital aspirant programme acts as one component as part of a broader approach to digital funding. NHSX's 'who pays for what' work should be clear about how trusts can expect to make longer-term, sustainable investments in digital ways of working, that recognises both the revenue and capital implications."

© 2021 WebMD, LLC

Send comments and news tips to uknewsdesk@medscape.net.
Cite this: Tim Locke. UK COVID-19 Update: MHRA, EMA, WHO Confirm Oxford Jab Benefits Outweigh Risks - Medscape - Mar 18, 2021.