Editor's note: Find the latest COVID-19 news and guidance in Medscape's Coronavirus Resource Center.
The number of new COVID-19 cases in children dropped by 17.1% in the latest reporting week, after 2 consecutive weeks of relatively small declines, according to data gathered by the American Academy of Pediatrics and the Children's Hospital Association.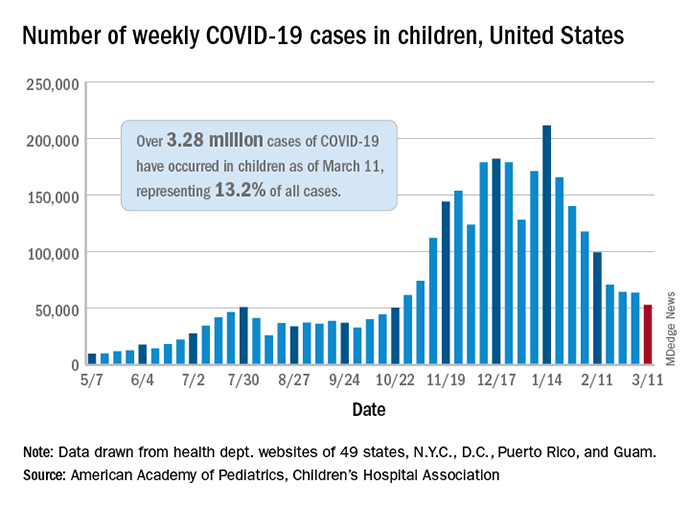 From Feb. 19 to March 4, the drop in new cases averaged just 5% each week, compared with 13.3% per week over the 5-week period from Jan. 15 to Feb. 18. For the week of March 5-11, a total of 52,695 COVID-19 cases were reported in children, down from 63,562 the previous week and the lowest number since late October, based on data from 49 states (excluding New York), the District of Columbia, New York City, Puerto Rico, and Guam.
In those jurisdictions, 3.28 million children have been infected with SARS-CoV-2, representing 13.2% of all cases since the beginning of the pandemic. The cumulative rate of COVID-19 has now risen to 4,364 cases per 100,000 children nationally, with state rates ranging from 1,062 per 100,000 in Hawaii to 8,692 per 100,000 in North Dakota, the AAP and CHA said in their weekly COVID-19 report.
Hospitalization data are more limited — 24 states and New York City — but continue to show that serious illness is much less common in younger individuals: Children represent just 1.9% of all hospitalizations, and only 0.8% of the children who have been infected were hospitalized. Neither rate has changed since early February, the AAP and CHA said.
The number of deaths in children, however, rose from 253 to 266, the largest 1-week increase since early February in the 43 states (along with New York City, Puerto Rico, and Guam) that are tracking mortality data by age, the AAP and CHA reported.
Among those 46 jurisdictions, there are 10 (9 states and the District of Columbia) that have not yet reported a COVID-19–related child death, while Texas has almost twice as many deaths, 47, as the next state, Arizona, which has 24. Meanwhile, California's total of 452,000 cases is almost 2½ times higher than the 183,000 recorded by Illinois, according to the report.
This article originally appeared on MDedge.com, part of the Medscape Professional Network.
Medscape Medical News © 2021 WebMD, LLC

Cite this: More Rapid Decline in Child COVID-19 Cases After 2-Week Slowdown - Medscape - Mar 17, 2021.