It was a cloudy October morning, and Joseph E. Oesterling, MD, was in the exam room of his Saginaw, Michigan urology practice preparing for a procedure. Suddenly, the door burst open, and a federal agent charged into the exam room unannounced, frightening Oesterling and the patient.
Bewildered, Oesterling peered outside the room to see 10 more officers armed with guns storming through the building. As he watched in horror, Drug Enforcement Administration (DEA) agents ransacked his practice and seized paperwork, computers, and records, Oesterling recounted to Medscape. An hour away, officers broke down the door of Oesterling's home in Ann Arbor when his wife didn't immediately answer, shattering glass across the porch. Another raid was simultaneously occurring at Oesterling's practice about 40 minutes away in the town of Caro.
"As all of this was happening, the agents were saying to me, 'We're shutting you down. You're never going to practice again,' " Oesterling said. "They said, 'We're going to throw you in prison, and you're never going to see the light of day.' "
What followed for Oesterling was every doctor's worst nightmare: He was arrested, stripped of his license, cut off from his assets, and charged with seven crimes, including running a criminal enterprise.
But the longtime urologist and renowned researcher fought back. After a grueling trial in 2017, Oesterling was acquitted on all seven charges.
"The government pursued him relentlessly," said Michigan attorney Ronald W. Chapman II, who represented Oesterling in the case. "You've got a man who led a pretty good life who was trying to do the right thing and who ended up getting caught up in straight government greed. The prosecutor's office pursued him because he had assets and he moved into their jurisdiction, and they had enough on him to investigate and charge. Even when we won the criminal case, they didn't take their grip off his life earnings."
Tuscola County Prosecuting Attorney Mark Reene and Chief Assistant Prosecutor Eric Wanink did not respond to messages seeking comment.
"This was the biggest upheaval of my life," said Oesterling, now 64. "I would have never in my wildest dreams imagined leaving medicine this way."
Successful Specialist Goes to Jail
A busy urologist with two practices to oversee, Oesterling never intended to take over a family practice clinic in the small, impoverished city of Caro, Michigan. But when the family physician at Caro Family Physicians P.C. died, her husband asked Oesterling if he would run the practice until a permanent replacement could be found.
"I was comfortable with doing the work, but the plan was this was to be a short-term, temporary thing to help out this practice," he said.
Caro, a rural community about 35 miles north of Flint, is home to 4000 residents, 20% of whom fall below the poverty line, according to census data. Many of the clinic's patients were farmers, blue-collar workers, or jobless residents on public assistance. Oesterling said when he took over the Caro clinic in 2015, it quickly became clear that the majority of patients he inherited were on pain medication, such as hydrocodone, methadone, and oxycodone.
"These people were on all these pain medications for one reason or another," he said. "According to their medical charts, you could argue it was justified, but in my own mind, they did not need all this medication. When my nurse and I got involved, we thought it was overdone and we started them on a program to methodically decrease their medications over time."
Little did Oesterling know, local and federal authorities started investigating the Caro practice not long after he took it over. Officers set up 24-hour surveillance outside the property and sent undercover agents into the practice posing as patients. The investigation began following a police tip that fraudulent prescriptions were being written at the practice, and information that a physician was providing narcotics to multiple patients for cash, according to local news accounts at the time.
But Oesterling's attorney Chapman says there was another contributor. He believes it was the urologist's past legal trouble that drew the government's skeptical eye to his practice in Caro.
Trained at The Johns Hopkins Hospital in Baltimore and later on staff at Mayo Clinic in Rochester, Minnesota, Oesterling became renowned in the early 1990s for helping discover the link between the prostate specific antigen (PSA) and prostate cancer. His guidance on using the PSA test in the diagnosis and management of prostate cancer has been used worldwide, and he went on to become chief of urology at the University of Michigan.
However, Oesterling resigned in 1997 after being accused by the university of double and triple billing for the cost of trips. At the time, his research also came under scrutiny for undisclosed conflicts of interest with industry. He pleaded no contest to one felony count of obtaining money by false pretenses and received probation, according to court records.
Although nearly two decades had passed since the scandal and Oesterling had gone on to quietly practice urology in Michigan for more than 15 years, his past was not forgotten.
"The government sees this new doctor in town who has a record that is questionable from U of M and they assume he is just a fallen doctor now trying to pedal opioids to the community because he has nowhere else to go," Chapman said. "That was their narrative in charging him. That does fit into the larger picture."
Oesterling had treated the Caro patients for about a year and half when the DEA raids occurred at his practices and home. Two months went by as investigators reviewed the seized documents and built their case against him. In December 2016, the Tuscola County Prosecutor's office charged Oesterling with maintaining a drug house, five counts of delivery of a controlled substance, and conducting a criminal enterprise. The Department of Justice declined to press federal charges. It's unclear why. A DOJ spokeswoman said the agency does not comment on internal prosecutorial decisions.
Three days after Christmas, police officers arrived at Oesterling's urology practice and placed him in handcuffs. He was taken to the county Jail.
"I was put in a cell with two other people," he recalls. "It was just horrible. There were no covers, no pillows, just a cold bench all night with a television playing."
Oesterling's wife and adult children attended his arraignment the next morning where the doctor appeared via video, dressed in blue scrubs and orange jail pants. His wife shielded her face as a local news photograph snapped picture after picture of the family.
After posting $100,000 bond, Oesterling was freed later that day. But he soon learned the government had frozen the family's bank accounts and seized their personal assets. A judge finally released enough funds that the doctor could pay for his legal defense.
Oesterling and his legal team began preparing for trial. If convicted, the urologist was facing up to 30 years in prison.
"The prosecutor wanted us to plead all the time," he said. "The final offer was 4 years of prison and $4 or $5 million in fines, and he thought that was a great deal. I told Ron we are never pleading guilty. I didn't care what the rest of the world thought, I knew I was innocent."
One Doctor, Two Portraits Painted at Trial
During his month-long trial that began in September 2017, jurors heard two very different versions of Oesterling and how he operated the Caro practice. The prosecution painted the urologist as a careless physician who dished out narcotics to patients without tests or verification of their medical complaints, according to court testimony and local news accounts.
Witnesses for the prosecution, which included former employees of Oesterling, testified that patients received prescriptions for pain medication even after drug screens showed they had illicit drugs in their systems. Former nurse practitioner Laura Hintz testified that the Caro clinic saw between 50 and 70 patients each week for pain management, and that the clinic's fees rose from $60 to $110 after Oesterling took over the practice. Hintz said she was permitted to use Oesterling's signature on prescriptions and to write out prescriptions on pre-signed forms.
It was "obvious with the number of scripts…that he wrote and that when I saw the actual numbers in the report, I was overwhelmed. I couldn't believe it was that many," Hintz testified. "…Initially there was a time when he started to order tests on patients, but then it stopped…It was the staff's responsibility to order the tests, which in the majority of cases because these patients are Medicaid, it requires a prior authorization, and it's paperwork and a lot of hoops to jump through, and in my opinion, I think the ball got dropped a lot in Caro."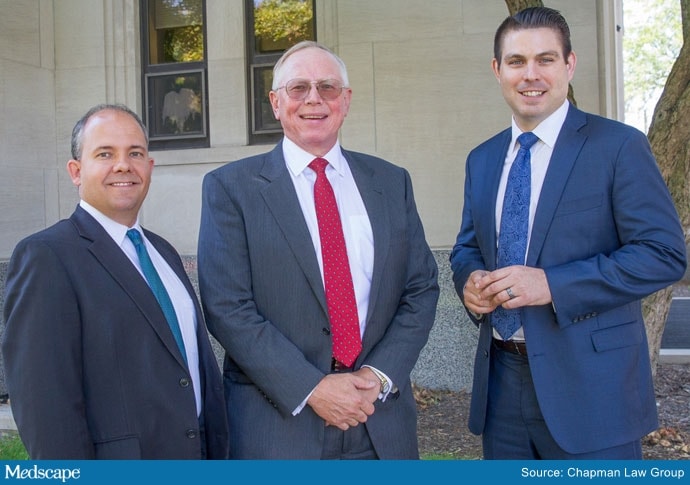 Dr Joseph Oesterling, center, stands in front of the courthouse with his attorneys Ronald W. Chapman II, right, and Robert J. Andretz following the jury's verdict.
Chapman portrayed Oesterling as a hardworking physician who took on too much when he accepted the Caro practice, but who cared deeply about his patients, worked diligently to verify medical complaints, and only prescribed pain medication for medical purposes.
Through discharge records and letters, Chapman showed that Oesterling had discharged more than 70 patients from the practice for failing to comply with rules, lying, or having urine screens that came back negative for the medications prescribed, according to court testimony. Charts that compared Oesterling's prescription dosages over time with those from the deceased physician who formerly owned the practice illustrated clear decreases after Oesterling took over, according to Chapman and court testimony. In addition, tax returns entered into evidence revealed that Oesterling took a financial loss in 2015 after taking on the Caro practice and seeing less urology patients.
"Does this look like intentional conduct for financial gain? No," Chapman said during the trial. "You don't discharge patients from the practice for financial gain. You don't transfer them from cash-paying patients to lower-insurance patients for financial gain. You don't collect less than your urology visit at $60 to $110 an hour. Urology was about $150. You don't do that for financial gain. The prosecution hasn't met their burden on financial gain because they haven't traced a single dollar from this alleged racketeering criminal enterprise to Dr Oesterling as profit."
Oesterling watched from the defendant's table as many of his former patients took the stand, some for the prosecution and some who spoke on his behalf.
Upon cross examination, Oesterling's former nurse admitted that her court testimony conflicted with what she told DEA agents when first interviewed, and she acknowledged that she was granted immunity for testifying against her former employer. Jurors learned also that many of the patients who testified against Oesterling received reductions in criminal penalties or leeway for unrelated crimes.
Finally, it was Oesterling's turn to speak.
On the stand, Oesterling acknowledged that he pre-signed prescriptions for his nurse practitioner, testifying he did so because they were in different offices on some days and emphasizing that they spoke by phone about the cases before she used the pre-signed scripts. He admitted to struggling with electronic health records and not keeping the most efficient patient records during his time at the Caro practice.
But Oesterling was adamant that each prescription decision he made took into account the unique circumstances of each case and that he initially trusted his patients unless they gave him a reason to suspect abuse or diversion. When questioned by Wanink about his discharge policy, Oesterling said he took the act of discharging patients from the practice very seriously.
"Many of these patients were Medicaid patients and their lifestyles and activities were restricted a number of different ways," Oesterling said during testimony. "Some of them didn't even have automobiles. They came to the office on a bicycle or they came by foot. Number two, in the Caro community here, I'm not aware of too…many doctors, other providers, accepting patients who were on Medicaid with chronic pain taking medication. And yet these patients were on their medication, and some of them, if you stopped their medication abruptly, it could be a grave medical situation for the patient… One has to take into account all these different factors when making a decision."
In his closing statement, Chapman reminded jurors of evidence finding only 7% of Oesterling's total office visits were paid in cash. And of the seven undercover "patient visits" by DEA agents, only two visits led to prescriptions for controlled substances. While the DEA presented video of the instances in which Oesterling prescribed to the undercover officers, agents said operator error and equipment limitations led to missing film of several instances in which Oesterling refused to prescribe.
"It's very suspicious that two videos that really show Dr Oesterling's state of mind in deciding that he wouldn't treat these patients for what they were claiming they had, somehow come up missing," Chapman told jurors.
Finally, the trial ended and jurors began to deliberate. Oesterling became emotional and cried softly as he and his wife waited for a verdict. About 15 of his urology patients who attended the trial in support waited nearby. After nearly 5 hours of deliberation over two days, jurors announced they had reached a verdict.
"We went back to the courtroom, and they said, 'Not guilty' on all 7 charges," Oesterling recalled to Medscape, bursting into tears with the memory. "It was one of the greatest days of my life. No one should have to go through that."
From Urologist to Auto Mechanic
Oesterling had every intention of going back to medicine after being acquitted, but his return would not prove easy. In order to get his license back, the board of medicine was requiring the doctor to pay a $100,000 fine, he said. And because of his legal history, his malpractice carrier quoted him an outrageous rate.
His court battle wasn't over either. Oesterling and his attorneys had to fight a lingering civil forfeiture case to reclaim the doctor's vehicles, money, and house. The Michigan Court of Appeals ultimately affirmed a lower court's ruling allowing the return of more than $6 million in assets to Oesterling and his wife.
But Oesterling still wasn't off the hook. In late 2017, the prosecutor's office issued new charges against him, alleging that Oesterling had put false information into patients' charts, among other claims. The new charges stemmed from the prosecutor's original investigation into Oesterling and were related to his use of auto-populated medical records.
During trial, Oesterling acknowledged using auto-populated records that would carry over a note from a prior visit into a new chart. He admitted he would sometimes forget to delete a note that was not relevant or no longer accurate. While auto-population in medical charts can be relatively common, it can also be fodder for felony liability for placing "false information into a medical record," Chapman explained.
"He's an older guy and he struggled with use of the computer," he said of Oesterling. "We saw that throughout the trial. He wasn't very good at taking notes and documentation, and the government went after that weakness."
Oesterling was tired of fighting. The prosecutor offered a plea agreement that included probation and a fine and he accepted. He pleaded no contest to five counts of placing false information into medical records. (A no contest plea is not considered an admission of guilt.) A judge dismissed the probation after the fine was paid.
"We had been through pure hell," Oesterling said. "We wanted to get on with life. My daughter was starting veterinarian school. It was between the cost of paying for 4 years of vet school or paying $200,000 or more on more legal fees to keep fighting. The money was much better spent on my daughter."
Today, Oesterling is a mechanic and owner of an auto repair business. He refused to pay the $100,000 fine to get his medical license, he said. His license remains suspended. Instead, he pursued training in auto repair, bought a work van, and started a new career. Oesterling's business, Dr. Vinyl of Michigan, specializes in interior repair and upholstery repair services at dealerships in the Ann Arbor area. As part of the business, Oesterling recruits and trains young employees and collects a small commission from their work.
"I miss medicine, but I'm extremely satisfied with my new job," he said. When the board of medicine wanted $100,000, I thought, 'Here I am in my early 60's.' I chose a career that would help young people and would also be a source of income as I got older without having to physically go out and work hard everyday. When God closes a door, he opens a window."
Looking back, he regrets ever getting involved with the Caro practice, he said, but he doesn't waste much time thinking about the past or his nightmarish legal journey. He is focused on making the best of each day and looking toward the future. He encourages physicians accused in similar situations not to back down when they are innocent.
"I would say never give up," he said. "Identify a good attorney and work closely with them. Never compromise. Fight to the bitter end, because you can win."
Alicia Gallegos is a reporter for Medscape Business of Medicine based in the Midwest. She has previously written for the American Medical News, the ACP Internist, and the AAMC Reporter. Contact Alicia at agallegos@mdedge.com or via Twitter at @Legal_med
For more news, follow Medscape on Facebook, Twitter, Instagram, and YouTube.
Medscape Medical News © 2021

Send news tips to news@medscape.net.
Cite this: Falsely Accused MD: Arrested, Tried, Cleared -- but Now Works in Auto Repair - Medscape - Mar 17, 2021.