The Centers for Medicare & Medicaid Services (CMS) is trying to change the way patients choose their healthcare by encouraging consumers to use online tools to compare the costs of medical services, rather than rely on the current murky state of public information about healthcare costs.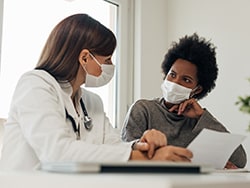 Although the impact of the initiative is at this point unknown, even an initial spike in the amount of information available to consumers about healthcare costs could result in some extra work for primary care physicians, said Daniel Perlman, a consulting actuary with Milliman, who last year published a report on CMS' Transparency in Coverage rule.
Patients who need spinal surgery, for example, might ask for help in understanding what other services, such as anesthesiology, may come into play.
"Somebody has to be able to answer some of these questions," Perlman told Medscape Medical News. "Depending on what tools and apps get developed, it may be that a human that the patient has a relationship with will provide better answers to those questions than whatever software is out there."
With the Transparency in Coverage initiative, CMS will require insurers to begin publicly releasing significant amounts of data on their rates and historical payments for medical services by 2022. This effort builds on an earlier CMS mandate for posting of hospital prices, which took effect in January 2021.
The goal of the Transparency in Coverage initiative is to give consumers a clearer look at out-of-pocket costs, as well as negotiated rates for services. The rule also calls for public release of detailed pricing information. The aim is to allow employers to negotiate better deals on insurance. This information also might allow software developers to create websites that present a clearer look at healthcare costs.
Sophia Tripoli, director of healthcare innovation at the nonprofit Families USA, said primary care physicians may want to educate their patients about the limitations of cost comparisons following the implementation of CMS' Transparency in Coverage rule.
"They could work with patients and let them know this change is coming," Tripoli told Medscape, "so that consumers could have to understand both the opportunity with having that information but also the limitations."
How accurate and useful will this cost information be? There's a risk that the Transparency in Coverage initiative will result in "misleading estimates as a result of entities rushing to adopt poorly designed and developed tools that meet the letter but not the spirit of the rule's requirements," the medical software giant Epic told CMS last year.
People should be realistic in their expectations about what kinds of tools and websites will result from the data released through the Transparency in Coverage rule, said Niall Brennan, MPP, who served as CMS' chief data officer during the Obama administration. During his tenure, CMS released large troves of data to allow software developers, policy experts, and journalists to dig for trends in healthcare and spending. He's active with the annual Health Datapalooza conference, which seeks to spark innovation in care and payment policy.
"Perhaps somebody will invent or develop the magic potion that takes this information and either builds a new insurance product or makes this information appeal to consumers in a way that they use it and they use it in a way that lowers healthcare costs," Brennan told Medscape. "But, frankly, the US healthcare system is fairly impervious to just about any attempt to lower costs."
Thanks to high deductibles, patients have greater interest in learning the costs of medical services, according to James Gelfand, senior vice president for health policy for the ERISA Industry Committee.
In the past, consumers focused almost exclusively on copays when considering the costs of medical care. Now, many consumers face substantial deductibles, which has increased concerns about prices. The average single deductible in an employer-sponsored plan rose from $917 in 2010 to $1644 in 2020, according to a report from the nonprofit Kaiser Family Foundation.
The biggest impact of the Transparency in Coverage rule will likely stem from giving employers and insurers access to troves of new information, sharpening their ability to seek better prices, Gelfand said. But the CMS initiative also may draw the interest of many consumers, who are seeking to manage their medical bills. To date, the websites created to reveal healthcare costs have had limited appeal, more often frustrating consumers than helping them find less expensive services.
CMS staff designed the Transparency in Coverage rule with an aim of providing software firms with the kind of data needed to build websites for comparing costs.
"This is going to be different. It's not going to be one more email from your employer's HR department," Gelfand said of the Transparency in Coverage initiative. "This is going to change the dynamics."
Betting on Software Developers
In the Transparency in Coverage rule, CMS expressed clear dissatisfaction with the online tools that have existed to date for consumers to shop for medical services. More than half of US states have legislation calling for price transparency websites or mandating that health plans, hospitals, or physicians make this kind of information available to patients, CMS noted.
"These tools often display information that makes it difficult to compare one plan against another, understand the scope of services covered and their costs, and interpret the terminology plans and issuers use," CMS wrote. "Consumers may be discouraged by these difficult user interfaces and may be less likely to make fully informed decisions with their healthcare choices."
So CMS is seeking to draw new entrants to this field while pressing insurers to develop better tools.
The Transparency in Coverage rule requires insurers, starting in 2022, to make publicly available standardized and regularly updated data files on medical costs. The information to be posted includes negotiated rates and historical payments for services.
CMS also mandates that insurers create online shopping tools that allow consumers to see the negotiated rates and personalized estimates of out-of-pocket costs. This aspect of the Transparency in Coverage initiative begins in 2023 with information on 500 of the most shoppable items and services. In 2024, these shopping tools will be required to show the costs for a wider pool of procedures, drugs, durable medical equipment, and other items or services consumers may need.
It won't be immediately clear how well the CMS' Transparency in Coverage initiative will work.
There's no guarantee, for example, that software firms will develop websites as commercial products based on the release of the additional healthcare cost data, as CMS hopes they will. If they do develop these products, software companies may find it hard to recoup their investment, Milliman's Perlman said.
"It's an open question how much consumers and advertisers are willing to pay for content and information," he said.
The current CMS rules for the Transparency in Coverage initiative, for example, won't help consumers much as they try to assess the quality of care, Ryan Bohochik, director of value-based care at medical software firm Epic, told Medscape. That will make it difficult for consumers to make smart decisions when using online shopping tools for medical services, he said.
"It's one thing for me to know what the cheapest option is, but is that the best option for me?" Bohochik said. "And what even constitutes the best option?"
Still, there is widespread agreement that offering consumers more information about the cost of their medical care would be a benefit, at least in theory.
"You'd be hard pressed to find people who don't think that that's a good thing, providing more transparency around what all of us as patients will actually pay for something," Bohochik said.
For more news, follow Medscape on Facebook, Twitter, Instagram, and YouTube.
Medscape Medical News © 2021

Send news tips to news@medscape.net.
Cite this: How the New 'Patient Price Shopping' Rule Can Affect Your Practice - Medscape - Mar 15, 2021.