MANCHESTER—Leading oncologist Professor Justin Stebbing has admitted giving chemotherapy treatment to a patient who was too sick to receive it and "approaching the end of the road", a medical tribunal heard.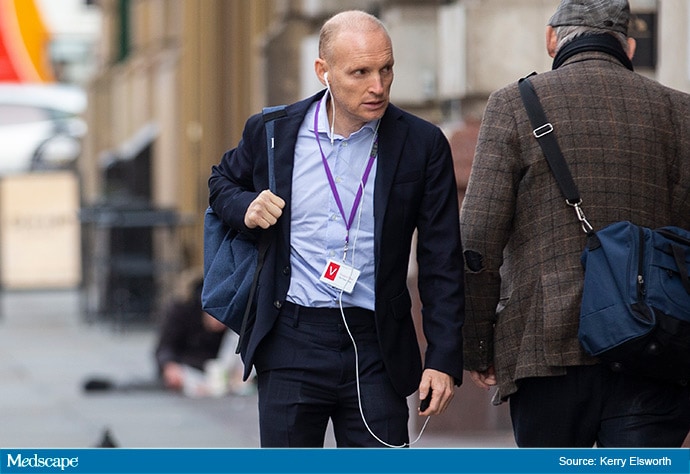 He also admitted changing the patient's diagnosis without evidence to support his decision, with his conduct said to have fallen "seriously below" the expected standards.
Prof Stebbing, who's treated New Zealand multi-millionaire Sir Douglas Myers and the actor Lynda Bellingham, is a cancer medicine and oncology professor at Imperial College London and he has a private practice in Harley Street.
He's appearing before a Medical Practitioners Tribunal Service (MPTS) fitness-to-practice hearing and is accused of inappropriately treating terminally ill cancer patients, in some cases overstating the benefits of treatment or treating patients who had just weeks to live.
The 33 charges - six of which he's since fully admitted - concern his failure to provide good clinical care to 11 patients between March 2014 and March 2017.
Patient A
The tribunal heard about one patient, referred to as Patient A, who was diagnosed with hepatocellular carcinoma (HCC) in 2013 and received transarterial chemoembolisation (TACE) therapy along with sorafenib (Nexavar).
By March 2014, a further scan revealed the cancer had spread outside the patient's liver and he was told his life expectancy would be 6 months to a year.
Doctors in Leeds referred him to Prof Stebbing, who confirmed the HCC diagnosis and prescribed FOLFOX chemotherapy treatment.
But he changed the diagnosis in September 2014 based on the appearance of new lesions in a CT scan without any review of the radiology or original diagnostic pathology and new biopsies.
Expert Witness
In a letter to insurers, Prof Stebbing gave an alternative diagnosis of mixed HCC and a colonic cancer, which was questioned by expert witness Jeff Evans, professor of translational cancer research and director of the Institute of Cancer Sciences, University of Glasgow, and honorary consultant in medical oncology at the Beatson West of Scotland Cancer Centre. He said there had been an "assumption of two tumours occurring concurrently" and it would be "mandatory" to have biopsy evidence to support that diagnosis.
New lesions, he said, didn't undermine the original diagnosis given the disease had progressed and it was a "concern" that Prof Stebbing had disregarded it before giving his own diagnosis.
In a report, he said Prof Stebbing's actions had fallen "seriously below" the standard expected of a consultant oncologist.
"I don't think a consultant oncologist would change a diagnosis in biopsy-proven HCC based on new lesions appearing through systemic treatment in the absence of any other alternative evidence to support that change of diagnosis," Prof Evans told the tribunal.
FOLFOX
A biopsy in November 2014 had confirmed HCC and Prof Stebbing had re-introduced FOLFOX treatment despite the progression of the patient's cancer.
He then prescribed a further six-cycles in March 2015 when the patient's condition had further deteriorated.
Prof Evans said the FOLFOX should not have been reintroduced, given the patient's cancer was getting worse, the low expectation of any benefit, and the cumulative toxicities.
Nor should it have continued, along with TACE therapy, after February 2015 when a further CT scan had revealed "more numerous and multiple abnormalities" in all segments of the patient's liver.
The patient's bone disease had become worse and he'd become very frail and incontinent, Prof Evans noted, and he questioned whether he'd been fit enough for further treatment.
In notes, Prof Stebbing had described the patient as a "very sick man" who was "approaching the end of the road".
Professor Evans said treatment had continued despite the patient's deterioration and "with no prospect of benefit" to him and the "potential of further toxicity and impairment to quality of life".
Professor Stebbing's QC Mary O'Rourke said many issues were not "clear cut" and his actions "fell below but not seriously below" the expected standards.
The tribunal continues.
Ian Leonard is a freelance journalist experienced in covering MPTS hearings.
© 2021 WebMD, LLC

Send comments and news tips to uknewsdesk@medscape.net.
Cite this: Ian Leonard. Leading Oncologist Admits Giving Chemo to Patient Too Sick to Receive It - Medscape - Mar 12, 2021.