In 2019, the U.S. suicide rate dropped for the first time in 14 years, driven largely by a significant decline in firearm-related deaths, according to a new analysis of National Vital Statistics System data.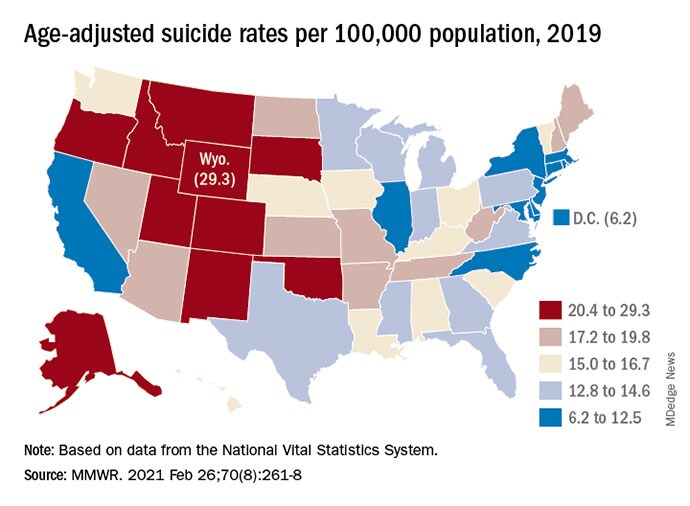 Since firearms are the "most common and most lethal" mechanism of suicide, the drop in deaths is "particularly encouraging," Deborah M. Stone, ScD, MSW, MPH, and associates wrote in the Morbidity and Mortality Weekly Report.
The national suicide rate decreased from 14.2 per 100,000 population in 2018 to 13.9 per 100,000 in 2019, a statistically significant drop of 2.1% that reversed a 20-year trend that saw the rate increase by 33% since 1999, they said.
The rate for firearm use, which is involved in half of all suicides, declined from 7.0 per 100,000 to 6.8, for a significant change of 2.9%, said Dr. Stone and associates at the Centers for Disease Control and Prevention's National Center for Injury Prevention and Control.
The only other method with a drop in suicide rate from 2018 to 2019 was suffocation – the second most common mechanism of injury – but the relative change of 2.3% was not significant, they noted.
Significant declines also occurred in several subgroups: Whites; those aged 15-24, 55-64, and 65-74 years; and those living in counties classified as large fringe metropolitan or micropolitan (urban cluster of ≥ 10,000 but less than 50,000 population), they said, based on data from the National Vital Statistics System.
"These declines, although encouraging, were not uniform, and several states experienced significant rate increases," the investigators wrote.
The states with significant increases were Hawaii (30.3%) and Nebraska (20.1%), while declines in the suicide rate were significant in five states – Idaho, Indiana, Massachusetts, North Carolina, and Virginia, Dr. Stone and associates reported. Altogether, the rate fell in 31 states, increased in 18, and did not change in 2.
The significance of those changes varied between males and females. Declines were significant for females in Indiana, Massachusetts, and Washington, and for males in Florida, Kentucky, Massachusetts, North Carolina, and West Virginia. Minnesota was the only state with a significant increase among females, with Hawaii and Wyoming posting increases for males, they said.
As the response to the COVID-19 pandemic continues, the investigators pointed out, "prevention is more important than ever. Past research indicates that suicide rates remain stable or decline during infrastructure disruption (e.g., natural disasters), only to rise afterwards as the longer-term sequelae unfold in persons, families, and communities."
This article originally appeared on MDedge.com, part of the Medscape Professional Network.
Medscape Medical News © 2021 WebMD, LLC

Cite this: US 2019 Suicide Rate Drops, but Will Decline Last? - Medscape - Mar 08, 2021.